Ten Years of Supply Chain (Digest)


The first SCDigest newsletter was emailed on Sept. 23, 2003, during CSCMP's conference that year in Chicago.

So we turned 10 years old this week - and it's been quite a ride.

The origins: I worked for three years at an analyst company called Meta Group, then the second largest analyst firm, heading the supply chain practice there. Our CEO and founder, Dale Kutnick, was known for rejecting many research notes written by Meta analysts as being only "value-added journalism" not true analysis - the former meaning what you might call intelligent reporting.
GILMORE SAYS:
As I wrote then, "For the first time, leading companies now really believe they can create real-time visibility to all their inventory and assets - and that this will transform their supply chains."

WHAT DO YOU SAY?
Kutnick's position was right for Meta (later acquired by Gartner), but I tucked away in the back of my mind that there might be a fine market for value-added journalism - writing and opinion from people who really knew supply chain issues. It would have a bit of an analyst slant, but with a different business model than the expensive and restricted analyst firms' approach to market.

After another three years as chief marketing officer at a major supply chain software firm, I decided to put that belief into play. 10 years in, I'd say it has worked out very well. Our readership and if I do say so our bottom line are very strong -though we certainly went through some challenges of course while we were changing the face of supply chain journalism.

We built the company for an on-line model from the get go. Most of the traditional players are still heavily dependent on their print editions as their business foundations. I wish I could be bullish about the future of hard copy print - but I can't. It's just too expensive, and the sponsor world continues to shift to on-line. The next 5 years will be very interesting in this regard.


We did some great things early on, but made a lot of mistakes too. If anyone is thinking about starting any sort of new business, feel free to give me a call. I've learned a lot. In the end, as nervous as I was about taking the plunge, I knew that if I didn't give it ago it would haunt me forever, because I was confident I could make it work.

My inaugural First Thoughts column? The title was "What is Your Order Commitment Model?" It focused to "available to promise" and at what level if at all a company could commit to customer orders, from locally through globally.


As I read it today, there is a lot I could have improved upon, but at the same time it wasn't too bad even from today's vantage. And our overall approach, including intelligent summaries of the week's news, became the model later for all the other supply chain media providers, who for a long while later still depended on their monthly magazine releases to drive their web content refreshes.

SCDigest truly was a disruptive force.

If you are interested in that first SCDigest newsletter, you will find it here: First SCDigest newsletter.

It is amazing to look back at some of the big stories and trends of that first year.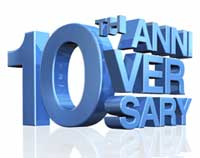 i2 and Manugistics were at top of the supply chain software heap, even though each was having significant financial issues at the time. JDA Software - who had heard of that then retail-focused software company in the supply chain in 2003? Not many, until JDA later acquired both Manugistics and then i2 to change the face of the supply chain software industry.

In fact, one of the great changes since 2003 has been the overwhelming level of consolidation in every area of supply chain technology. In 2003, JD Edwards, PeopleSoft, Retek, RedPrairie, EXE, Symbol Technologies, LXE, Accusort, HK Systems, LIS, Intermec, Evant, Sterling Commerce, Ariba and so many more were independent companies, now all acquired into larger firms, as the number of options a company has continues to shrink. It's been survival of the fittest or the highly aggressive for sure.

There were also a number of supply chain analyst firms in 2003, not just Gartner but Meta, AMR Research, Forrester, Yankee Group and more. Since them, Gartner acquired Meta and AMR, and the other two others exited the supply chain business. It's not nearly the same today.

At the 2004 Manugistics user conference I attended that Spring in Washington DC, some guy I never heard of - Rick Blasgen of ConAgra - gave an excellent presentation on the need for supply chain to "speak the language of business" - something we have made a lot of progress on since then, but at the same time hardly enough. My now good friend Blasgen, of course, not long after that became and remains the CEO of CSCMP.

CSCMP by the way was still the Council of Logistics Management then, announcing late in 2004 that it would change its name starting January 1 of 2005. I wonder if there will ever be another change, which would be the organization's third since its founding as the National Council of Physical Distribution Management in 1963. Not for a long while, I believe.

In 2003, China was widely recognized as an "up and comer" but hardly the colossus it has become since then. It had just entered the World Trade Organization in 2001, which became an enormous catalyst for its export economy. That China and offshoring generally has come so far so fast in just one decade is truly remarkable - an unprecedented pace of change in human history, from my view.

Just a few weeks after the launch of SCDigest, the first RFID/EPC meeting was held in Chicago. There, a few months after Walmart had announced vague plans for a tagging mandate at the case level for top suppliers, it is announced that a new EPCglobal organization had been formed that would pick up the work started by the Auto-ID labs at MIT.

Let me tell you, for something as mundane in the grand scope of things as RFID, there really was electricity in the air at the sold-out event.

As I wrote then, "For the first time, leading companies now really believe they can create real-time visibility to all their inventory and assets - and that this will transform their supply chains."

Unfortunately, as I am about the only one still willing to state today, Walmart proceeded to royally screw its program up, setting RFID adoption in retail back more than a decade. Many consumer packaged goods companies still believe in the vision - though no one is working on it any more. Amazing story, actually. I would like to write a book soon. The story deserves it.

We ran a story in October of 2003 noting that companies such as IBM and Siebel Systems (later acquired by Oracle) were saying that the future of software is that it would be delivered as a "service," not as installed applications. It has taken some time and various names (on-demand, SaaS) but this was the forerunner of today's Cloud solutions, which as I have said repeatedly will soon dominate the market. A few saw that back then.

In November of 2003, I did an "unplugged" interview with Gene Tyndall, who had famously led Ernst & Young's supply chain practice to great success in the 1990s - and someone I knew solely by reputation. Looking back on the 1990s, Tyndall said he realized in 2003 that it was more about the people than it is about the process or technology than he had thought previously. Change management and the right metrics were simply essential to progress, he said.

Today, of course, that is now well recognized, if not always successfully addressed.

Gene is also now a great friend of mine.

I do not think it is easy to fully appreciate the scope of change in our supply chains in just 10 years, especially in terms of globalization and the corporate interest not just sourcing from low cost markets but depending on them for future growth.

Obviously, I thank obviously our readership base that has fueled SCDigest's success. I am also pleased to say we have many exciting new things coming very soon.

The supply chain's overall future is very bright - think I have another 10 years in me. I'll look for a new job then.

Any reaction to Supply Chain Digest on its 10-year anniversay? Let us know your thoughts at the Feedback section below.