Right Product, Right Place, Right...

My plan as promised was to write my column this week summarizing the many excellent sessions I attended at last week's JDA Focus user conference, after my overall show review and comment last week, but I am putting that briefly on-hold for a breaking issue.


That would be the rather incredible developments related to the building collapse in Bangladesh three weeks ago, where at last count more than 1200 were reported dead and some 2500 injured. If you haven't been following this (we've had extensive coverage - see More Tragedy in the Apparel Supply Chain, as Hundreds Dead from Factory Collapse in Bangladesh), the building housed five apparel factories. About 3500 workers were ordered out of the building on the fatal day, after engineers saw large cracks in the structure.

But factory managers ordered workers back in some two hours later, as the firms were behind on large orders due in May or June, that situation exacerbated by the fact that many had lost business of late due to political disruptions in the country that chased some apparel retailers and brands companies away, most to India. Some hour hours later, the collapse and tragedy occurred.


GILMORE SAYS:
"There was certainly not enough time for a more informed discussion of what should be in the agreement or a vigorous review of the full legal implications."

WHAT DO YOU SAY?
This disaster after a series of apparel factory fires in the country, which has grown its apparel export business from $5 billion 10 years ago to more than $18 billion in 2012, representing 79% of its total exports and employing millions there. Those earlier fires killed dozens, while a fire at an apparel factory in Pakistan last November killed 112. There was another fire in Bangladesh just last week that killed eight more.


Houston, we have a problem. All this now some 20 years after Nike (the poster child for labor activists' scrutiny, rightly or wrongly) was first targeted for sourcing from "sweat shops" that often used child labor.


I predicted after the Pakistan fire that we would see changes soon in the apparel supply chain, and we did - at least at Walmart. That's because it turned out clothes for Walmart (as well as Sears and others) were being made at the fatal Pakistani factory, unbeknownst to Bentonville. How? Through a very murky supply chain where use of sub-contractors is widespread. I believe the Walmart order went to a tier 1 Canadian supplier, which used an agent in India to sub-contract part of the order to the Pakistani facility.

Earlier this year, Walmart then changed a number of its apparel sourcing policies, including banning use of sub-contractors without getting approval or using an approved vendor, changing from a "three strikes and you're out" approach for vendor violations to one in which you can be dismissed for a single issue, and banning use of third-party contractors for inspections by the tier 1 companies in favor of direct employees, among other changes.


Then came the collapse in Bangladesh. I predicted that again we would see more changes in the apparel supply chain, and we have - rapidly. But that response raises some questions, with implications for all of us.

First, when it turned out that the factory there was making clothes for Canada's Loblaw's chain and Europe's Primark brand, the two companies separately announced they would financially compensate the families of those killed and as well as the individuals who were injured. This may be a first - companies compensating victims of an accident at independent suppliers. Details on the compensation levels are not available, but I have never heard of this happening before.

"We are fully aware of our responsibility," Primark said in a statement. "We urge these other retailers to come forward and offer assistance."


Very interesting - perhaps precedent setting, and now a new risk to contend with.


Now, just three weeks after the Bangladesh building collapse, some other interesting developments, to say the least.

Swedish fashion retail H&M quickly dusted off a Bangladesh sourcing agreement developed in 2012 and put public pressure on other retailers and brand companies to sign on.

The six-page, legally-binding agreement, called the "Accord on Fire and Building Safety in Bangladesh," lasts five years, and stipulates that the retailers/brands will not to hire manufacturers whose apparel factories fail to meet safety standards and then refuse to make improvements. For those that will make improvements, the signees will be committed to paying for necessary repairs and renovations - and that could certainly be a large expense. The agreement also includes an independent inspection program with public reports of all the results, specifying, for example, that signees must inspect no fewer than 30% of the facilities of their tier 1 suppliers annually.

This again is simply unprecedented, and the process was curious. H&M said that May 15 must be the deadline for jumping on the bandwagon, just a week after the accord was first promoted. That was certainly not enough time for a more informed discussion of what should be in the agreement or a vigorous review of the full legal implications.

A few Euro retailers and brands quickly signed on, then as the artificial May 15th deadline approached, many more jumped in, including Inditex (parent of Zara), C&A, Carrefour, Marks & Spencer, TESCO, Primark, PVH, and several others.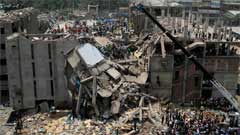 Notably absent were US companies, with the Gap, for example, saying it was concerned about the implications of the agreement in the US court system. That concern was generally considered unacceptable in the court of global opinion, however.


"Gap calls itself a leader on social responsibility," said Scott Nova, executive director of the Worker Rights Consortium this week. "The opposite is the case. Gap and Walmart are laggards."

Really? That because they weren't quite ready to sign the paper after seven days of review time?

Walmart then chose Plan B, announcing its own program - notably making its announcement on May 15, so it didn't miss the fake Euro deadline for this.

Walmart's plan will force suppliers with deficiencies in their buildings to make repairs or risk being dropped from the company's approved list of suppliers. Unlike the European agreement, Walmart will not directly provide any funds for such structural or operational improvements. But a company executive said that Walmart will absorb price increases in the cost of the goods it buys if suppliers need that increase to fund their investments. We'll see.

Got all that? This really is a new supply chain universe. There are clearly major issues in the apparel supply chain. But rather than those issues driving country governments to clean up their own houses, Western companies are pressured to not just choose safe suppliers that treat workers well (which has been the story for some time but apparently not in the end all that effective), but to actually now make investments in their suppliers' infrastructure. Would think the return on invested capital is not too high on that. This seems to me to be a major supply chain inflection point. I am not quite sure what to make of it. Where does that go from here?

To me, there all kinds of questions in this Euro plan. Exactly how much financial support that must be provided is unclear, for example. How sums would be allocated across retailers and brands even less so. Does a company need to provide funding if it just uses a supplier for a one-off order, for example? Who knows.

And to me, noticeably, the Euro accord and Walmart's program apply only to sourcing from Bangladesh, not other low cost countries with largely similar conditions. And as costs rise in Bangladesh (the government says it will raise the minimum wage and make it much easier to unionize too), will the easiest path be to just move to Cambodia and avoid all this until a disaster hits there too?

Of course, Apple went through much of this same thing in 2011-12 (Foxconn, et al) , and it truly raised the bar in terms of auditing its own supply chain and reporting on the results.

If you think this scenario will be limited to companies in the apparel and high tech industries, think again. If you are sourcing from low cost countries directly or indirectly, this will find you soon.


So, back to the title of this column: For years we've operated in the supply chain under the notion of "right product, right place, right time and (sometimes used) right price." This needs updated. We have moved now to "right product, right place, right time, right price, right profit (more on this soon) and right...social responsibility?"

Need a more simple term for that last one to be consistent. Right "values" perhaps? But you get the idea. And it is real. The equation has changed forever. Time to make that clear to all.

What do you make of all these developments? Is this an inflection point? Should we add "right social responsibility" to the paradigm? Let us know your thoughts at the Feedback button (email) or section (web form) below.