Ok, I am suddenly some smitten with the issue of out-of-stocks (OOS), for a variety of reasons, the most proximate being a very good videocast we had on the topic this week - more on that in a minute.
Now, when most of us think of out-of-stocks, we tend to think of the retail-consumer goods angle, either as supply chain professionals or frankly as consumers. On the latter side, it is obviously to me that the OOS problem is getting worse for many retailers of late. Anyone else go to certain stores and see as much as 75% of the pegs on a wall display empty these days? Amazing, really, here in the 21st century supply chain.
E-commerce has added a wrinkle to the retail OOS challenge, as now the issue isn't just products not being on the store shelf, but now potentially "not in stock" at the e-store as well. An OOS there likely has an even bigger impact in terms of lost sales than it does at brick and mortar retail.

I remember the Gilmore family in the 1990s might call up a cataloger such as Land's End or LL Bean and place an order for an item even though we were told that item was on back order and expected in at some certain date - who does that on-line? Or who today gets a rain check at a brick and mortar store for sale items that go out-of-stock, as our moms used to do? (Thanks to Richard Wilhjem of Compliance Networks for that latter observation).

Very few, of course - you go elsewhere, or don't buy at all. So the penalty for OOS rises.

But of course, out-of-stocks are not at all only a retail issue, it is a core supply chain and inventory challenge for virtually every company, though the problem mostly cast as "service levels" outside of retail.

As part of the research I did on OOS in the last few weeks, I found an article from 2010 in the International Review of Retail, Distribution, and Consumer Research from several European academics titled "Forty Years of Out-of-Stock Research - and the Shelves are Still Empty." That about says it all. The paper documents that despite study after study, and retail initiative after initiative, the needle has not really moved.
Case in point: as we reported in March, Walmart US CEO Bill Simon recently lamented to managers that stores sales were suffering because "We run out quickly and the new stuff doesn't come in."
It turns out that Walmart has been battling the problem since a least 2011, hired consultants, and placed a special executive to focus on the issue. But, Simon said, the problem lately has been "getting worse." (Walmart, we will note, didn't exactly deny these comments first reported by Bloomberg, but said they were taken out of context.)
So, mighty Walmart's supply chain is mightily challenged with OOS - no wonder the rest of us are too.
Here's why this issue is so complex: it is an equation that involves forecasting, "long tail" management, retail in-store execution, uncertain and/or difficult to calculate financial impacts, different impacts depending on product category, different impacts on retailers versus manufacturers, the Bullwhip Effect, the Perfect Order, vendor variability, store inventory accuracy, overstocks, collaboration, etc.

What have I left out?
It is a complex ecosystem for sure - yet I believe a "unified theory" (with a nod to Einstein) can be developed.
Here's a clue: In the videocast earlier this week, Joe Shamir, CEO of ToolsGroup, used a slide along these lines, which showed how less than 100% service levels at the vendor lead to more service degradation at downstream echelons all the way to the store shelf.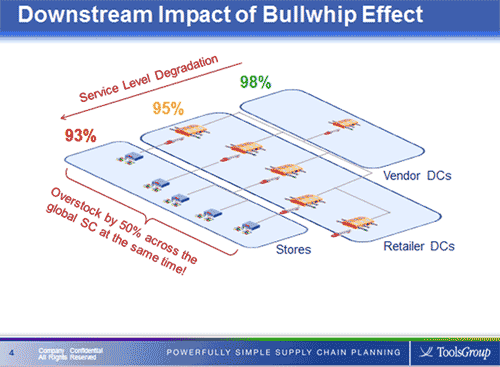 An important point from this graphic is that it isn't just an OOS problem - there is an equal and opposite reaction in terms of overstocks - too much inventory - either from the same issues that cause OOS or as a tactic to minimize the level of out-of-stocks.
In an upcoming videocast, MIT's Dr. David Simchi-Levi is going to among other excellent insights compare the differential impact on supplier fill rates and variability on required inventory levels. He will get to the core of "what is the purpose of inventory in the supply chain?" That is a question that more and more companies are really starting to ask, and it ties directly to OOS in every sector.
The first research on out-of-stocks is thought to be found in a 1968 article in Progressive Grocer magazine, and indeed much of the focus on the topic has been in the area of consumer packaged goods. That includes two famous studies, the last released in 2007, by Thomas Gruen of University of Colorado and Daniel Corsten of the IE Business School Madrid.
That latest Gruen study found out-of-stock rates in the CPG sector of 8.3%, slightly worse than the level found in 2002. The 2002 study also quantified consumer response to an OOS, as shown in the graphic below.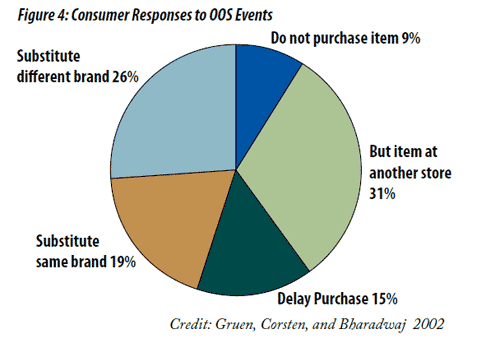 But of course, the response varies significantly by product/retailer type. If a can of soup is out of stock, a shopper might easily grab another flavor from the same vendor (good for the vendor and retailer), or the flavor they want from another brand (not good for the vendor, good for the retailer). If the size or color a shopper wants is missing at an apparel store, it is much more likely to result in no substitute purchase at all. As Shamir pointed out in this week's videocast, for long tail items, where demand is very intermittent, a stock out might result in no lost sales for some period, because there is no demand.
I am going to leave it there right now. But my research and listening to some of these experts convinces me that we can better tie the store side issues with the supply chain issues, and move the OOS ball further down the field in a more integrated and mathematical way. More soon.

Why haven't we done a better job improving out-of-stocks? Is there an opportunity to do a better job of connecting all the dots? Let us know your thoughts at the Feedback button (email) or section (web form) below.