Supply Chain Year in Review 2012
Well, here we are, starting a new year yet again, which to me means taking a look back at the year that was in supply chain 2012. As I have noted before, even for someone like me who does this for a living, it is amazing how easy it is to forget key issues, trends and events.
This week, I am going to identify important themes for the year, and note a few of the important events that occurred. Next week, in our On-Target newsletter, we'll have a timeline of important events (a feature that has proved very popular). Then next week, I will finish it off with a review of the year in numbers, largely in chart form.
GILMORE SAYS:
"Amazon.com is on track to have opened a staggering 18 more DCs in 2012. Consultants pushing services to help companies avoid being "Amazoned." The one company Walmart fears."

WHAT DO YOU SAY?
For the last four years, I put the supply chain and the economy at the top of the themes list, as economic considerations (mostly a weak economy) sort of dominated supply chain thinking and strategy. I am not doing that this year, as it was a fairly calm 12 months, even if economic growth was still weak, the never-ending financial woes in Europe played on, China's economy softened, etc. This appears to simply be the so-called new normal. We have just adapted to it.
That said, in rough order of import, here are the top trends I identify in supply chain and logistics over the past year:
Multi-Channel Madness: We've been talking about multi-channel commerce and fulfillment for years, but in 2012 it started to get really serious, with companies, especially retailers, spending a lot of money to bolster capabilities and optimize the "customer experience." Macy's says it is partially converting almost 200 existing stores to support ecommerce fulfillment. Walmart, Amazon, the USPS, eBay and others testing same day delivery services. Almost everyone giving away shipping and trying to figure out how to make money at it. There is some serious stuff going on right now in multi-channel.
Amazon Rising: Relatedly, Amazon.com's continued rise starts to put real fear into retailers, wholesalers and more as it grows its network and revenues at an unbelievable clip, and may just run away with this ecommerce thing. Best Buy, with almost an electronics monopoly in brick and mortar, struggles mightily in 2012, likely to be taken private, as "showrooming" hammers sales. Amazon growing at 30% or more quarter after quarter, likely ending the year with more than $60 billion in revenue, and will become the second largest retailer in a few years. On track to have opened a staggering 18 more DCs in 2012. Consultants pushing services to help companies avoid being "Amazoned." The one company Walmart fears.
Continued Hope for US Manufacturing: Optimism about a US manufacturing "renaissance" continued strong in 2012, especially in the first half of the year, with mixed actual evidence. GE CEO Jeff Immelt writes article in Harvard Business Review saying company is done chasing low labor rates around the globe. Research from MIT, Boston Consulting Group and others suggests a real corporate interest in keeping manufacturing in US or bringing some back from offshore, as rising Chinese labor rates and flat US ones make US more competitive, and companies focus on "regional" manufacturing strategies.
But is it real? There were certainly some examples (e.g. Caterpillar chooses Georgia for new factory over offshore options, Apple says it will again started building PCs in the US), but as a JC Penney supply chain exec noted at the CSCMP conference in October, the reshoring seems to be coming in drips and drabs, while the offshoring happened very fast. We'll see.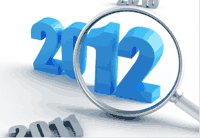 Labor Takes a Beating: Again not unrelated to the trend above, union labor had a very rough 2012, even with its friends in the administration and the National Labor Relations Board. Union-heavy Michigan voters strongly shot down a referendum that would have guaranteed union rights in November, and in December legislators there made Michigan the 24th "right to work" state over fierce opposition, joining Indiana, which made the same move in 2011. Unions come out on the short end in high profile strikes at Caterpillar (which some called "labor's last stand"), Cooper Tire and others.
A judge (for now at least) threw out in June the "microwave election" rules the NLRB had earlier passed to speed up union voting, though it will likely be back in play soon. So, not a good year for labor, but you can guarantee it will reload soon.
White House Stays with Democrats: Obama wins second term, which in practical terms means a number of regulatory measures that in general could be construed to be against pure supply chain interests likely to go forward. Hours of Service changes will become law in July of this year, increasingly stringent moves on greenhouses gas by regulations rather than law likely to continue (though EPA head Lisa Jackson, who was leading that charge, just resigned), the NLRB as noted above likely to regroup in favor of unions, and move to consider contract truck drivers as full-time employees of a company (and thus subject to unionization) are among the key potential issues.
Merger Mania Continues: The consolidation of nearly every sector in supply chain technology continued in 2012, most prominently the planned merger of JDA Software and RedPrairie, two of the industry's largest software providers, in a move that will have major ramifications.
Just as surprising was May's announcement that SAP would acquire procurement technology leader Ariba. Industrial giant Honeywell in December announced it would acquire data collection provider Intermec, after acquiring Intermec rival LXE the year before, the same year Intermec acquired voice technology provider Vocollect, leaving the sector highly consolidated - basically, Honeywell and Motorola Solutions are the two giants left standing, with Psion and a few others smaller players still around.
Most surprising of all though was Amazon.com's acquisition of robotic picking system provider Kiva Systems in March for an amazing $775 million – and what it will do with this capability is still unclear (though we are pretty sure Kiva sales reps are no longer calling on Walmart.com).
Intermodal Rocks On: The consistent shift by many US shippers to intermodal continues apace, with carloads up 3.1% over 2012 and just under the record set in 2006 (while truckload tonnage is up slightly less). But that masks a bit the more aggressive growth of intermodal freight outside of coal, shipments of which fell dramatically in 2012. But looking at individual carrier results tells that stronger tale: JB Hunt's intermodal revenue was up about 16% through Q3; Swift's intermodal business was up 41% in Q3.
Natural Gas Reaches A Tipping Point: Though a measure to provide cheap loans for natural gas truck purchases died in the Congress, momentum continued, with interest and adoption rising throughout most of the year. Clean Energy Fuels and Shell both announce and began executing aggressive plans to develop natural gas filling stations in partnership with major truck stop chains. The ATA holds major and successful conference on natural gas trucks. Beyond trucking, low cost of US natural gas literally fueling major manufacturing investments in the "rust belt" and beyond in sectors such as chemicals, fertilizers and metals. First new US fertilizer plant being built in more than 20 years.
Momentum also building to change law to allow exporting of US natural gas overseas, which could lead to US being the Saudi Arabia of natural gas. All this together will simply transform the US economy.
There's more, but those are the top trends and themes from my view. I would have added a still greater and deeper focus on supply chain risk management and the green supply chain going sideways (ups and downs) if I had more space.
Next week, look for 2012 timeline in On-Target and a review of 2012 in numbers and charts in this column as well.
2013 will mark the 10th year anniversary of Supply Chain Digest (I can't believe it has been a decade), and look for special stuff from us this year.
Any reaction to Gilmore's 2012 key supply chain themes and trends? What would you add? Let us know your thoughts at the Feedback button (email) or section below.