RedPrairie to Acquire JDA Software - Wow

Well, I had my column all set for this week a bit earlier than usual, nice for both me and some of our staff members, when an email announcing that two titans of the supply chain software world – JDA Software and RedPrairie – are merging.

This is important enough news for the market that I halted everything, will save the column I wrote this week for next, summarize what is happening here, and offer a few thoughts on the supply chain industry impact.

In an unusual move, RedPrairie's private equity owner New Mountain Capital is paying a premium to acquire public company JDA - which is more than double the size of RedPrairie – and will then merge JDA with its RedPraire assets. The cougar is swallowing the lion. The result will be a private company that keeps the name JDA Software and will have somewhere around a billion dollars in annual sales.

GILMORE SAYS:
"My bet: the new JDA hastens the SCE move to the Cloud (CEO Brewer seems committed to this approach), and without the pressure of meeting stock market expectations, goes to a subscription based model."

WHAT DO YOU SAY?
Current JDA CEO Hamish Brewer will become CEO of the combined companies.

As always with this type of deal, it is possible that it could fall apart, the most likely case being if another entity came in with a higher price than New Mountain's offer of $45.00 per share, which values JDA at $1.9 billion, but that seems unlikely. The offer price represents a 33% premium to JDA's stock price on Friday, the last trading day before rumors surfaced that JDA was exploring a sale.

Reuters reported on Monday that JDA was exploring a sale and had hired JPMorgan Chase & Co as an adviser.

Why would JDA do that? That is unclear. The stock prices had been on a steady rise since March, and the company seemed to have a lot of market momentum at its user conference in May. However, as part of this merger announcement, JDA also reported lower-than-expected third-quarter results as software and subscription revenue slipped 18% on weak license sales in Europe and to manufacturers in North America. That would certainly have sent the stock tumbling.

So, it appears that despite what appeared like strength in May, JDA saw some storm clouds approaching. My guess, and it is only a guess, is that there had been some casual discussions between New Mountain and JDA before, and when JDA let market insiders know it was looking at being sold, the private equity firm jump first, probably saving the new company millions in various Wall Street fees.

Why not keep it a public company, adding RedPrairie to the fold? Much better to fix whatever issues there are and do the always tough job of integrating the two firms', products and cultures without the pressure of being a public company.

RedPrairie was formerly McHugh Software, changing its name in 2002 (note: I was chief marketing officer there at the time). RedPrairie was and is largely a supply chain execution company, with Warehouse Management Systems being sort of the defining product, supported with Transportation Management, Labor Management, visibility, etc. It too, like everyone else, has grown substantially through acquisition, acquiring WMS competitors LIS in Europe (a good move), MARC (a not so good one) and a few smaller players in niche areas. In this arena, RedPrairie and Manhattan Associates have been battling it out like two prize fighters, with each fighter seeming to win the round one year, the other the next.


But the real acquisition moves have come in the retail sector, where over the last 5-6 years RedPrairie has acquired a number of companies (BlueCube, StorePerform, Escalate Retail, SofTechnics) that gave it a substantial retail footprint. While the goal was to be a sort of end-to-end provider of solutions from manufacturer to retail (in fact, it adopted "E2E" as a tagline), the reality as of this moment is that had left the company seeming a bit bifurcated along supply chain execution and retail lines. As an example, a panel discussion this year at its user conference that had both retail and SCE customers felt disjointed, like the panelists from each side really had little in common with each other.

JDA has become the US and globe's dominant supply chain planning vendor, at least from a non-ERP perspective. It has moved into that position from its roots as a retail point of sale and merchandising provider through an on-going series of acquisitions, including E3 (2001) and more prominently Manugistics (2006) and, after one failed attempt, i2 Technologies (2010).

Those last two deals took out the two largest and iconic supply chain planning companies, though both were struggling mightily at the time of the acquisitions. Interestingly, JDA still prominently uses the names of those acquired companies in many contexts.

JDA had revenues of $691 million in 2011, RedPrairie in the $300 million range.

There is certainly some product overlap. Just as with the i2 acquisition, it adds another TMS to the mix that will have to be dealt with – and now with a new consideration, integration with the WMS. On the retail side, there are clearly overlaps, but RedPrairie's solutions are more mid-market oriented. There is certainly some opportunity to be more successful in mid-market retail, leveraging JDA's general go-to-market capabilities and sell some of them maybe skinnied down planning solutions. But in general, there are far fewer product-related questions than say with the i2 acquisition.

"Cloud" is another area that will have to be sorted out. Right now, RedPrairie retail is all Cloud with subscription-based pricing. Its SCE solutions are sort of a mixed bag, but still generally emphasizing traditional deployment. JDA announced a major Cloud strategy in May, but favoring traditional upfront license pricing with Cloud delivery.

My bet: the new JDA hastens the SCE move to the Cloud (CEO Brewer seems committed to this approach), and without the pressure of meeting stock market expectations, goes to a subscription based model, which provides a more predictable revenue stream.

So, my reactions to what this means to you (since so many companies will have software from one or both companies) and the supply chain software industry as a whole are this:

(1) It is hard to consistently make profits in the supply chain software industry. When profits slow, the way to boost the bottom line is to merge/acquire, find the "synergies" (meaning take out costs in finance, HR, marketing, development, etc.), and hope you can sell your existing stuff to this new customer base. You can expect these to continue among an increasingly small pool.

(2) Cloud-based solutions change that dynamic a bit, likely making it a bit more acceptable for companies to adopt niche solutions.

(3) There clearly is an opportunity here for JDA to have not only almost all of the full supply chain software "piece parts," but to really integrate planning and execution. Both companies have been talking that game, but have not had all the tools to do so. But it will take some time, and there are many obstacles along the way. The supply chain planning and supply chain execution markets are very, very different - more so than even most in the industry realize. The pressure will really be on Brewer to give the RedPraire/SCE solutions side proportionate weight/attention/investment. But it should enable the new JDA to be able to offer a full, integrated supply chain solution set, as SAP and Oracle can say to a degree today. This will be the battle ground.

(4) There is real wild card here with the joint venture RedPrairie has with Andre Martin and his Flowcasting group, which offers store level forecasting for retailers and manufacturers. It is very good - but RP has struggled to take it to market.

(5) To be clear, New Mountain will either take the new JDA public some years down the road, or try to sell it off to someone else. Who that would be is unclear, with the possible exception of IBM. But this isn't the end of the story.

(6) This may be an opportunity for the new JDA to re-invigorate its approach to markets outside of consumer goods to retail. Though these are also RedPrairie's core markets, it has SCE solutions in many other sectors, as did i2.

(7) This is both a good and bad thing for Manhattan Associates. The one clear thing is that it will push Manhattan hard to better execute its strategies relative to its planning capabilities largely gained when it acquired Evant a number of years back.

(8) The market is still waiting for a clear number 3 best of breed vendor in the WMS/SCE market, in addition to Manhattan and RedPrairie/JDA. Given there will naturally be some disruption here, it may open a window a bit for someone. Contenders include HighJump, Softeon, Accellos and newer Cloud entrants such as Logfire and Snapfulfil.

(9) On the planning side, a resurgent Logility and even maybe ToolsGroup might see some opportunity by staying nimble and focused on planning. Not everyone will want the huge footprint approach of the new JDA. But they will have to counter this integrated planning and execution message.
I know that's a lot, but this is a big deal for the industry.


What's your reaction to the RedPrairie/JDA merger? What would you add to or disagree with Gilmore's analysis? Let us know your thoughts at the Feedback button below.


SUPPLY CHAIN NEWS BITES
---
Low Nat Gas Costs Mean Factories in the Midwest
Lots of Logistics Jobs Coming, not Enough Workers
POS Data Not Yet Being Leveraged by Many
New JDA Has Major Presence in CPG

---
NEW SUPPLY CHAIN RESEARCH
What are manufacturers and retailers thinking and doing to connect their supply chains to the store shelf and true consumer demand? What are the barriers to getting there?
You Will Find the Benchmarks for those Questions and a Lot More in this Outstanding New Report



PROMAT 2013:
ONE SHOW, 800 EXHIBITORS, INFINITE POSSIBILITIES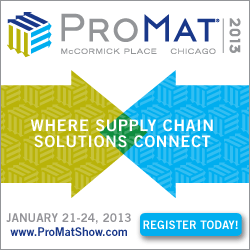 NEW RESEARCH PROJECT
Inventory Optimization 2012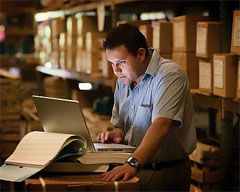 Research Questions: How advanced are companies in key areas such as visibility, demand classification, demand planning and others that impact inventory management effectiveness? What are the current levels of technology support for inventory management?

Can you please help by taking this quick 8 minute survey? All respondents will receive a summary of the data in just a few weeks.



---
NEW EXPERT INSIGHT
Recent Trends in Adoption of Supply Chain Software

By James Preuninger
Chief Executive Officer
Amber Road
---
Supply Chain Network Design and Advanced Analytic Expert Michael Watson of Northwestern Joins SCDigest Staff

Dr. Michael Watson