The Most Challenging Supply Chain Times Ever?


As we cruise into the Memorial Day weekend, a simple question: Are these the most complex and challenging supply chain times ever?

I was intrigued by that thought after reading a recent blog post from one of the analysts at IDC Manufacturing Insights, who said that there is at least anecdotal evidence that this was the case. So in our weekly Supply Chain Video New broadcast we release each week in partnership with CSCMP, I followed up this past Monday on that topic with another IDC analyst, Kimberly Knickle. She said that because the level of globalization continues to rise, this almost by definition makes the supply chain more challenging and complex each year, among other factors.
GILMORE SAYS:
"That said, I do believe this is the most challenging year in supply chain history – and that next year is likely to be worse still. It really is getting harder."
WHAT DO YOU SAY?
Now, there is a natural tendency to think we are living in the most challenging times for everything, supply chain or not, so we have to recognize that internal bias when discussing this question. Nevertheless, it does objectively seem to me that our supply chains really do grow more complex every year.


Why? As Knickle said, the fact that almost every company is getting more global, not less so, is a key factor, but far from the only one. For example, companies are trying to optimize supply chain performance while at the same time increasing their focus on risk management year over year. This adds complexity, with risk a new dimension that clearly is growing in importance. I sometimes wonder if this a new supply chain trade-off curve: cost versus risk?

As I started to write this, the back of my brain was thinking "We need a way to measure supply chain complexity." Then I remembered that several years ago, former Huffy bicycle president turned consultant and author John Mariotti, in his excellent book "The Complexity Crisis," had suggested one approach an individual company might use to gauge its own level of supply chain complexity.
Mariotti said a company's Complexity Factor (CF) might be calculated as follows:


CF= # of SKUs * # of Markets Served * # of Legal Entities in the Company * # of Facilities * (# of Suppliers + # of Customers)/Divided by Sales Revenue


Mariotti noted this might have to be changed for different types of businesses, and that it was only a rough calculation, but that it was certainly a reasonable place to start.


Now, at a high level there are two schools of thought on complexity: (1) that it must be ruthlessly rooted out, as Mariotti argues, else the company is doomed to underperform; (2) companies need to learn to "master complexity," since it is here to stay, and use the superior ability to do so to gain advantage over competitors less able to gain such control. In fact, a notable report from Deloitte a few years ago called top performing companies "complexity masters," which it said was comprised of just 7% of firms and which enjoyed outsized financial performance.

I suppose as usual the right path is a strong mix of both. Where to draw the line? That is the real question. Do any companies formally consider this balance between mastering complexity and reducing it? None that I know. And recall that a bit more than a year after it took thousands of SKUs off its store shelves to reduce its own supply chain complexity, Walmart restocked them all and then some in 2011 (more than 8500 SKUs in total), promoted with "It's Back!" signs throughout the store.


So I think it would be interesting to develop some measure for both the supply chain as a whole (macro view) and at an individual company level (micro view) of the level of complexity. The former would probably only be really useful for analysts and various other pundits, but might be interesting to note each year. But the latter, if done well, might be beneficial for companies to analyze their own supply chains, as Mariotti suggested.


I also believe the right approach would be an index, not a raw score. In other words, you would pick some point as the baseline year – maybe the current year if just starting. So then if a company added SKUs this year, that would push the complexity score up. If it consolidated distribution centers, that would bring the complexity score down versus the baseline year, so you could track progress up or down. Similar to what Mariotti proposed, maybe just a little more sophisticated. I will work on it.


If anyone has done this or has any ideas on how it might be developed, let me know. My thoughts are evolving literally as a write this, but it seems to me I can square the circle by saying we must seek to master the inherent complexity that the macro world throws on us, and do so in part by reducing our internal complexity wherever possible.


That said, I do believe this is the most challenging year in supply chain history - and that next year is likely to be worse still. It really is getting harder. We need some way to quantify that a bit. Will we ever reach a peak point? Not sure on that.


What I do know - and which we often don't want to admit - is that with the pain of rising complexity and other challenges comes greater importance and visibility for supply chain as a whole and for individual performance. A lot more executives care about transportation management today with rising fuel costs and concern about CO2 emissions than they did a decade ago, as just an easy example.


Complexity must be eradicated. Long live complexity...


I am sad to note that for the second time in less than a year, a former CSCMP Distinguished Service Award winner has passed away.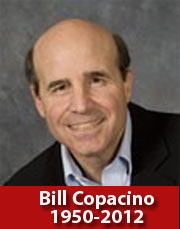 Bill Copacino, most notable for his years at Andersen Consulting and then heading up Accenture's supply chain practice when the company was formed after Andersen split in two, died this past weekend after learning just a few weeks before that he had an aggressive and terminal form of liver cancer, shocking his family, friends and colleagues. He was 61.

Copacino won the DSA in 1998. Last summer, fellow award-winner Dr. Don Bowersox of Michigan State also passed away.


I only met Bill a few times, and he seemed like a genuinely nice man. His many writings certainly influenced my knowledge and perspective on supply chain management. He authored three books and more than 150 articles on supply chain and logistics, a few of them among the most influential ever, and was certainly one of the most visible and respected supply chain professional s for many years.


My friend Gene Tyndall, now at Tompkins International and who in a sense competed with Copacino while he was running E&Y's supply chain practice in the 1990s, says that ""Bill was a true leader in our Supply Chain world, as well as a true friend. He brought lasting levels of progress, innovation, change, and professionalism to Supply Chain and Operations managers that will be valued forever. We lost a special and irreplaceable person, way too young, and way before his time."

After retiring from Accenture in 2004, Copacino served as Chief Administrative Officer for C&S Wholesale Grocers, followed by a tenure as Chief Executive Officer of Oco, Inc., a software company recently acquired by Deloitte Consulting.

Dozens of supply chain professionals Copacino managed at Accenture are in high level positions today throughout the industry.


I would welcome your thoughts on complexity, and if these really are the most challenging supply chain ever, as well as any remembrances of Bill Copacino.