Well, I am off to CSCMP 2011 in Philadelphia Sunday, and hope to see you there. If you see me walking fast down the hallway (that's just my style), please stop and say hello. I will find many of my industry friends there for sure, but love meeting with SCDigest readers at these events.
If you can't make it, we will as always be publishing our very popular daily video reviews and comments, so look for those each day next week. We will also be filming some short interviews for the new upcoming CSCMP Insights series we are partnering with CSCMP on. We already have several shoots scheduled, but if you are a CSCMP member in good standings, and especially if you are presenting at the conference, shoot me an email and we just may be able to set something up.
GILMORE SAYS:
"Lewis said that with the previous system, they were drowning in exceptions, and even measured planners by how many exceptions that cleared per day."
WHAT DO YOU SAY?
I received a lot of good feedback on my piece a few weeks ago on A Few Smart Ideas for Your Supply Chain , in which I summarized several insightful and uncommon ideas for improving supply chain performance that I had learned from different companies. General reader sentiment was: keep it coming.
So, I am trying this. As most know, we run a large number of what we call Videocasts, featuring many companies and experts expounding on a wide variety of topics. Yes, there is usually a commercial aspect to these broadcasts, but we work very hard (and I really, really mean that) to ensure there is a strong educational value in the programs, which are really more like TV interviews then just a video webcast.
So this week, I am going to summarize key takeaways from a few of the most recent broadcasts we have done. Think you will find it of value.
On the distribution side, I have to say I was quite impressed with the way WESCO, a multi-billion distributor of electronics and construction products, has rapidly implemented "wearable" RF devices, trading out the traditional handheld type units they had been using for about two decades (the form factor - they had upgraded the equipment over that period of course). Everyone in the WESCO DCs is using these wearables, and as I saw firsthand, this hands-free approach drives big productivity gains. I think WESCO is zoning in too on combining the wearables with voice technology for picking and some other applications as the absolute best total approach, and I am in agreement there.
WESCO is a continuous improvement machine, about the best I have seen in distribution, and I love the "dynamic pick" approach they designed (Warrendale, PA DC manager Mike Rusnak leading much of the effort) that got rid of waves and gives pickers a lot of flexibility to grab the orders that will lead to the most productive trips. Rusnak addresses that in the QA section. Find the Videocast and/or the slides.
In part 1 of a three-part series focused on next generation supply chains sponsored by RedPrairie, Gartner analyst Matt Davis discussed the growing trend towards manufacturers developing "segmented supply chains" for different products and markets. No more "one size" fits all. So, just as an example, inventory and other decisions may/should be different for customers that want low price more than anything, and others that want service and responsiveness.
This concept has been around for many years, but just now seems to be coming into its own. One core message from Davis, who was part of implementing a segmentation strategy at Dell before joining Gartner: if you think you really only have one supply chain, you are almost surely wrong. Software, especially in supply chain execution that can flexibly drive different "workflows" based on different product/customer attributes, provides key support. Find the Videocast and/or the slides.
I have to say I was impressed with what in a sense is a new category of supply chain software from a company called ICON-SCM. "Response Management" has actually been around for a decade or so, but few (including me) had really heard the term. What does this class of software do? Watch the Videocast to really find out, but in summary, it enables manufacturing companies to manage their existing commitments to customers versus potential/future capacity in a very smart and real-time way, using an approach that is different from most current planning system capabilities.
What is cool is that the result can be inventory reduction, but more importantly the potential to capture upside revenue and margin by more flexibly meeting new demand as it comes in that might have had to have been turned away without this insight. ICON-SCM has deeply partnered with SAP on this, and SAP is taking it to market. In the same general Response Management ballpark is the Kinaxis solution and to a degree the Agile Demand Planning System from Softeon, though it does notreach quite as far back into manufacturing. This approach can really change how a company thinks and acts on Available to Promise (ATP). Find the Videocast and/or the slides.
For a while now, it has been clear that demand forecasting and replenishment have to be run on a "management by exception basis," - planners focusing just on those SKUs that fall out of some pre-defined tolerance range or other factors. But is even management by exception too much to handle? Maybe so, said Joe Shamir of ToolsGroup on a very recent Videocast . He thinks a new generation of planning tools is needed that frankly automates even more of the process so that companies can really scale forecasting and replenishment processes.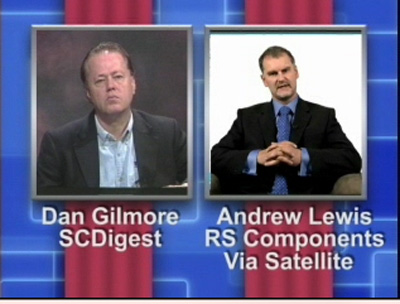 He was supported by a truly excellent case study from Andrew Lewis, head of global planning for RS Components, another multi-billion dollar distributor that carriers hundreds of thousands of SKUs. Lewis said that with the previous system, they were drowning in exceptions, and even measured planners by how many exceptions that cleared per day. Lewis went in and asked for the money in the midst of the recession, and told the CFO that "If you give me the money now, I'll give you eight times or more of it back by the end of the year." And he did.
Lewis said a key move was segmenting his team into core forecasters and "enrichers" who improve the baseline, and took the interesting approach that he wants the company to always be on the forefront of implementing the latest and greatest technology. Find the Videocast - there weren't really any slides.
In a Videocast on reducing out-of-stocks in the consumer goods industry, IBM's very smart Dr. Michael Watson made a number of interesting points. First, that studies have shown that there is not all that much difference in forecast accuracy between the best and worst companies in any given sector. The point was that to a degree, chasing more and more forecast accuracy may not be the best solution to improved inventory effectiveness.
Second, that companies often misunderstand in thinking that "inventory optimization" is just about reducing inventory. It is often just as much about indentifying for what SKUs/locations at a given company actually tend to have too little inventory, causing lost sales, and helping companies better understand inventory and margin trade-offs.
He also showed how Lean efforts in manufacturing can often lead to inventory problems downstream, and that, in some cases, the plant is in fact the best place to buffer inventory for optimal total supply chain performance. He also made the great point that optimizing inventory levels requires decisions at different points in time, from an annual, strategic assessment of how inventory will be used to the types of system/parameter tweaks that need to be made perhaps weekly (he actually had five levels in total), and how creating a discipline in doing these reviews/changes consistently pays real dividends, but few companies do so. Find the Videocast and/or the slides.
Hope you enjoyed these quick summaries. I rethought about a few things just putting this together.
See you in or from Philadelphia next week.
Anything especially strike you from these summaries of a few key points from these Videocasts? Have an alternative view? Let us know your thoughts at the Feedback button below.