Is the new supply chain imperative understanding the people and behavioral sides of both sides of the value chain?
Unquestionably, there has been much more attention to the people dynamic in supply chains generally in recent years, but to me it seems that has been mostly focused in two areas: (1) "Change Management" and the natural resistance of employees to accepting major changes in processes and technology; (2) "Talent Management," with more companies recognizing that the level and development of supply chain managers in their companies is a critical element of success.
GILMORE SAYS:
""Customers, and customers alone, are the ultimate frame of reference when designing and operating enterprise supply chains," Gattorna says."
WHAT DO YOU SAY?
But there are many more dimensions of the role of people in the supply chain that companies usually do not well consider in the design and execution of supply chain strategies.
That's one of many messages in my friend Dr. John Gattorna's new book, Dynamic Supply Chains. I had some thoughts on what the book is telling us a few weeks ago (See Time for more Dynamic Supply Chains?). As promised then, I am offering a few additional thoughts this week.
It's worth noting that for all the talk about how "dynamic" our supply chain environments are, it is usually couched in terms of inanimate aspects: oil and commodity prices, changing regulations, volatile demand, etc. But the people in and connected to the supply chain are by definition dynamic too, and drive much of what manifests itself in environmental dynamics. Yes, customer requirements are ever changing, but that is because the people running those companies have dynamic needs and strategy changes. We don't often look at it that way, it seems to me. We look at the current of the river, not its source upstream.
There is increasing understanding that the real problems - and the opportunities - exist at the seams and interconnection points of our supply chain networks, and that those connection points are multiplying rapidly as we develop "networks of networks" in today's global, virtual supply chains.
"Value is either created or destroyed through the management of those interfaces along the "chain" or across the network," Gattorna notes, adding that nearly all companies have "multiple supply chains running through them in a complex three-dimensional array."
However, "Managing supply chains actually involves understanding the interaction between human behavior, information technology, and infrastructure. This is the antithesis of what actually happens in business today," Gattorna adds.
Well that's a pretty bold statement.
The root of much of the problem is that companies don't really understand well the people-driven buying behaviors and cultures of their customers. While customer segmentation has been around a long time, it's usually done in a way that marketing might think about: channels, size of company, those sorts of things. Often, the focus of the segmentation is on the "marketing message" and communication channels.
Those are relevant attributes to be sure, but Gattorna says that market segmentation is more often than not disconnected from the supply chain strategy. And this, I think, is the crucial point: There has been tremendous progress in general in achieving better supply chain alignment within a company, using Sales & Operations Planning and other tools, to get the team rowing in the same direction internally. But is the output really well aligned with the market, and - critically - different segments of that market, in terms of customer buying behavior and resulting supply chain needs?
Gattorna, again, says not very often.

"Customers, and customers alone, are the ultimate frame of reference when designing and operating enterprise supply chains," Gattorna says.

Now think about that for a moment. When developing supply chain strategies and optimizing supply chain networks, are the customers and their needs really the starting point for those activities? Sure, forecasted demand is a key input, as well as lead time targets, but that is not what different customer segments really require from our supply chain. We are starting to see some of it with the notion in the consumer goods industry in "designing the supply chain from the shelf back," but Gattorna I think would say that those "shelves" have different needs depending on which customer it is.
To greatly condense the thinking here, Gattorna has a framework of four major customer segment "meta-types" (my word) based on total service needs. Those are:
Continuous Replenishment: Predictable demand, easily managed if there is good collaboration

Lean: Fairly predictable demand, somewhat looser relationships, focus on efficiency

Agile: All about pull - responding rapidly to unpredictable customer demand; use of various "buffers" needs to be a key supply chain component

Fully Flexible: Extreme example of Agile. Looking for customized solutions.
From my view, there may be other ways to segment customers in a similar way, though Gattorna (who was a long time Accenture consultant as well as an academic) provides quite a bit of support as to why these are usually the right four.

But the key points are again two: (1) You need different supply chains for each segment; and (2) Many if not most customers have needs for two or more of these type of supply chains across different products they buy, their own channels, and time.
So, the message is that companies need to align their own supply chains with these different customers needs and buying cultures (not just achieve internal alignment, which tends to result in "one size fits all supply chains"), and because customer needs and buying behavior changes, this alignment needs to be dynamic.

There many chapters dedicated to how to make this alignment happen on an on-going basis, and for some companies, especially those that need to transform rapidly to survive, a later push for something Gattorna calls "embedded alignment," which in summary involves development of an internal or external "4PL" or lead logistics provider approach that can rapidly use outsourcers and thus not constrained by the company's current culture, history, capabilities, etc.

That approach is certainly not for everyone, in my view, but for some this path in fact would be the fastest way to transformation.

I also liked this supply chain model, recreated by SCDigest from the book, that shows the most important questions that must be asked and answered at various levels of supply chain strategy - perhaps for each of the supply chains a company must design and manage.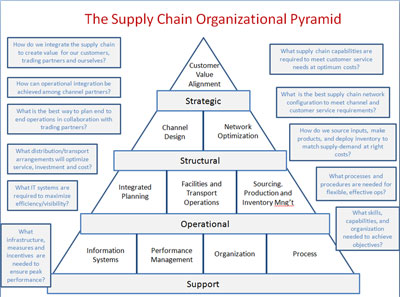 Source: Dr John Gattorna
Get to the point of dynamic alignment, Gattorna says, and "customers are serviced appropriately, no more, no less, eliminating under and over-servicing forever."
Is that future state vision truly achievable? I am not quite sold on that, but I do truly believe we are going to see new paradigms for managing our supply chain for the next 20 years of its history emerge, and at least some components of this thinking is likely to be part of that.
Do supply chains need to be better aligned with customer buying needs and behavior as Gattorna suggests? Does a "one size fits all" create a lot of our apparent supply chain complexity? Can we really get to a much greater level of precision in terms of the right level of total customer service? Let us know your thoughts at the Feedback button below.