I had been very much looking forward to the annual CFO maazine/REL working capital report for 2010, which was released last month. The report released in June analyzes 2009 numbers.
The report looks at overall Working Capital performance across a few dozen industry sectors and hundreds of companies. We focus on the inventory numbers, which they calculate using Days Inventory Outstanding (DIO), which is combined with payables and receivables data to come up with a total Working Capital number.
I was intrigued about what the inventory numbers would look like in the strange year that was 2009. The overall inventory to sales ratio spiked early on in the recession, as it always does, but then companies started cutting inventories like mad, reducing SKU counts, and anything they could do drive cash out of inventories.
Gilmore Says:




"One thing to keep in mind is that all of this is based on year end numbers, so it doesn't really tell you how well industries and companies were able to sense and respond to the drop in demand early on."

What do you say?

Send us
your Feedback here
The overall Working Capital numbers make it clear why there was an inventory reduction imperative. According to CFO, "2009 was one of the worst years ever for corporate working capital performance, and certainly the worst that CFO has reported since it began keeping track of working capital trends more than a decade ago."
Average days working capital (DWC) for 1,000 of the largest U.S. public companies jumped by 8.2% last year, the study found.
Working Capital is something of a strange term, as it sounds like a good thing. But it isn't as defined here. Working capital in this context means what could be cash that could be invested, paid out to shareholderrs, etc. is instead tied up in inventories and accounts receivable.
The study as always measures DIO as:
Inventory/[total revenue/365]
As such, it is sort of the reverse of inventory turns, in that a higher DIO, all things being equal, means poorer inventory management performance, while a lower number signals improvement.
The CFO report can be a bit confounding for supply chain watchers in that it often combines in the industry sectors very disparate companies, making the averages a little funny. As one example, in the Beverage sector, you have spirits Make Brown-Foreman with a 2009 DIO of 124 in the same grouping as Coca-Cola Bottling, with a DIO of 15.
Under Internet/Catalog retailing, travel web sites like Expedia, which has no inventory, are in the same mix with Amazon.com and the Home Shopping Network. Miners are mixed with steel producers, etc.
Oh well. Most sectors are not so confounded.
Below, is a list of the product-based sectors in the report, summarizing their DIO for the year and change from 2008 DIO levels:
Aerospace and Defense: 48 (in 2009) from 49 in 2008
Auto Parts and Components: 32 from 33
Beverages: 25 from 23
Biotech: 49 from 36
Building Products: 41 from 40
Chemicals: 53 from 50
Communications and Networkinf Equipment: 23 from 29
Computers and Peripherals: 20 from 21
Containers and Packaging: 42 from 43
Electrical Equipment (e.g., Emerson Electric, AO Smith): 40 from 42
Electrical Equipment, Instruments and Components (e.g., Corning, Avnet): 39 from 41
Food and Staples Retailing (grocery and drug stores): 30 from 29
Food Manufacturing: 40 from 44
Healthcare Equipment and Supplies (e.g., Becton Dickenson, Stryker): 45, flat from 2008
Household Durables (which unfortunately includes home builders as well as Whirlpool and others): 68 from 77
Household Products (consumer package goods): 38 from 45
Industrial Conglomerates (e.g., 3M, GE): 45 from 47
Internet/Catalog Retail: 16 from 13
Leisure Equipment, Toys (e.g., Mattel, Eastman Kodak): 37 from 39
Life Sciences (e.g., Bio-Rad, Thermo-Fisher Scientific): 40 from 39
Machinery (e.g., Caterpillar, Illinois Tool Works): 54 from 57
Metal and Mining: 70 from 57
Multi-Line Retail (mass merchants and dept. stores): 56 from 58
Office Electronics (a category of one – Xerox): 23 from 27
Paper and Forest Products: 51 from 52
Personal Products (e.g., Avon, Estee Lauder): 38 from 42
Pharmaceuticals: 39 from 34
Semiconductors and Equipment: 44 from 41
Specialty Retail: Flat at 50
Textiles, Apparel, Luxury Goods: 47 from 51
Tobacco: 61 from 53
Trading Companies and Distributors (e.g., Grainger, Kaman): 60 from 58
We also summarized the performance by sector from 2008 to 2009, from best to worst, as shown in the chart below (link to full size version of the chart below graphic. You can also find larger version on the web page link to this column below the Feedback button).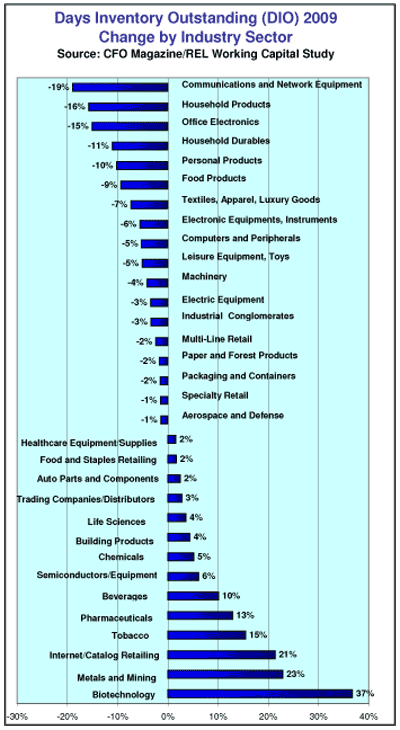 View Full Size Image (Click on it to Expand)
What does this all this mean? I am trying to figure that out myself. One thing to keep in mind is that all of this is based on year end numbers, so it doesn't really tell you how well industries and companies were able to sense and respond to the drop in demand early on - by year's end many had cut inventories ruthlessly.
The full CFO/REL report is available here:2010 working capital report.
We will do some additional analysis next week under the trends section of our On-Target newsletter. My quick reaction is that given the economic chaos, most companies and sectors performed pretty well, but would welcome your thoughts on this.
What's your reaction to the 2009 inventory numbers? Anything strike you? What further analysis needs done? Let us know your thoughts at the Feedback button below