As some know, I took a brief turn as an industry analyst for a company called META Group (subsequently purchased by Gartner) in the late 1990s.
Gilmore
Says:
" A large number of companies bought WMS systems in the 1990s from vendors that went belly-up, were acquired, were totally custom code, or otherwise went away, leaving them with working but orphan systems.."

What do you say?
---
Send us your comments here
I learned something very quickly – your average IT person doesn't care all that much about Warehouse Management Systems (WMS). META Group was full of very smart technology analysts, but they generally fell right to sleep if I started discussing WMS.

Considering I took that META gig after having just completed a rather grueling WMS implementation at a large, automated "green field" DC, I was a bit disappointed in that view of WMS. Now at SCDigest, while we follow just about all of the supply chain technologies, from Network Optimization to RFID, I'll admit to maintaining a bit of a soft spot in my heart for good ol' WMS.
As SCDigest's Mark Fralick has often noted, the unique need for a Warehouse Management System to tightly link the "logical world" of the software with the physical world of people, cartons and equipment dynamically moving around a distribution center is what makes WMS software development so hard for the vendors – and makes WMS implementation really different and often more challenging than almost any other software application.
WMS is also at one level among the most mature of the supply chain software applications, having first been developed roughly in the mid-1980s. Yet, it remains at the same time, one of the most dynamic, with the vendors constantly re-inventing the application space and extending it in many directions.
We cover all this and more in our latest issue of The Supply Chain Digest Letter, our hardcopy newsletter that covers a single topic in-depth. It has proven hugely popular – this month, the subject is WMS. Many of you will have already received your copy in the mail. Given the growing costs of printing and especially mailing (just FYI, it costs a lot more to mail now than to print), we can't send it to every SCDigest electronic subscriber, nor to our growing number of international readers.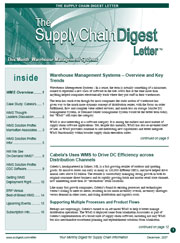 Almost as good, we always offer an electronic version, and a complete web page full of resources on each issue's topic. If you are considering or interested in WMS, you'll want to access the full 16-page newsletter, and visit the WMS resources page, with some of our best articles from the SCDigest archive on the topic, expert columnists, white papers, profiles of a few leading WMS vendors and more. Those resources also include our WMS TCO calculator, an Excel spreadsheet that really helps you determine the total cost of ownership between competing vendors – we've had many excellent comments on it since it was released in 2006.
I'll offer some overall WMS perspective and opinion in this column as well:
WMS has enjoyed a recent surge, as some market factors (see next point) combined with a large number of companies replacing dated warehouse management technology have made for a healthy market. A large number of companies bought WMS systems in the 1990s from vendors that went belly-up, were acquired, were totally custom code, or otherwise went away, leaving them with working but orphan systems. At SCDigest, we're seeing a strong level of replacement projects, as these older systems are too much to maintain or are lacking valuable modern WMS capabilities.
Offshoring has increased the need for WMS, as the number of import warehouses grows, as does the sheer number and size of DCs to store all that stuff. Offshoring also often leads to increased postponement activities in the distribution center, requiring more advanced WMS capabilities. eCommerce is also a factor, as almost every company becomes a "retailer" with some level of customer-direct web business. This customer direct business also changes order profiles and DC processing. In general, distribution center activities continue to become a lot more complex.
Virtually every vendor now offers not just a WMS but an integrated logistics or "supply chain execution" suite. This may include some or all of the following: labor management, transportation management, slotting, yard management, order management, visibility, etc. A real key for any company looking for a new WMS is to get a good grasp early on as to what piece-parts they really need – both short and long term. They also need to remember that competing WMS vendors will generally try to define the real key to your situation as being whatever module(s) the other vendor doesn't have.
The original offerings of these "integrated" suites in the early 2000s were more vision than reality, but today the integrated story is mostly true, which offers many benefits in terms of process integration, and also changes the vendor evaluation process.
The ERP versus best-of-breed debate still rages – more on that in a future issue of SCDigest – but to some extent the market has settled down a bit, with both camps somewhat stabilizing market shares. I will say I continue to be amazed at the absolutely silly way many companies go about this debate and decision. I heard several simply amazing stories from both friends and strangers at this year's CSCMP conference. How can large, successful companies be so brain dead when it comes to this issue? That's not to favor either camp, but just to say logic, fact and analysis is too often thrown out the window in the politics of the situation. And that's a shame.
We cover all this and more in the Letter and the resource page. Have a look.
Two other quick related notes:
We'll soon be announcing our "How to Select a WMS – the No Spin Zone" for 2008, which I lead along with enVista's Jim Barnes. There is a small fee, but we offer insight on how to do this well in a way you will simply not hear anywhere else. The real deal.
Next week, we'll also be announcing a new Distribution Excellence Workshop series, featuring Ken Miesemer, former director of distribution for Hershey's, and a true subject matter expert. The first two two-day sessions will be in April in Dallas and Chicago – look for details soon.
What's your take on the current state of the WMS market? What trends, issues or needs do you see? Any reaction to the SCDigest Letter on WMS, or the resource page? Let us know your thoughts at the Feedback button below.