50 Years of Walmart's Supply Chain


If you haven't heard, it is the fiftieth anniversary of Walmart - and its legendary supply chain - this month.

GILMORE SAYS:
"Walmart has had a huge impact on supply chain thinking and practice, and is regularly cited for its supply chain excellence by pundits who can't even really tell you why it is great."


WHAT DO YOU SAY?
The first Walmart store was opened on July 2,1962 in Rogers, Arkansas. (You may be surprised to know that Kmart and Target first opened stores that same year). The impact on the retail sector, the supply chain, and society as a whole from what is now by far the world's largest merchant has been nothing short of profound, especially the last 25 years.
Founder Sam Walton, a notorious cheapskate in his personal life, was even more so in business. The chain's fantastic success was driven by Sam's obsession with keeping costs low, and then using that cost advantage to drive down prices to increase volume, which lowered costs and thus prices further, in a virtuous circle.


Ultimately, that focus on costs turned to logistics, and Walmart certainly led the way in developing sophisticated systems to drive down logistics costs much earlier than almost everyone else.  The company honed these systems and capabilities in the South and Southwest regions of the country, sort of hidden from the major retailers headquartered in the Northeast, Chicago, etc., until it was too late to stop or even slow down a chain headquartered in then rural Bentonville, AR.
In 2011 (really its 2012 fiscal year ending in January), Walmart had global sales of $444 billion, a number almost hard to imagine. Of that, $318 billion was domestic US (combining US store sales and Sam's Club), and $126 billion was international. A chart of Walmart's sales growth since 2001 across those three segments is shown below. Wow. By comparison, the next largest US retailer is Kroger, with sales of about $90 billion, less than one-third of Wal-Mart's US total.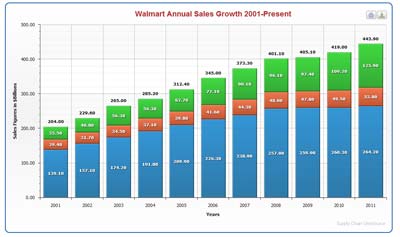 So that means the cumulative average growth rates over that time are: US stores 6.62%; Sam's Club 6.23%; international  13.5%; and total company 8.08%.
I have seen at various times numbers looking at Walmart's sales as a percent of the US total, but most have seemed flawed to me. So I did something I haven't seen done before. I took total US retail sales as reported monthly from the US Census Bureau.

I then subtracted from that total each year sales of automobiles, auto parts, gasoline stations and restaurants. This then gives us a better look at the markets in which Walmart more legitimately competes (yes, I know Walmart sells some gasoline and does a bit of in-store restaurant business, but I believe these aren't material to the analysis).
So, I then calculated Walmart's US retail market share by combining US store and Sam's sales and dividing that by the size of the overall US retail market (from my definition.) And what results is a pretty powerful and important story, as shown in the chart below. US market share has grown from 10% in 2001 to 13.8% in 2011, after having topped 14% in the preceding two years.