From SCDigest's On-Target e-Magazine
Oct. 12 , 2011
Supply Chain News: IBM Details its Total Risk Assessment Tool for Supply Management at CSCMP
New Inhouse Tool Combines Analyzes Multiple Data Sources to Come up with Composite Score, adds more Discipline to the Process
SDigest Editorial Staff
IBM provided details on its new total risk assessment tool for supply management last week in Philadelphia as part of the innovation award track at CSCMP's annual conference.
Though IBM did not win the award (shared by Del Monte, Ahold and ES3 for a collaborative distribution program; Motorola Mobility was runner-up for its new S&OP process with suppliers), the presentation showed the interesting approach IBM has taken and the challenges of effective supplier risk management execution.
SCDigest Says:

Caplice, who has done much work on risk management, said that the challenges of creating such algorithms have led similar projects in the past to be less than successful.

What Do You Say?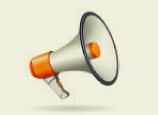 According Louis Ferretti, an executive in IBM's procurement group, the initiative started as part of an overall corporate strategy around enterprise risk management (ERM). As part of that overall effort, IBM looked more closely at the approach it was taking to risk management in supply management group, and found opportunities for improvement - especially considering the increasingly global nature of IBM's business.
"There is clearly more risk today in the supply chain than there was just five years ago," Ferretti said. He noted that as IBM makes or sells products in more countries around the globe, it usually tries to source components and materials locally where it can. That means dealing with suppliers, national and local governments, and many other parties it may have little direct familiarity with, and for which information may be hard to acquire or be dated by the time IBM receives it.
He cited, for example, the potential concern of an offshore supplier running into financial difficulties and having a local creditor seize critical tooling that IBM had paid for or provided.
Ferretti said within the supply management group, IBM needs to look risk in three areas: strategic risk, operational risk, and environmental risk.
While Ferretti said the approach IBM was taking was advanced for its time, more work was needed to deal with the changing corporate and global environment. Until recent changes, supplier risk assessment was managed by individual "commodity councils," buying teams responsible for different categories of products or services, such as memory chips or travel.
While there were guidelines and processes in place, risk assessment was largely a manual process, and at times overly subjective. What constituted "high risk" to one team might really be "medium risk" to another. The approach to data collection to support the risk assessments was manual and not especially rigorous in terms of process.
Ferretti said the approach was also not perhaps well structured to deal with newer concerns, such as environmental risk, and that further investigation identified that there were some systemic risks - risks that perhaps went across commodity council boundaries - that weren't being picked up.
Being the technology company that it is, IBM hoped to solve the problem through software, and Ferretti said its original intention was to buy a packaged tool that could pull multiple data elements together with some smart analytics to come up with risk scores based on all the data available.
Ferretti said he was surprised to find such a tool didn't really exist on the market. There were many that looked at one aspect of the problem, but none that really pulled it all together in the way IBM wanted. Not surprisingly, many of the vendors IBM met with were anxious to build out such as solution for IBM, but in the end Ferretti said he and his team decided if such an effort was required, IBM would be better off doing it by itself, using a combination of current IBM products (its Cognos analytics tool, ILOG event management capabilities, and more).
He also said he thought IBM could get the usability aspects of the tool better - key to its success - if it developed the software internally.

The tool brings in data from a number of sources: an existing IBM database that tracks supplier financial numbers and status; a third party data source that feeds info on news and events (from politics to the weather) from around the world, and inputs from its procurement managers and others as they respond to a series of structured questions (see graphic below).
IBM's Total Risk Assessment Tool Combined Multiple Data Feeds into a Composite Score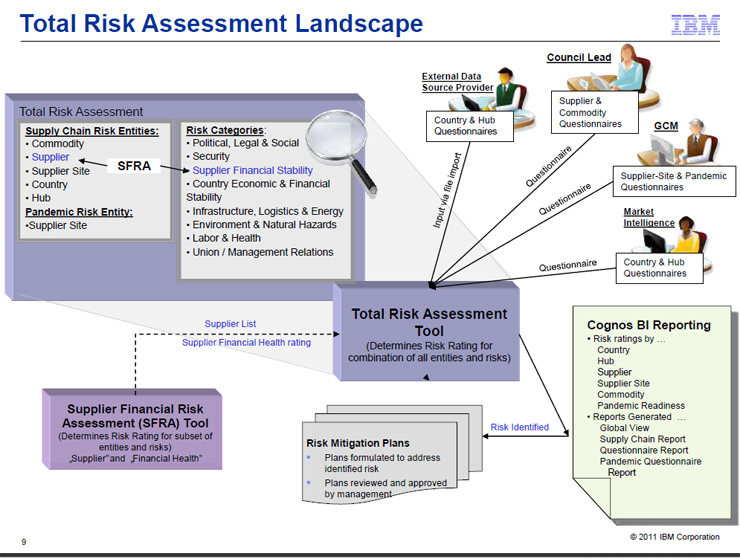 (Sourcing and Procurement Article Continues Below)