This is an area where traditionally conveyor OEMs would not be too interested in pursuing the business. The work can be quite messy, and the OEMs are primarily interested in selling new equipment, not salvaging old stuff. While the post-sales groups in the OEMs will sometimes handle this type of work, if a lot of equipment is to be re-used for a given project, the advantage generally is to an SI.
Key Takeaway: If you plan on using a significant amount of existing equipment, it tends to favor use of an integrator rather than an OEM. Vet claims of how existing equipment will be used, especially if it is being moved, very closely, by vendors of any type. The end result can be different from the initial promises.
Local or Long Distance Relationship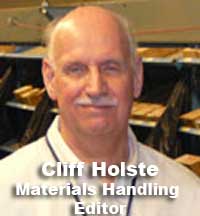 Though it may be fading a bit as a factor, the proximity of a given provider to the buying company's staff/headquarters and/or end deployment location/facility can be a factor in deciding which channel to use.
The general sense often is that having the vendor "be down the street" will lead to a closer, better relationship, and fewer issues related to communications, lag time, and other potential problems from a more distant relationship. This can given local SIs an advantage on many projects.
"The customer often believes, and many times correctly, that a local relationship will lead to superior service and more rapid problem resolution," says Cliff Holste, SCDigest's material handling editor and 30+ year veteran of the materials handing industry. That can be true at any or all stages of the project cycle: design, implementation, and post-implementation support.
That said, technology advances - from remote system monitoring to video chat and other developments- are muting some of those local presence advantages in some cases.
Another factor is that an SI for a local system should be able to offer cost savings through reduced travel cost for design and implementation, which can be a big part of total project costs for some systems.
Key Takeway: Companies in the end often go with the vendor they feel most comfortable with, and a local SI can often find advantage for a project from a relationship perspective.
Long Term Needs
If a given project is for a single facility, the vendor decision can obviously be made on that basis alone. If, however, the first system will be one of several planned roll-outs over coming years across the country or even across the globe, then companies need to consider the capabilities of an SI to support those needs.
OEMs will generally have more national capabilities (noting, however, that most US conveyor manufacturers have modest support for global deployments), and are less subject to the risk that they will go out of business down the road, as the smaller SIs could (though many have been in business for decades).
Key Takeway: Companies need to understand how likely additional roll-outs will be for the rest of their network, and assess the capabilities of an SI to meet those future requirements versus an OEM. As noted last time, however, some SIs are indeed building national presences, changing the dynamics a bit.
Design Approach
If a company plans on using a consultant to help with system design, that can change the dynamics of the deal. Specifically, consultants much prefer to "bid" conveyor system projects direct to the manufacturers, rather than systems integrators.
This is true for many reasons: the perception that can get a low price from the OEM; long standing relationships with the OEMs on both a personal level with representatives of the OEMs and how the different OEMs operate (and lacking that knowledge with specific SIs); a "prestige" factor (wanting to show they are working direct with "the big boys;" and frankly a general reluctance to bring in another company in an SI that might be too pushy with regards to their own design ideas.
Worth noting is the fact that it is very rare indeed for an OEM and an SI representing that manufacturer to compete on the same deal. One or the other will usually bow out. So, for example, if an SI representing an OEM finds and develops an opportunity, the OEM is highly unlikely to pursue the business direct even if asked to bid by the company or its consultants.
Key Takeaway: Discuss this issue upfront with current/potential consulting partners. The goal should be to bring in the most qualified bidders, which in some cases may in fact be an SI, based on sector expertise or other factors.
Holste adds an important point to this discussiom, however, with regards to new technology.
"One point that should be made is that advances in system design, equipment, and technology application like automated case picking will, with few exceptions, first be developed, prototyped, and proven by the OEM," he says. "Once several deployments have be successfully completed by the OEM, only then will selected channel partners be permitted to have access to the "new" system solutions. The OEMs are generally the ones on the cutting/bleeding edge of state-of-the-art developments. It's one reason their overhead costs are higher than the typical distributor or SI."
What would you add to our discussion about OEMs versus Systems Integrators for conveyor system/materials handling projects? Let us know your thoughts at the Feedback button below.