From SCDigest's On-Target E-Magazine

March 30 , 2011
Logistics News: Our Favorite New Products from ProMat 2011

More Detail on some of the Cool New Solutions We Found at this Year's Show; Robotics No Longer a Science Project?
SCDigest Editorial Staff

SCDigest editor Dan Gilmore and Materials Handling Editor Cliff Holste were in Chicago last week for the bi-annual ProMat materials handling and logistics show, and identified a new of new and interesting products there.
Many were featured in the Day 1 and Day 2 video reviews, as well as Gilmore's summary column last week. Here, as promised, are more detailsl on some of these new products that caught our eye at the show.
SCDigest Says:

We believe the important point is that buyers of materials handling systems need to factor how different vendors are going to handle simulation and emulation, often not explored today

.

What Do You Say?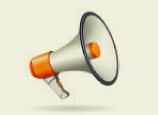 TGW Systems (formerly TGW-Ermanco): TGW featured a new very high speed "mini-load" AS/RS system called Mustang Evo. The crane speed of 6 meters/second was impressive, and is near or at the top of the speed range for mini-load systems.
What we liked even more were the capabilities of the "Twister V" unit handling system on the cranes at the show. The TGW systems are designed to be 'component-based," meaning you could add any of several different container handling systems to the Mustang Evo.
The system at the show was designed to carry totes and/or cartons, and company spokesman Kevin Tedford said the solution was increasingly being used for automated case picking (ACP). The Twister V uses an interesting "finger' system to grab and putaway the cases/totes.
Tedford said system can putaway or grab up to four cartons/totes at a time, and even better is designed to handle cartons of multiple widths. Cartons are designated as being in a certain class, and within that class the width can vary by plus or minus two inches.
These are all the types of advances that are improving the overall flexibility of mini-load systems, and more specifically making them very viable alternatives for ACP.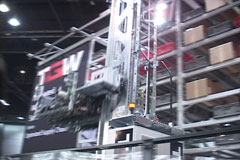 ---
Smart Karton's All Paper Pack: This new packaging system is very innovative. Each box comes with a self-adhesive-based inner Kraft paper liner can be crumpled up on itself and therefore hold the product securely in the carton.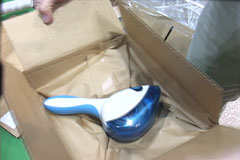 This approach eliminates the need for filler materials to be added to the carton. The paper liner simply holds the product in place, and can be used for products weighing up to 12 pounds.
The product would typically be packed from the bottom, so when a customer opens up the box, there is the ordered item(s) completely accessible, with no peanuts, plastic wrap or anything to get in the way or cause a mess.
Better still, the box with the liner is completely recyclable.
Company spokesperson Frannie Whiteside says for most companies it will be about breakeven on the extra cost for the Smart Karton versus the reduction in filler materials. However, that is on materials alone, not considering the savings from reducing a step in the packaging process in the DC.
The improved experience for the customer alone might be worth the switch, from our view.
---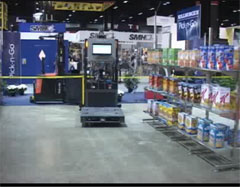 Kollmorgen Turns Fork Trucks into AGVs: The new "Pick-n-Go" system from this Virginia-based vendor is intriguing, if expensive for now.
Kollmorgen adds a control system to a fork truck from almost any manufacture such that it operates much like an operator/WMS-controlled AGV.
This is similar in one sense to an offering from Crown announced earlier this year, in which an operator uses controls on a special glove to move the truck forward without the need to get back on it, which can really boost productivity in case picking.
But the Pick-n-Go is designed to integrate with a WMS and/or voice system, sending the truck automatically to the next location or say to staging after a pallet pick is complete because the WMS is telling it where that truck needs to be next.
Spokesperson Benny Forsman was straightforward when he said "all in" costs right now are about $50,000 per truck, which is usually several times the cost of the truck itself. This is bwcause new breaking, safety and other systems need to be added to the equipment.
However, he said some companies with 2-3 shift operations even at that level of cost.
The system costs are significantly reduced when it is built into the truck when it is manufactured. This American company is doing that now with four truck producers in Europe, such as Linde, but not in the US as yet.
Worth keeping an eye on.
---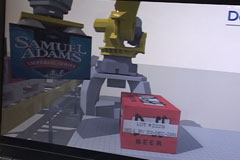 Demo 3D's Simulation/Emulation Software: This company offers a very cool set of tools to simulate materials handling systems and allow companies (usually system providers) to emulate the performance of actual control systems in a virtual automation environment.
The system looks great, and many of the visual and functional advances in the last few years have come from leveraging advances in computer gaming technology to dramatically improve the look and power of these systems and substantially reducing time and cost to simulate/emulate.
As valuable as simulation and emulation can be, the time and cost to do it (especially simulation) preclude their use for most new automation systems. This, naturally, can lead to unforeseen problems in the system when it is deployed, and leading to control,changes on site that might be much better handled back in the office.
We believe the important point is that buyers of materials handling systems need to factor how different vendors are going to handle simulation and emulation, often not explored today, and that the tools have so improved relative to time and cost they are very appropriate for many more systems today.
---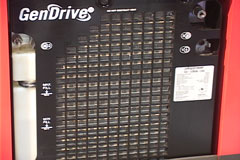 Raymond's Fuel Cell Powered Fork Trucks: Raymond is by no means the only company to introduce fuel cell trucks, so this is more as indicative of a trend, but Raymond showcases the recently released 4250 truck powered by fuel cell technology.
Raymond's Frank Devlin expert was very knowledgeable on the subject of fuel cells, and told us there were about 1000 fuel cell powered units deployed in the US today. That is versus the total sales of lift trucks in the 80-100,000 range.
The benefits of fuel cells: users get rid of all the battery costs and handling headaches, and this certainly is the 'green" approach - no energy used to charge batteries, and the only emission is water vapor. It takes just 2-3 minutes to refill the cell with hydrogen, using the aperature seen on the upper rightof the photo above, and Devlin said most companies are leasing filling stations inside a DC or plant from one of the major industrial gas providers.
The big challenge is the cost: fuels cells cost something like $32,000 right now, a multiple of the cost of the truck itself. However, there are federal and some state tax credits, however, and the prices of the cells will eventually come down with volume gains.
Devlin said many companies have acquired pilot units, and that a few shippers have outfitted a whole DC, and can find ROI in 2-3 shift operations.
We believe this is just the way it will go before long as costs decline, so make plans accordingly.
(Distribution/Materials Handling Story Continues Below)