From SCDigest's OnTarget e-Magazine
- Nov. 3, 2015 -
RFID, AIDC, and IoT News: Internet of Things Sits Atop Gartner's Emerging Technology Hype Cycle Curve
The IoT is Real, but Gartner Predicts We are in for Some Disillusionment Soon
SCDigest Editorial Staff
For many years, Garter has produced its famous technology "hype cycles," sort of lifecycle curves for various technologies that predict in a sense their journeys from market introduction through high levels of hype to major disappointments and then eventual value.
SCDigest Says:

If history is any guide, that means some of the bloom is likely to come off the IoT rose over the next couple of years, perhaps as companies find the ROI or customer value isn't as ubiquitous as the hype machines might have you believe.

What Do You Say?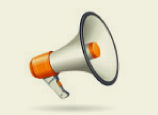 Below is a graphic of the hype cycle curve in a generic sense, plotting how technology moves from introduction to eventual mass deployment (for some of them at least.) The stages of that lifecycle journey are:
Technology Trigger: A potential technology breakthrough kicks things off. Early proof-of-concept stories and media interest trigger significant publicity. Often no usable products exist and commercial viability is unproven.

Peak of Inflated Expectations: Early publicity produces a number of success stories - often accompanied by scores of failures. Some companies take action; many do not.

Trough of Disillusionment: Interest wanes as experiments and implementations fail to deliver. Producers of the technology shake out or fail. Investments continue only if the surviving providers improve their products to the satisfaction of early adopters.

Slope of Enlightenment: More instances of how the technology can benefit the enterprise start to crystallize and become more widely understood. Second- and third-generation products appear from technology providers. More enterprises fund pilots; conservative companies remain cautious.

Plateau of Productivity: Mainstream adoption starts to take off. Criteria for assessing provider viability are more clearly defined. The technology's broad market applicability and relevance are clearly paying off.

Usually on an annual basis, Gartner then takes a set of technologies in a given area, such as supply chain, and plots them on this curve.
An almost perfect example of the accuracy of this model relates to RFID, which saw massive hype in 2003 and 2004 as Walmart began rolling out its mandate with suppliers. At that point, RFID would have been near the top of the hype curve.
Gartner's Generic Technology Hype Cycle Curve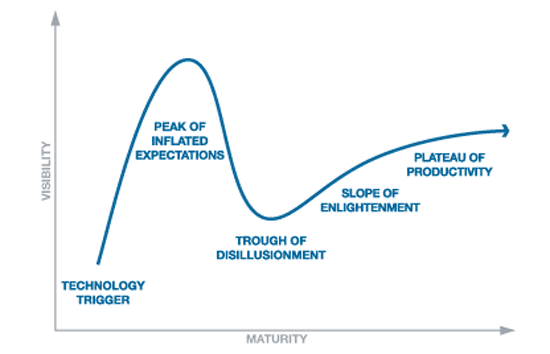 Alas, the Walmart RFID program collapsed, and RFID, at least in the consumer goods to retail value chain, certainly entered the dreaded "trough of disillusionment," as venture capitalists lost hundreds of millions of dollars when the Walmart program went south, and little or nothing happened then in RFID for retail for several years thereafter.

(RFID and AIDC Story Continued Below)