From SCDigest's On-Target E-Magazine

- Oct. 27, 2014 -
Supply Chain News: New Study from Boston Consulting Group Show Modest Increase in Reshoring Interest, but Picture Remains Unclear
US Likely to Gain Share as Percent of Average Company's Total Manufacturing Footprint
SCDigest Editorial Staff


As SCDigest has noted many times, there are many anecdotes about companies "reshoring" production back from China or other offshore location, or deciding not to move production there in the first place, but whether this is a real trend or not is still unclear based on the data.

SCDigest Says:

The companies that have already reshored cited a variety of benefits, led by creating a shorter, more responsive supply chain, reducing logistics costs, and achieving better control over manufacturing processes.

What Do You Say?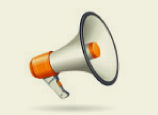 The latest data points in this question come from Boston Consulting Group, which has done quite a bit of work in this area over the last few years, including just releasing its third annual study of large manufacturers (greater than $1 billion in sales) relative to their intentions on reshoring. In total, 252 US companies responded to the BCG survey.
The modest good news: the results show such interest and action is up, though far from dramatically.
As shown in the chart below, 54% of respondents said they are generally interested in reshoring one way or another, the same as last year's total, which in turn saw a large jump from just 37% in 2012.
But within that group, the percent of companies saying they have already started doing some reshoring jumped from 13% to 16%.
Meanwhile, the number saying they will consider this question in the near future rose from 17% to 20%, but that and the growth in companies already doing reshoring took away from the numbers of companies in final reshoring decision mode, which fell from 17% in 2013 to just 10% this year.
The percent of companies saying they will be move production back to the US in the next two years stayed flat at 8%.
The news gets a bit better when these manufacturing companies were asked how their capacity is likely to play out over the next 5 years. As can be seen in the chart on the bottom half of this page, the share of capacity existing in the US is expected to grow 7%, from 44% to 47%.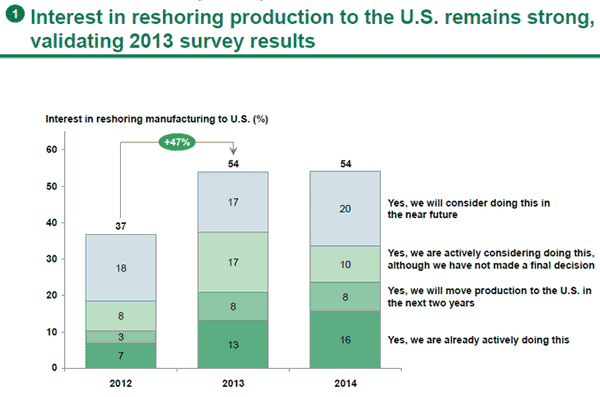 Source: Boston Consulting Group


(Manufacturing Article Continued Below)