From SCDigest's On-Target E-Magazine

- Jan. 21, 2014 -
Supply Chain News: Amazon Gets Patent for Speculative Shipping Process

Not Quite as Wild as Drone Concept, but Impressive Thinking Nonetheless
SCDigest Editorial Staff

The innovation machine that is Amazon.com keeps chugging along, now with word it recently received a US patent for a method of "speculative shipping" to potentially speed up orders to customers and/or reduce inventories network wide.
This one may not be quite as far out there as drone-based deliveries, but it is out of the box thinking for sure.
Here is the basic idea: Amazon would forecast demand for a given geographic region, whether that is a state, a metro area - or maybe even an apartment building, on something like a daily basis.

SCDigest Says:

Will this Amazon idea ever get implemented? Who knows, but one has to be impressed by the level of thinking and supply chain innovation nonetheless.

What Do You Say?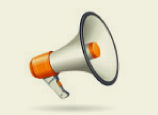 It would then pre-ship items towards that geographic area at the same level of granularity (meaning possibly, for example, based on a 5-digit zip code, maybe a 3-digit code, or maybe a street address with no name/unit), using common carriers. Each package would be uniquely identified.
If an order is received for that item, then the delivery address would be communicated to the carrier, which would somehow update the shipping information for that parcel. This of course would be comparatively easy to do electronically, in the delivery database, but how the physical label would be changed is not clear.
The patent seems to imply the delivery addresses would be changed at a carrier's hub. The logical solution would be that as a parcel is received at the hub, the unique identifier would be read, and a new shipping label applied if needed using some form of automated print and apply system. However, this would create extra processing and labeling costs for the carrier, especially as just a small percent of parcels would likely need to be handled in this way, maybe slowing down all the others.
RFID of course might someday be used, but even then most want a traditional label to go along with it in case of tag failure.
The Amazon patent is quite lengthy and a bit difficult to get through, as are almost all patents, but is interesting nonetheless. It can be found here: Amazon.com Speculative Shipping Patent

The patent notes that a given parcel may pass through several hubs on its way to a geographic area. Each of these stops would present an opportunity to redirect a package based on an order or forecast information.
A flow chart of how this process would work in one form is provider below (an SCDigest recreation of difficult to read graphic in the patent itself).
Amazon's Speculative Shipping Concept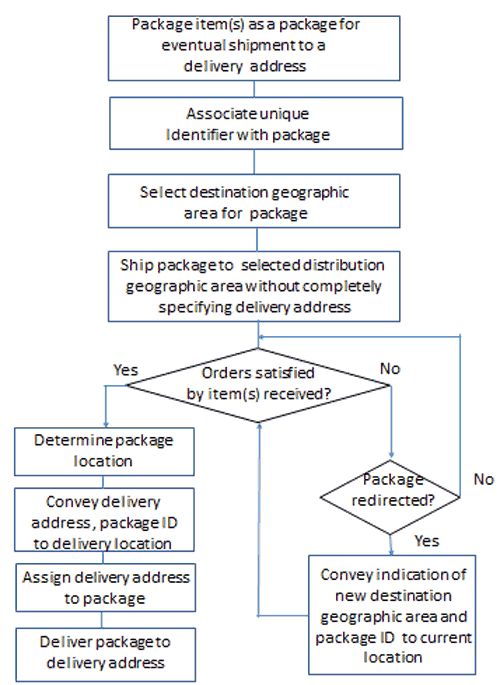 The patent also uses a number of different terms to describe this vision, as noted in the paragraph below from the document (SCDigest added the bold in the next paragraph to highlight those terms): "In conventional order fulfillment systems, an item is not shipped (or in many cases even packaged for shipment) until a customer places an order for that item to be delivered to a specific delivery address. However, in one embodiment a package including one or more items may be shipped to a destination geographical area without completely specifying a delivery address at the time of shipment. Instead, a delivery address may be completely specified while the package is in transit."
Continuing on: "Such shipment of packages without completely specifying delivery addresses at the time of shipping may also be generically referred to as speculative shipping, and completely or partially specifying a delivery address for a package after that package has shipped (irrespective of whether the package originally was shipped with a delivery address) may be generically referred to as late-select addressing, or simply late addressing. In some embodiments, speculative shipping of a package may occur in anticipation of a customer ordering items in that package, but before such an order has actually occurred. In such embodiments, speculative shipping may also be referred to as anticipatory shipping."
(Distribution/Materials Handling Story Continues Below )