From SCDigest's On-Target E-Magazine

- March 25, 2013 -
Logistics News: Understanding Intelligrated's Bold New Software Strategy


Four Years after Intelligrated Acquired FKI, It has Recently Acquired Providers of WMS, WCS, Labor Management and Voice Technologies; What Does it Mean?
SCDigest Editorial Staff
SCDigest Says:

The move is not without risk - the software business moves at a much faster cadence than the materials handling system world does.

What Do You Say?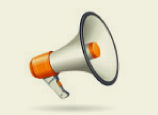 Materials handling automation vendor Intelligrated made a major move to increase its size and solution set when it acquired FKI Logistex in 2009.
That move was in large measure a continuation of the company's existing strategy, and enabled Intelligrated CEO Chris Cole and president Jim McCarthy to in a sense come full circle, as the two had been executives at Pinnacle Automation and its Buschman conveyor unit when the UK's FKI acquired Pinnacle in 2000 to form FKI Logistex.
But two recent acquisitions will now take the company on a very different course. In December, Intelligrated announced it was acquiring supply chain execution software provider Knighted, which brings the company Warehouse Management, Warehouse Control Systems, and Labor Management capabilities.
Two weeks ago, Intelligrated said it was acquiring Voice technology provider Datria.
These are very different types of acquisitions that will clearly take the company in new directions.
What do these moves mean for Intelligrated, the hardware and software market, and customers?
SCDigest editor Dan Gilmore and materials handling editor Cliff Holste explore these issues in our latest Materials Handling Tech Note: Intelligrated Shakes Up the Materials Handling Marketplace - What Does it Mean?
"The company is clearly charting a bold new course that is not without risk, but could have a significant impact on the market by merging automation and software solutions," Gilmore and Holste write.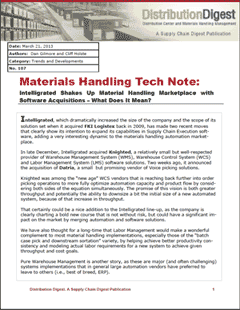 Intelligrated says by controlling both side of the equation, including an expanded WCS, it will be able to offer better system performance, as in many cases the Warehouse Management System cannot keep up with today's incredibly fast conveyor systems.
That the WMS is sometimes the limiting factor can often be true, Gilmore and Holste agree, and note that the combination could also lead Intelligrated to be able to offer more firm guarantees around total system throughput.
But the move is not without risk - the software business moves at a much faster cadence than the materials handling system world does, and while Intelligrated is wisely keeping Knighted as a separate business unit, in the end Intelligrated's management will have to learn how to run a software business. (Though Intelligrated's Greg Cronin has lots of experience in the software world at the old McHugh Software (which became RedPrairie and now JDA), Manhattan Associates, Viewlocity and others.)
The company will also have to balance the attention and resources in the general software market versus automation projects pursued jointly by Intelligrated and Knighted.
We address all these issues and more in this new Tech Note. Take a look.


(Distribution/Materials Handling Story Continues Below )