Generally, results for the full year were similar, but some of that 2012 data is worth noting. Only Arkansas Best/ABF Freight had an operating ratio of over 100%, indicating continued improvement in the financial outlook for this historically beleaguered sector. All five of the carriers lowered their operating ratios last year over 2011, lead by Old Dominion again, which drove its operating ratio down to just 86.5%, substantially better than number 2 Saia, which had an OR of 94.6%.
(The operating ratio equals operating expense divided by operating revenue, a key measure of profitability in the transportation sector across all modes).
That said, Saia reduced its 2012 OR by 2.7 percentage points, and saw its net income rise by an impressive 180%.
Full Year 2012 LTL Carrier Results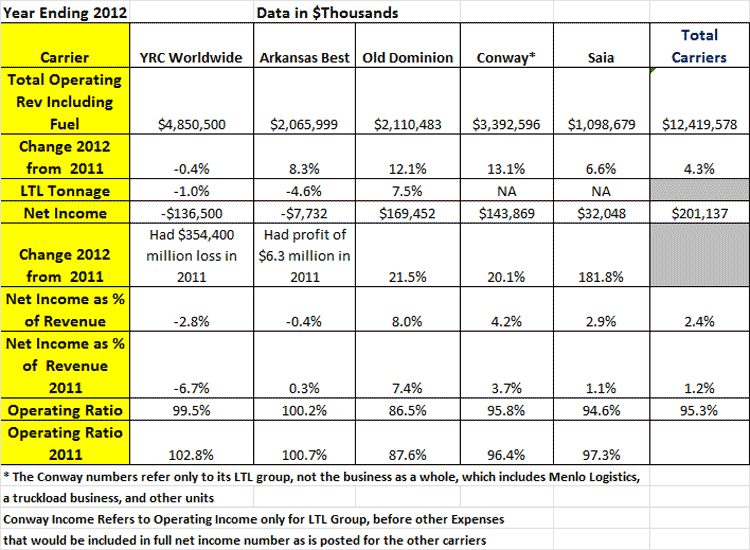 Source: Supply Chain Digest
As always, we include some of the comments from the carrier's earning releases, though in general they were pretty brief this quarter.
YRC Worldwide
Noted that "Obviously, 2012 was a year of significant progress for the organization. We eliminated all distractions that have been keeping this company from focusing on what we do best."
The company noted that a key element of reducing its operating costs was a strong focus on employee safety.
"Our system-wide employee safety initiatives showed tremendous progress in 2012. Collaborating with employee safety committees at terminals to drive cultural change from drivers to dockworkers, we are working more safely than ever before," the company said. That effort is leading to a continued decline in workers' compensation claims.
YRC's regional LTL business continues to outperform the national long-haul business, but the gap is shrinking. In Q4 2011, the OR for regional was 98.2%, versus 103.3% for national. But in Q4 2012, regional saw its OR fall to 97.9%, but national drove its operating ratio even lower, to 97.3%.
Arkasas Best/ABF Freight
Company said it saw generally flat year over year revenue, tonnage and pricing. However, when "normalized" relative to various market and environment changes, rates were up some 2.5%
The company's expedited and premium business, largely coming from its acquisition of Panther Expedited Services, is now up to 20% of total revenue. Arkansas best wants to be an 'integrated logistics solution provider."
Management is highly focused on "lowering our costs in the next labor contract through negotiations that are now underway," adding that it is the only remaining union LTL carrier still paying National Master Freight Agreement rates.
That agreement once covered 50,000 LTL drivers and terminal operators across many carriers; now it covers just 7500 employees at ABF.

The company says that without a change to the contract, it will be forced to close some terminals and distribution centers.

Old Dominion
Company said its annual operating ratio of 86.5% is a new record.
Its comparatively lackluster fourth quarter results "reflect in part the impact of Hurricane Sandy and severe winter weather conditions, which slowed our revenue growth and increased our operating costs."
Old Dominion said it was able to achieve a 3.7% increase in revenue per hundred weight, excluding fuel surcharge, driven in part by increased pricing.
Conway Freight
Revenue per hundredweight, or yield, increased 5.1 percent from the previous-year fourth quarter. Excluding the fuel surcharge, yield rose 4.2 percent.
The improvement in operating income was affected by an accelerated decline in daily tonnage at the close of the fourth quarter, which exceeded normal seasonality.
Saia
Compant said it remained "focused on yield improvement and advancing our operational efficiency goals."
It is continuing implementation of industrial engineering initiatives that have improved operating efficiencies, reduced its reliance on purchased transportation, increased fuel efficiency, reduced cargo claims expense and enhanced customer service.

Any reaction to this Q4 2012 LTL carrier review? Let us know your thoughts at the Feedback button (for email) or section (for web form) below.