A largely similar story for the full year, as total sector profitability rose more than 13%, led again by Hunt, Swift, and Celadon, though for the full year Marten also notched a 12% gain.
Full Year 2012 Truckload Carrier Results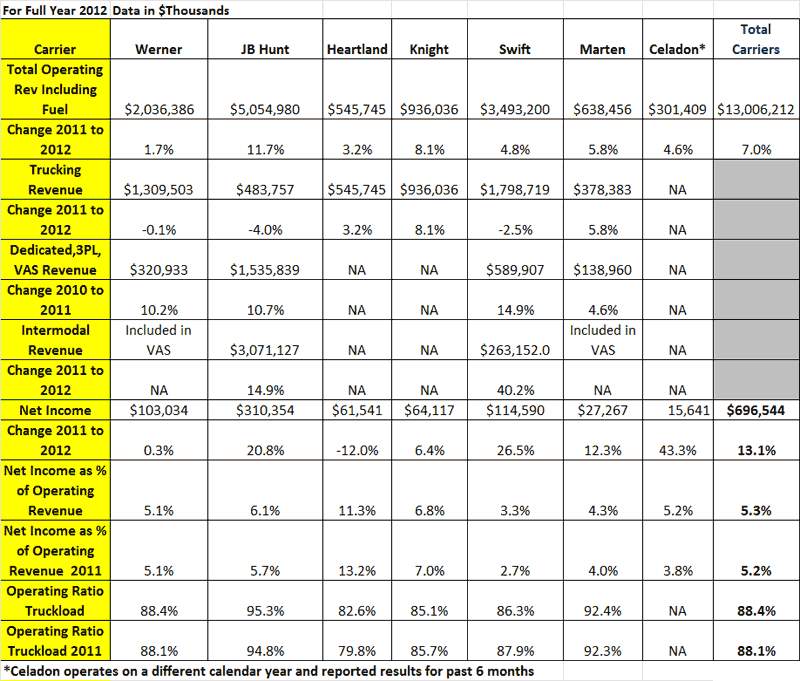 Source: Supply Chain Digest
We'll note that Werner's trucking revenue declined .1% for the full year while its VAS business, which includes dedicated and intermodal, rose 10%, as it undoubtedly sees the kind of success Hunt is having. Ditto at Swift, which saw dedicated and intermodal revenues jump 14.9% and 40.2%, respectively.
Net income as a percent of revenue came in about the same as 2011, at 5.3%, which is pretty decent by historical truckload industry standards.
As always, we include some of the comments from the carrier's earning releases, though in general they were pretty brief this quarter. SCDigest, however, gives a shout out to Werner for as usual having the best commentary on the overall trucking market, and JB Hunt and Swift for the most business segment detail.
Werner
Said freight demand was softer in fourth quarter 2012 compared to relatively strong demand experienced in fourth quarter 2011. Customers were generally more cautious with their shipping volumes and tightly managed inventories "during this period of economic and fiscal policy uncertainty."
Average revenues per total mile, net of fuel surcharge, rose 1.0% in fourth quarter 2012 compared to fourth quarter 2011 and rose 0.8% sequentially from third quarter 2012.
Said, "We believe there are several truckload capacity constraints including an older industry truck fleet, the higher cost of new trucks and trailers, significant safety regulatory changes and a challenging driver market.
In fourth quarter 2012, we averaged 7,156 trucks in service and we ended the quarter with 7,150 trucks. This is a 40 truck increase from the end of third quarter 2012, which followed a 215 truck decline during third quarter 2012 due primarily to our decision to exit certain less profitable customer business. Through new business awards, our truck count continues to increase in 2013, further narrowing the gap to meet our 7,300 truck goal."
Werner's Specialized Services unit, primarily Dedicated, ended the quarter with 3,295 trucks equal to 46% of its total fleet.
Noted that "From 2007 to 2010, the number of new class 8 trucks built was well below historical replacement levels for our industry. This led to the oldest average industry truck age in 40 years. Carriers were compelled to begin upgrading their aging truck fleets, which led to increased replacement purchases of new and later-model used trucks during 2011. Orders for new class 8 trucks slowed during 2012. We believe these orders slowed as current freight rate relief is not keeping pace with the increased costs and capital requirements for new and much more expensive EPA-compliant trucks."
Said new Hours of Service rules that go into effect in July will have just "a modest decrease in truck productivity."


JB Hunt
In Q4, intermodal 73% of operating income, truckload 4%, and dedicated 20%.
Truckload revenue for the current quarter decreased 12% from the same period in 2011 on an approximate
19% reduction in fleet size.
Rates from consistent shippers rose 1.6% from a year ago.

The intermodal business had a 87.3% operating ratio in Q4.
Hunt saw intermodal load growth of 11% in Q4. Eastern network loads increased 15% and transcontinental growth showed a 9% improvement.

Hunt now has approximately 3,600 power units in the dray fleet.

Heartland
The company "continues to focus on fuel surcharge pricing, truck idling hours, overall tractor
fuel economy, and fuel purchasing decisions in an effort to lessen the impact of higher fuel costs."
Nineteen customer service awards were received in 2012. Those include the Lowe's 2011 Gold Carrier Award, the Walmart Transportation 2011 Sam's Carrier of the Year Award, and Dupont 2011 Outstanding Service Award.
The average age of Heartland's tractor fleet was 2.4 years as of December 31, 2012 with all of the fleet being 2010 models and newer.
Its operating income for the year was negatively impacted by a $17.0 million decrease in gains on disposal of property and equipment.


Knight

Knight was one of the few to noticeably increase assets, with average tractors of 4,178 in Q4 versus 3,963 in 2011. The number of trailers also increased to 9,564 from 8,986.
Knight said it was able "to produce what we believe to be truckload industry leading revenue growth of 8.1% for the year."
Said that "The driver market remains challenging, yet we are succeeding in attracting and retaining high performing driving associates. We continue to benefit by leveraging our model and the advantages it provides us with our driving associates. As a result, our driver turnover has trended favorably and is well below what we understand to be the industry average."
Also said that "Our entire tractor fleet has been fully equipped with EOBRs for over two years. We believe this mandate will allow the carriers that have already adopted EOBRs to be more competitive in recruiting and retaining driving associates."
This is a key point. In effect what they are saying is that company's/drivers without EOBR are cheating and gaining competitive advantage.
Swift
Said that "The driver market remains challenging, but we are seeing success with our retention efforts as our driver turnover remains well below industry average."
Swift had 749 fewer trucks in the fourth quarter of 2012 when compared to the fourth quarter of 2011, but was able to generate more revenue "by delivering more with less as we continue to focus on our asset utilization."
Added that "We continue to monitor the freight environment and expect to adjust our truck count to match market conditions. As a result, we expect our first quarter truck count in our Truckload segment to be relatively flat from the fourth quarter of 2012."


Marten

Said Q4 delivered "the highest net income for any quarter and year in the company's history."

It was also Marten's eleventh consecutive year-over-year increase in quarterly net income.
Average tractor count was flat, with 2,202 trucks in Q4 versus 2,226 in 2011.
Celadon
Said its average rate per loaded mile improved to $1.56, increasing approximately three cents per mile from the December 2011 quarter, representing an approximate 2% rise in rates.
Average seated line-haul tractors was also flat, with 2,698 in Q4 versus 2,633 in 2011.
Any reaction to this Q4 2012 truckload carrier review? Let us know your thoughts at the Feedback button (for email) or section (for web form) below.