From SCDigest's On-Target E-Magazine

Sept. 19, 2012
Supply Chain News: Rethink Robotics Releases First New Product in Much Anticipated Announcement
Meet Baxter; Company Says Robot will Help Save US Manufacturing, Can be Programmed by Non-Techies in About One Hour
SCDigest Editorial Staff
Rethink Robotics, a start-up company launched in 2008 by the man who gave us the Roomba robotic vacuum cleaner, showed off its first industrial root, a six-foot tall shop floor worker it calls Baxter that just might revolutionize both robotics and US manufacturing.
SCDigest Says:

Brooks has been emphasizing the safety issues with most of today's existing robotics since the get go, noting how they are so dangerous that they have to be literally walled or caged off from workers in a factory.

What Do You Say?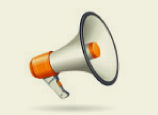 "Baxter is a low cost and highly adaptive robot for manufacturing applications," the company says, claiming that it (he?) will be the first in a line of what will be "robots with common sense."

Rethink Robotics was created by Rodney Brooks, former MIT professor who earlier had brought the Roomba vacuum to market. He had a vision for industrial robots that were safer, easier to use, more flexible and lower cost, starting the company as Heartland Robotics to pursue that vision, renaming it to Rethink Robotics a few months ago.

With that type of promise, the release of the first commercial product by the company was eagerly awaiting by market watchers.

Baxter is so easy to use that non-technical workers can train it, sometimes in as little as one hour, Rethink says about its new robot, adding that "Baxter increases workforce productivity so that factories in the US can compete against low cost offshore labor."
The company says Baxter can potentially be used in a wide variety of manufacturing operations, such as material handling, line loading and unloading, "test and sort," machine tending, packing and unpacking, light assembly, finishing operations and more.

A video accompanying the release shows a Baxter being removed from its average size wood packing crate, with the robot sort of in a squatting position with its legs folded up. Quickly Baxter is unpacked and pulled up to its full height of about six feet, with a smiley type face on the computer screen that forms its head. (See accompanying images).
More amazingly, Rethink says Baxter can be doing useful work in less than one hour.
The company also says no programming is needed to control the robot. Assuming this is true, it would indeed by a major technical breakthrough. The company video shows workers moving the robot's mechanical arms, apparently teaching it the movements that it needs to replicate.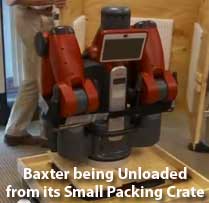 "Train Baxter to do a new task by just showing it what to do," the video says, as the robot appears to have been trained to pick up small parts from a conveyor line using its robotics hands with a grabber type mechanism on the end.
In what in the end could signal a profound change in US manufacturing and global sourcing, Baxters will "free workers from doing routine, mundane tasks to supervising robots that do them," Rethink says. Armed with a series of sensors and smarts, Baxter soon learns to adjust to the speed of the conveyor to pick up the parts, Rethink adds, and does "human scale tasks at human cadence."

That means there is no need to really redesign processes or workflow. Just put a few Baxters in place into existing processes and get going.


(Manufacturing article continued below)