The maximum CPM rate of a conveyor system is dependent on the slowest speed conveyor in the mainline through which all cases must flow. In a typical batch order picking and sorting system, this is normally going to be the metering belt conveyor (also referred to as the induction conveyor) located in the mainline feeding the shipping sorter. This is a short (3 to 5 foot long) belt conveyor typically located just prior to the sorting conveyor and is usually feed by one or more accumulation conveyor lines.
Cartons that are placed onto the conveyor system must flow through the induction conveyor prior to being sorted. The primary function of the induction conveyor is to insure that there is sufficient space "gap" between cases so that the sorter can divert individual cases into the after-sort lines. The slow speed side of the induction conveyor determines the maximum case-feet-per-minute the system can deliver.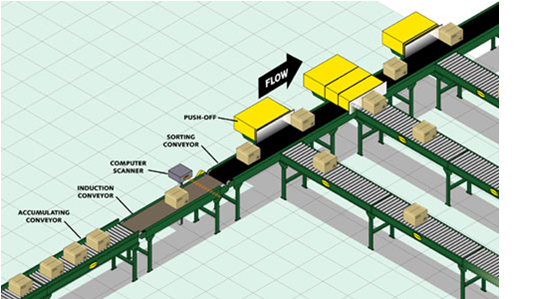 Note: Check to determine that no other conveyor in the main transportation line is running at a slower speed than the induction conveyor as this will restrict system volume to that speed.