Holste Says:

...there is always the potential for unexpected system shutdowns. In this environment, it's a good idea to have a shipping/sorting system capacity that is in excess of what is normally needed.

What Do You Say?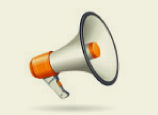 Previous Columns by

Cliff Holste
When planning an order fulfillment system the focus is (as it has always been) on maximizing shipping capacity. Customer orders must be quickly and accurately picked, packed, and shipped. Shippers have long depended on automated sorting systems to deliver consolidated orders to the shipping dock. And, over time they have demanded higher sorting rates pushing system throughput performance to its maximum capability. Material handling equipment and system providers responded with faster and more sophisticated technology. But now the question is: in the typical warehousing and distribution center environment has the handling and sorting speed limit been reached?
A Quick Recap of how Sorting Technology has evolved over time
The need for shipping sortation surfaced in the early 1970's when shippers where beginning to adopt batch-order picking methods as a way to optimize order picking efficiency. With batch-order picking a group (batch) of customer orders are summarized and picked by SKU. This batching method greatly reduced the number to "trips" through the warehouse that each picker makes as compared to discrete order picking methods. However, the batches must then be sorted and consolidated into individual customer orders prior to shipping. This requirement drove the development of automated sorting equipment that could be integrated into a picking and shipping conveyor system.
Back then stock pickers applied a pre-printed customer ID label to the top surface of each case as they picked them. This label contained a 2 or 3 digit numerical sort code that was assigned to each order in the batch. The labeled cases were placed onto a conveyor and transported to the automated order consolidation sorter. One or two operators, stationed at the sorter induction, manually "keyed" the case sort codes into an electronic tracking and diverter activation control system.
Given the diverting technology that was available at that time (which consisted mostly of deflectors, pushers, and pop-up wheel mechanisms), automated sorting was limited to about 60 cases per minute. Other factors that limited the sorting rate was the ability of the operators to accurately key the sort codes (on the fly) as well as the induction equipments capability to establish sufficient space (gap) between cases in order to sort individual cases.
By the late 1970's the UPC barcode was coming into common use. Also, overhead omni-directional laser scanning technology was developed and being deployed in DCs such as Sears, JCPenney, Target Stores, and a few others with high volume operations. Bar code scanning eliminated the need for manual key coding. However, the maximum automated sorting rate was still limited by the constraints of the physical sorting equipment as stated above.
The ZIP-SORTER®, which was the original Sliding Shoe Sorter, was introduced into the distribution center environment in the early 1980s by Alvey Inc. (now an Intelligrated brand). This was break-through conveyor sorting technology because the sliding shoe design was capable of accurately sorting small light weight case, as well as large heavy cases, with a positive and gentle divert action while operating at the sorters maximum speed, which at that time was about 300 FPM. With laser scanning technology, automatic induction/spacing conveyors, the original sliding shoe sorter could sort average 16" long cases at about 100 CPM. A few years later, with the development of induction combiners, and the application of servo motors and more sophisticated controls, the sorting rate increased to 120 CPM.
Around 2008 advances in tracking software allowed the gap between cases to be reduced from 12" to 6" which increased the population of cases on the sliding shoe sorter and, without increasing the sorting speed, yielded about 150 CPM. Further improvements in the mechanical design of the sliding shoe sorted allow for higher speed operation and a rate of about 200 CPM.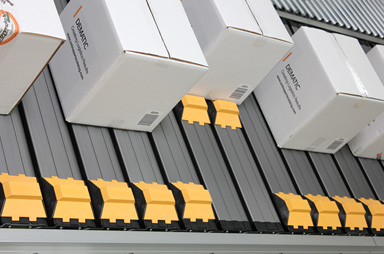 Today, the Parallel Diverting Sliding-Shoe Sorter, when combined with state-of-the-art control and software technology, offers the highest throughput capacity. With the application of redundant linear induction drive motors, which completely eliminate AC motors/reducers/, chains, drive sprockets, shafts, and bearings, the FlexSort SL2® (pictured on right), as manufactured by Dematic www.dematic.us, has an advertised sort rate, based on 16" long cases, of 380 CPM while operating at a maximum speed of 660 FPM.

Excluding Tilting Tray Sorters and Cross-Belt Sorters, it appears that the maximum rate for automated conveyor sorting equipment operating in the typical warehousing and distribution center environment has been reached. Of course, we have no way to predict what future technological developments may offer. When Supply Chain Digest reached out to (3) industry experts we received the following comments:
Don Erickson, Director of Product Development, Wynright
Question: "What is the current practical maximum speed (FPM) capability for conveyors and related sorting equipment in the warehousing and distribution environment?"
Response: As part of the total system solution, it is imperative that the throughput requirements for the system be understood. This would include considerations for sustained daily operations, peak and future growth. The appropriate conveyance "tool kit" for picking, processing, pre-sort, sortation, and after-sort can then be selected and applied with confidence. As sortation is often the pivotal element in distribution warehousing, the keyword "practical" is paramount. Sliding shoe sorters are typically capable of running at 600 fpm plus, but that is only part of the maximum throughput solution. The amount of gap between cases and the average case length are elements that determine throughput and effectiveness of the system. Reduced gap between cases equates to higher throughput. A smaller rate case also equates to higher sort throughput. These considerations illustrate that feet per minute (FPM) is not the only driving element.
Question: "What emerging technologies (equipment, controls, software, etc.) that will allow for higher capacity systems?"
Response: Pre-gapping products prior to sortation in multiple inch and store belted conveyor lanes (Wynright Index Induction), provide an opportunity to create, maintain, and control and optimize the gaps between cases. This layout solution enables high throughput potential by releasing groups (or trains) of product sequentially. Any minor deviation in the gap size is then optimized on a belt-gap-optimizer just prior to the sorter that ensures consistent spacing between cases, and maximizes throughput potential.
Many distribution environments have seasonal variability in throughput requirements. To run all equipment at the maximum peak speed requirement throughout the year is taxing and unnecessary. Software and control methods can be applied to dynamically regulate the run speed of the sorter and related equipment to optimize equipment life. This applied technology creates the best of both worlds - capability to handle peak demand, and the ability to adjusting to lesser throughput demand.
Question: "What factors determine, and/or limit, the capacity of mixed sized package handling systems?"
Response: Systems that convey a single carton (or tote) size have fewer behavioral and handling considerations - meaning that the footprint of what is being transported is predictable, consistent to the equipment and consistent from one carton or tote to the next. Systems that have a broad spectrum of carton sizes create conveyance issues that must be dealt with. A few simple examples: 1) is maintaining single file in accumulation without getting side-by-side product – which can result in jam or singulation-release issues; 2) the mix of small and large (or tall) cartons can be a challenge to scan the carton bar code. Larger gaps between cartons may be required in order to "see" the smaller case, and/or the need to apply additional scanners; 3) similar considerations (larger gaps between cartons) may also be the case with print and apply or case sealing. Invariably, throughput rates may degrade depending on the variability of carton sizes.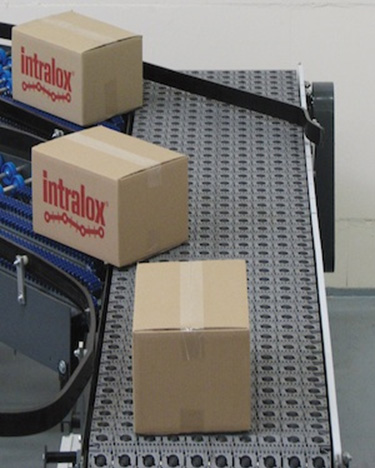 Bob Babel, Vice President, Engineering and Implementation, FORTE Industries

In today's DCs we are being required to transport and sort smaller products (cases, cartons, bags, cold sealed items, inner packs and eaches). The direct to consumer portion of Omni Channel distribution and the multi-regional DC supply chains are driving innovation in handling of small products. Many small DCs cannot support the justification of a sliding shoe or tilt tray/cross belt sortation system. Each year at either ProMat or Modex there are new products introduced to address these needs. Intralox manufactures a line of transportation, merging, aligning, singulating and sortation products (pictured on right) that will handle products as small as a 2" x 2" footprint. Depending on the product size and stability, the sortation equipment can obtain rates of 200 to 300 products per minute. TGW offers a narrow belt (strip belt) sorter with a unique independent activation of the rows of divert wheels that will sort products as narrow as 5" at up to 200 cartons per minute depending on length of the cartons. When higher throughput is not required but positive gentle handling of small products is, Span Tech has a unique product that will sort most anything you can deliver to it that can be detected on the belt by a photo sensor, at a rate around 60 units a minute. There are several specialty sortation devices keyed to the handling of apparel.
Ken Ruehrdanz, Manager, Distribution Systems Market, Dematic:
The Dematic strategy is to design for high throughput/high rate. The focus is on using controls and innovative designs to achieve high rate performance instead of making the rollers turn faster. For example, Dematic uses controls with special release logic to permit more cartons to flow through the merge. In addition, Dematic uses a parallel divert, sliding shoe sorter that allows a small gap between cartons, thus providing higher sorting rates at slower operating speeds. The Dematic engineering strategy is to design each system to obtain the highest rate capacity at the slowest speed. Lower speeds allows improved carton control, less need for maintenance, less energy, and lower sound levels.