Holste Says:

When developing your e-business plans it is important to remember that selling products in cyberspace still comes down to the physical movement of product through your DC to your final customers.

What Do You Say?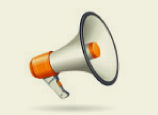 Previous Columns by

Cliff Holste
Date Line February 6, 2014: The National Retail Federation released its 2014 economic forecast, projecting retail industry sales (which exclude automobiles, gas stations, and restaurants) will increase 4.1 percent, up from the preliminary 3.7 percent growth seen in 2013. NRF also announced today it expects online sales in 2014 to grow between 9 and 12 percent.
Date Line February 18, 2014: The Census Bureau of the Department of Commerce announced that the estimate of U.S. retail e-commerce sales for the fourth quarter of 2013, adjusted for seasonal variation, but not for price changes, was $69.2 billion, an increase of 3.4 percent (±1.6%) from the third quarter of 2013. E-commerce sales in the fourth quarter of 2013 accounted for 6.0 percent of total sales – see chart below.
US E-Commerce Sales as Percent of Retail Sales is at a current level of 6.00%, up from 5.90% last quarter. This represents a quarterly annualized growth rate of 6.78%, compared to a long term average annualized growth rate of 17.22%.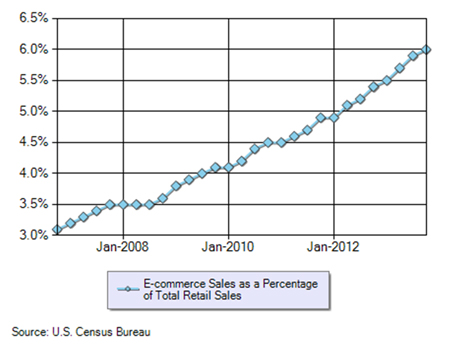 While these sales statics look promising, most U.S. and off-shore retailers, with few exceptions, are struggling just to break-even on their e-commerce business.
Consider the following "optimistic" example from Australia:
Date Line March 20, 2014: Myer has reported its online sales have continued to grow strongly during the first half of the 2014 financial year. Myer's online store is on track to break-even this year.
Myer is an Australian chain of mid-to-up-market department stores. It is Australia's largest department store chain, retailing a broad range of consumer merchandise http://www.myer.com.au/ . Myer CEO Bernie Brookes said its online sales continued to grow strongly during the half year, mainly supported by improved fulfillment capabilities as a result of opening a dedicated online distribution center in October 2013, which currently houses the company's top 13,000 SKUs. "Efficient fulfillment of orders is key to the profitability of our online store," he said. "We are delighted with the performance of our dedicated online fulfillment center, which has assisted in driving down the cost of order fulfillment by 28 percent compared with the prior year."
Industry experts agree that delighting customers is the clear determinant of online business success or failure. Online shoppers want their lives to be made simpler with the offline world as their benchmark. For the most part, their needs appear to be fairly simple: good secure service, fair pricing and timely fulfillment. The companies that succeed in these areas have significant competitive advantages over their competitors and a business model that, in the long run, is best positioned for long-term success.
Establishing best practices for a successful e-business operation includes the following: