Holste Says:

We are seeing faster development along with what appears to be greater deployment of a variety of automation technologies. This is especially true in item picking where robotic technologies that were originally developed for manufacturing processes are being adapted and applied to order fulfillment solutions.

What Do You Say?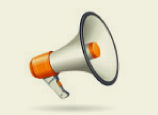 AGVs have been gaining traction in DCs primarily because of advanced guidance technology that allows the vehicles to move with much greater flexibility than ever before. This ability is key to their adoption in the DC because of the frequent need to change product flow paths. A flow path that was unobstructed and available yesterday may be blocked and/or otherwise unavailable today.
Another example, although at a much lower end, are AGVs that follow an adhesive-backed magnetic tape on the floor designating the guide path which can increase productivity in low volume full case and split case picking/processing applications by eliminating much of the non-productive walking. The vehicles, which read the path through a magnetic induction sensor mounted on the vehicle, are constructed from plastic-coated steel pipe, joints and hardware accessories for modularity and configuration flexibility.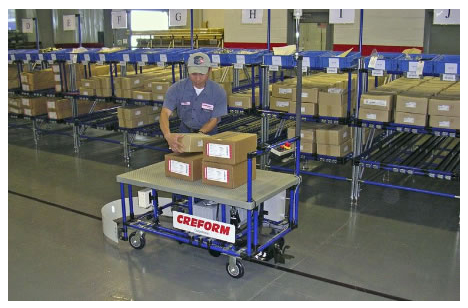 Installation is very quick – just a matter of laying the tape on the floor. Once installed the vehicles run in a continuous loop path, which can be easily reconfigured. The vehicles are programmed to stop at designated areas where they are manually loaded or unloaded. The major benefit is that product and customer orders move automatically on the AGVs while operators remain in their assigned work areas. For more information - www.creform.com
In addition to AGVs, robotic picking and palletizing continues to become more prevalent as more companies search for proven automation technologies capable of reducing or eliminating this laborious task while improving efficiency, safety, and accuracy.

The idea of automated mixed-load palletizing, which has been around for quite some time, lay mostly dormant until cheaper and faster computer power became available. Beginning in about 2007, there has been a growing number of high-end system providers and integrators that have developed and installed automated mixed load picking and palletizing systems utilizing robotic technologies to assemble a variety of different packages and items on a pallet according to a predetermined structure. These systems, which are driven by highly complex and proprietary software modules, are typically being deployed in multi-shift, high volume operations as well as in applications and environments where worker safety is an issue.
ProMat 2013 & Automation 2013 are rich with examples of greatly improved manual and semi-automated picking solutions that can be specifically tailored to the needs of small to medium operations. Global system providers/integrators, such as Dematic, Intelligrated, System Logistics, and TGW in addition to several others, are providing product-to-person systems integrating common picking technologies such as pick and/or pack to light, RF and voice directed that yield high picking and accuracy rates.