Supply Chain News
Feb. 17, 2011
Supply Chain Cartoon Caption Contest Winner for 2H 2010
Dwight Boehm of CF Managing Movement Takes Home the Prize in Reader's Choice Award

The voting for our best Supply Cartoon Caption Contest for the second half of 2010 is complete, and SCDigest readers have chosen Dwight Boehm of CF Managing Movement for his caption for our cartoon contest starting Aug. 3, 2010.
The winning entry is repeated below.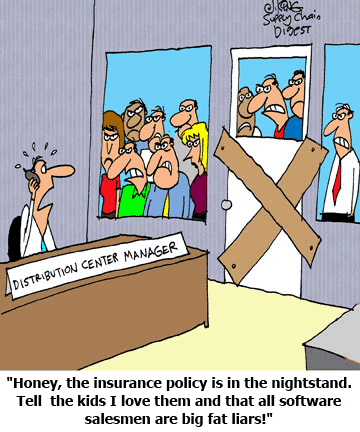 Dwight's cartoon and caption received 28% of the 400+ ballots cast. Second place went to Fred Shafer of Ingersoll Rand for his September 15 cartoon caption.
Dwight will receive a $50.00 Amex gift card for winning the contest. Nice - and you can have a chance for that prize yourself by regularly submitting a caption in our contests. Mr. Boehm is a regular contributor.
You can find all the 2H 2010 Winners below (voting oviously no longer counted). We liked all the entries of course (they were all contest winners, after all), but had a bit of a soft spot for number 4-1, but alas it received just 4% of the voting.