Larkin Says:

Spot demand could easily
drop below 2013 levels in the 4Q, as imbalanced networks have begun to normalize and as UPS will not be caught without sufficient capacity this year - no matter what.

What Do You Say?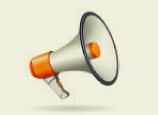 New Expert Insight Column on SCDigest: We have partnered with Stifel Financial Corp. to publish its weekly recap of the week in transportation, written by well-known analyst John Larkin. Check the SCDigest home page each Monday morning for the latest edition.
For the full pdf of this research note, including all the graphics, click here.
In Case You Missed It:
U.S. Port Congestion to Lead to Tighter Capacity & Higher Shipping Rates for Holiday Peak

Factors contributing to current congestion:

1) International Longshore and Warehouse Union (ILWU) contract; 2) lack of availability of drayage chassis; 3) size of ships; 4) intermodal congestion; 5) inventory planning/changes
Implications:

As we approach holiday season, concern has been mounting over U.S. transportation network congestion, stemming from backlogs at West Coast ports. While the dockworker labor dispute has not devolved to the level seen during 2002 (lockout/work stoppage), there are a number of other factors exacerbating already significant holiday peak bottlenecks.

While ocean freight volumes seasonally should fall from now to year-end, limited chassis supply, a driver shortage, strained intermodal networks, and clogged ports are likely to persist into 2015, causing problems for the entire U.S. transportation system. The bottom line, in our view, is that domestic freight rates (as well as trans-Pacific airfreight rates near term) should increase with congestion-driven supply shortages, benefiting providers of logistics services and expedited delivery, while retailers and consumers should bear the burden of these higher costs.


Winners in transportation & logistics:

On the transportation side, freight forwarders and third-party logistics (3PL) companies like XPO Logistics (XPO,
$37.69, Buy), Expeditors International (EXPD, $43.91, Hold), and UTi Worldwide (UTIW, $11.08, Buy) that specialize in solving complex logistical problems and in finding last minute capacity are likely to see the most benefit. Also favorably impacted are expedited truckers like Forward Air (FWRD, $49.42, Hold), truckers with higher-than-average spot market exposure, and/or truckers with continental exposure like Celadon (CGI, $21.76, Buy) that stand to benefit from port diversion.

See our note, U.S. Port Congestion to Lead to Tighter Capacity & Higher Shipping Rates for Holiday Peak, for a more thorough review of the topics outlined above, as well as some implications for specific retailers.
Previous Columns by John Larkin
Key Insights From the Analysis of Industry Data Feeds
Trucking:
Spot demand was down on a sequential basis in Week 45. The ITS Market Demand Index (MDI) measured 15.08 in W45 (down 1.6% sequentially). Load-to-truck ratios on DAT, however, were up sequentially for both dry van and reefer - though flatbed continued its steady decline. Reefer showed the most significant increase (up from 7.8x in W44 to 9.2x in the current week). Dry van was up modestly from 2.6x to 3.0x. Flatbed declined from 17.9x to 16.8x - and was as high as 50.9x in June.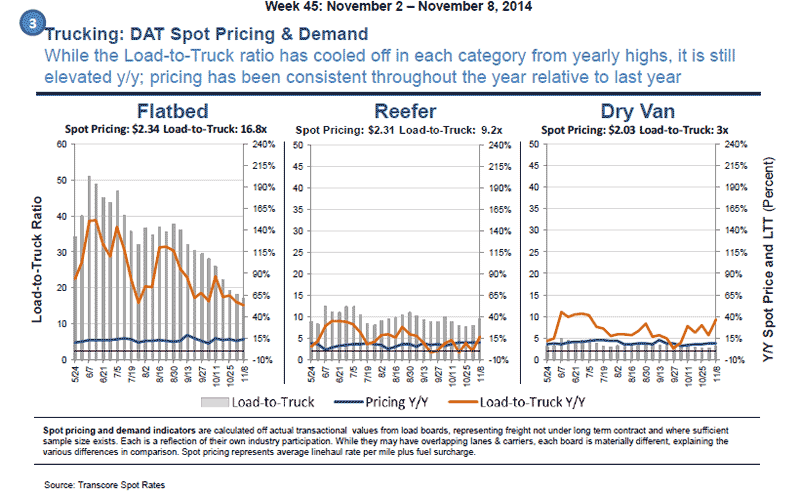 Spot rates followed the same trend as spot demand. On DAT's load board, rates were up sequentially in both dry van and reefer, while they were down in flatbed. On ITS' load board, the overall equipment rate was down $0.02 from the prior week to $2.19. By segment, the trends were the same as noted on DAT—dry van and reefer were up, while flatbed and specialized were down. For all segments and on both load boards, however, rates remain elevated y/y.

Spot demand has been a bit more tepid in recent weeks than is generally seen in fall. Spot demand could easily
drop below 2013 levels in the 4Q, as imbalanced networks have begun to normalize and as UPS will not be caught without sufficient capacity this year - no matter what.

Rail:
Class I commodity carloads were up only 1.0% y/y during W45. Interestingly, the two railroads with the most
aggressive guidance/targets for volume growth were the two worst performers (KSU and CP, in that order). KSU's commodity volume was down 8.3% y/y in W45 (and is up only 1.8% QTD) as coal carloads fell 42.9% y/y and grain carloads fell 17.7% y/y—exclusive of coal and grain, commodity carloads would have been up 2.1% y/y. CP suffered the same fate as KSU, as coal was down 18.3% y/y and grain was down 28.0% y/y—exclusive of the two, commodity carloads were up 5.2% y/y.
For CP, however, intermodal was just as bad (-12.8%), leading to a total unit volume decrease of 8.0% in the week. Both of these rails are doing better in the QTD period (KSU up 3.7% y/y, CP down 1.1% y/y), but will certainly need volume growth to materialize sooner rather than later if they are to achieve the lofty expectations they have set. CNI and UNP remain the best performers from a volume perspective, so far this quarter (commodity carloads up 9.7% QTD and 8.8% QTD, respectively).

Among all Class I rails, the best performing commodity group in W43 in terms of total volume increase was
stone/sand/gravel. Petroleum also remains strong, while a large drop in auto volume this week has driven that
category negative QTD. Grain remains the worst performer, as the comps are tough against the 2013 bumper crop.

Intermodal volume was up 1.4% y/y on the week. CP's volume was the most surprising, and was down 12.8% y/y on the week. A portion of the negative comp is due to the loss of a contract, which was known. But, evidently, labor issues at the port in Seattle-Tacoma led to delayed ships to the Port of Vancouver. On top of that, some impact was seen from Golden Week in China (holiday occurred in October, but impact is delayed as a result of shipment time).

So, in total, the company believes that any drop-off in volume in recent weeks are simply delays, and that the
difference will be made up for during the remainder of the quarter.
Any reaction to this week's note? Let us kow your thoughts in the Feedback area alone.