Download Longbow Advantage Business Briefs on Keys to WMS Success, Maximizing JDA WMS Performance and More



---
New Cartoon Caption Contest for Jan. 20, 2014

Every other week, we'll post a cartoon and ask for witty/humorous captions from our readers. The winning entry will be published the following week. The newest cartoon will be posted on the SCDigest home page every other Monday and in that week's newsletter (usually emailed on Thursdays)

Deadline is 8:00 pm ET
Feb. 12, 2014.
Winner announced in Feb. 13th SCDigest Newsletter
May the funniest man or woman win!
Have an idea for a cartoon? We would love that too, and will give you the credit.
---
---
Important New Research
The Present and Future of Voice in Distribution
Key Research Questions: Will Voice continue to gain market share versus other
order picking technologies? How do users and non-users view Voice
opportunities and challenges? What are the barriers to Voice adoption?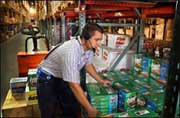 Take the brief survey from SCDigest. All respondents receive a copy of summary
data to compare their views and experience with their peers!

---
---
---
---