In a move that was somewhat surprising in its timing if not in substance, JDA Software announced Tuesday that long time CEO Hamish Brewer had been asked to step down, as its private equity owners hope to "accelerate" the pace of change at the company.

Brewer had been with JDA for about 20 years, and CEO since 2003 of the "old" JDA Software. The new JDA was created in late 2012, when New Mountain Capital, the private equity owners of the then RedPrairie, merged that private firm with JDA, at the time a public company. The merged firm also became a private company, retained the JDA name and headquarters location, and kept Brewer as its CEO.
SCDigest Says:

Tt was known Brewer was on something of a hot seat, though casual conversations with various industry analysts indicated most thought he would have until the end of Q2 or Q3 to produce the expected results or demonstrate sufficient progress.

---

The timing is a bit odd, as just two weeks ago, JDA held a largely successful user conference in Las Vegas in front of more than 2200 customers and partners. Brewer of course had the opening day keynote presentation, and laid out key elements of the company's new product and market strategy.

I talked to Brewer briefly twice at the event, and I do not believe he had any inkling such a move by New Mountain was imminent.

JDA had spent about two months working on a revised strategy at the end of 2013, including hiring expensive consulting firm McKinsey as part of that effort. Interim CEO Baljit (Bal) Dail, a New Mountain partner who has served as JDA's chairman since May 2013, said he believes in that strategy and that the company was completely aligned around it, but that New Mountain decided it was time to "accelerate the pace of change of that strategy."

In other words, as is often the case (see Microsoft in 2013), the owners/board apparently felt Brewer was simply not moving fast enough in the new direction.

The strategy was in reality not a dramatic change from JDA's previous direction, but can rather be seen as a refinement to and more formalization of those previous plans.

Key elements of the strategy including going to market with five integrated solution suites to automate what might be called "super processes" end to end, versus selling more than 100 individual modules before; a new focus on developing innovative solutions and getting closer to customers, in part by organizing cross functional teams around the solution suites; and creating special focus areas for growth, including the innovative Flowcasting solution picked up in the RedPrairie merger, and naming targeted industry sectors, such as the third party logistics (3PL) market, in addition to JDA's core focus areas in consumer goods and retail.

Although not addressed at the JDA press conference announcing the change, a company spokesperson later said Dail is indeed only an interim leader, and that "a comprehensive search for a permanent CEO is underway," though without a specific timetable.
That said, it is certainly not unheard of for the interim leader to become permanent if the right candidate cannot be found, though whether Dail would take such a position is unknown. Dail himself is a former McKinsey consultant, and was also Chief Executive Officer of Aon Hewitt, a human resources firm that is part of the large Aon insurance company, before joining New Mountain.

Reports out of the company were that New Mountain was a very hands-on and aggressive owner, participating in meetings with Brewer and his executive team at the end of last year and at times interrupting and shall we say offering different opinions. Much of the executive level below the CEO is in fact also new over the past year or so, with new VPs of marketing, product development, and services and a new chief technology officer.

(Supply Chain Trends and Issues Article - Continued Below)



Another potential factor may have been that JDA (which remained largely intact after the merger), did not do a great job with the RedPrairie integration during 2013, perhaps taking too much for granted that it had the skills to well manage a supply chain execution/WMS business that is very different from JDA's traditional planning markets.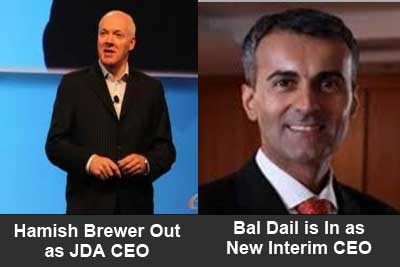 So it was known Brewer was on something of a hot seat, though casual conversations with various industry analysts indicated most thought he would have at least until the end of Q2 or Q3 to produce the expected results or demonstrate sufficient progress.

But it appears New Mountain did not see enough movement happening to warrant that timeline, and the change was made, perhaps early enough to show more progress in 2014 than might otherwise have been.

I asked Dail a question about the integration of RedPrairie, and he agreed it had been a "rocky" process, but said he believes things are improving, and that the company needs to add some of the skill set back into the WMS business that was lost one way or another after the merger.

Dail also said he is a big believer in "building world class teams," and that he would continue to focus on that goal at JDA, though saying the process is already well underway.

The stakes of course are high. The new JDA is about a $900 million company with 4500 employees worldwide and a dominant position in the supply chain software market. New Mountain spent about $1.9 billion to acquire JDA in 2012, on top of the $300 million or so it had previously invested to take control of RedPrairie.

It is surely very focused on achieving a good return on those investments, as this move attests.


What is your reaction to the change at the top of JDA? Let us know your thoughts at the Feedback section (email) or button below.

SCDigest is Twittering!
Follow us now at https://twitter.com/scdigest