Multi-echelon inventory optimization software has become one of the hottest - and most interesting - areas of supply chain technology in recent years, though it is still not well understood by many supply chain professionals.
In a real nutshell, inventory optimization tools take a more holistic look at inventory levels across supply chain tiers or echelons simultaneously, rather than focusing on one level or even just a single "node" or facility at a time, which is how regular planning software/APS systems work.
We learned about that and a whole lot more in one of our Supply Chain Thought Leadership Videos this weak with Dr. Sean Willems. He was a co-founder of IO technology pioneer Optiant, and a world class inventory optimization expert. Optiant was later acquired by Logility in 2010, and Willems now splits time between being Logility's chief scientist and his work as an associate professor at Boston University.
Among the topics discussed in the video was that there are really two aspects to or opportunities with inventory optimization.
As shown in the graphic below, the most familiar is at the tactical level, in which the software makes inventory stocking recommendations for every SKU, every location, and every time period. This is where companies start with IO, and the result can be significant decreases in inventory levels.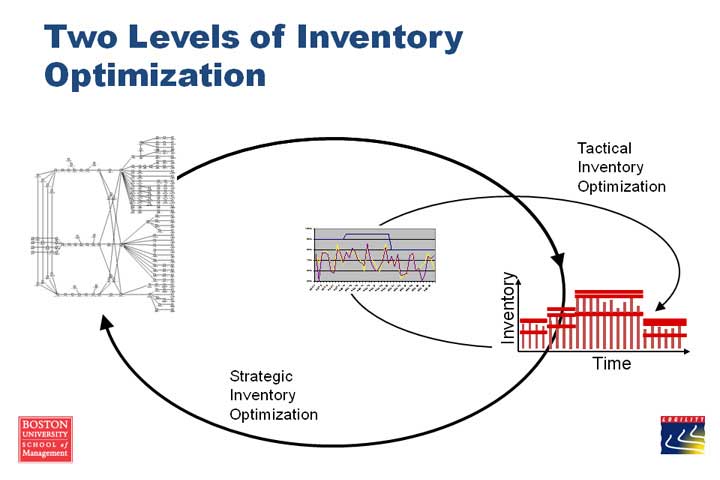 Source: Sean Willems/Logility/Boston University
The other opportunity is more strategic in nature, providing a powerful "what if" capability that can help identify further opportunities beyond the tactical for improved inventory management through supply chain network design or other strategy changes. How inventory would be effected by a new postponement strategy is one such example.
Once you solve the problem of rightsizing network inventory levels across a monthly planning process, a "virtuous cycle" can then develop, Willems says. "Now that you have built a foundation in which people trust the answers, now you can help with a whole other set of decisions using the tool that you couldn't do before," he added.
To watch this excellent discussion, go to: Understanding Multi-Echelon Inventory Optimization

Any Feedback on our Supply Chain Graphic of the Week? Let us know your thoughts at the Feedback button below.