Where is the growth in the outsourcing of logistics services by US companies?
The answer to that question came to SCDigest this week when the CD of some of the presentations from the CSCMP annual conference in San Diego arrive in our mailbox.
The graphic below was taken from a presentation on the disc delivered at CSCMP by Richard and Evan Armstrong of Armstrong and Associates, generally considered the leading analysts relative to the 3PL industry. It tracks US revenue growth across what it defines as the four primary 3PL segments:
DTM: Domestics Transportation Management
ITM: International Transportation Management
DCC: Dedicated Contract Carriage
VAWD:Value-added Warehousing and Distribution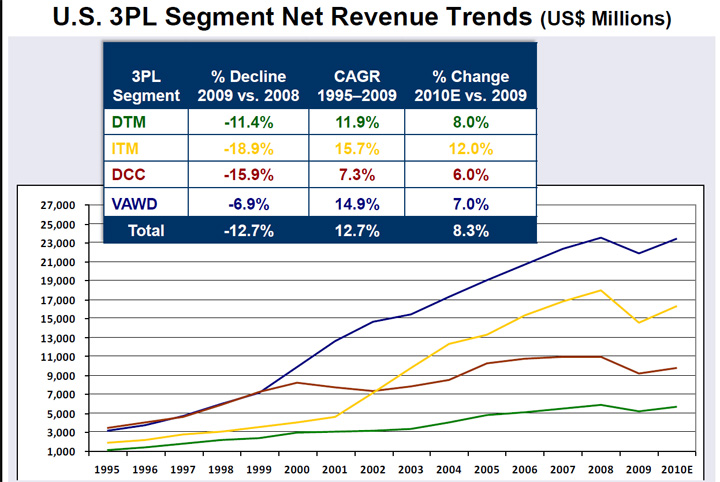 Source: Armstrong and Associates
We were a little surprised, actually, to see how rapidly distribution outsourcing had grown in the US since about 2000 versus the other segments, with annual growth of about 14.9% since 1995.
With the tremendous growth in globalization during the decade, however, the growth of outsourcing in international transportation management has been even more rapid, averaging 15.7% per year during the same time.
The only thing we might quibble with here is the estimate for growth of dedicated carriage in 2010, which Armstrong estimates at 6%. Q3 and year-to-date results from truckload carriers indicate there may be even more growth in this segment, as shippers are increasingly concerned about potential capacity shortages. (See Truckload Carriers Delivery Strong Bottom Lines in Q3, as Capacity Discipline Boosts Rates and Yields.)

Agree or disagree? What is your perspective? Let us know your thoughts at the Feedback button below.