We recently ran a couple of pieces based on analysis of the annual working capital study from CFO magazine and REL, focusing on the Days Inventory Outstanding (DIO) component of that analysis.
More detail is available in the full article (see A Deeper Look at the 2008 Inventory Numbers), which goes into how the study calculates DIO (which is different than some do it), the actual 2008 numbers by industry sector, and other details.
However, below we re-publish one chart we created for that story, showing the change in DIO for select industry groups from the 2006 report through 2008. We calculated this by subtracting the 2008 DIO from the 2006 number, meaning positive DIO change is good (lower days of inventory being held), while a negative number means there are additional days currently versus two years ago.
The base numbers used for the calculation of the change are the median DIO figure for the companies in each sector.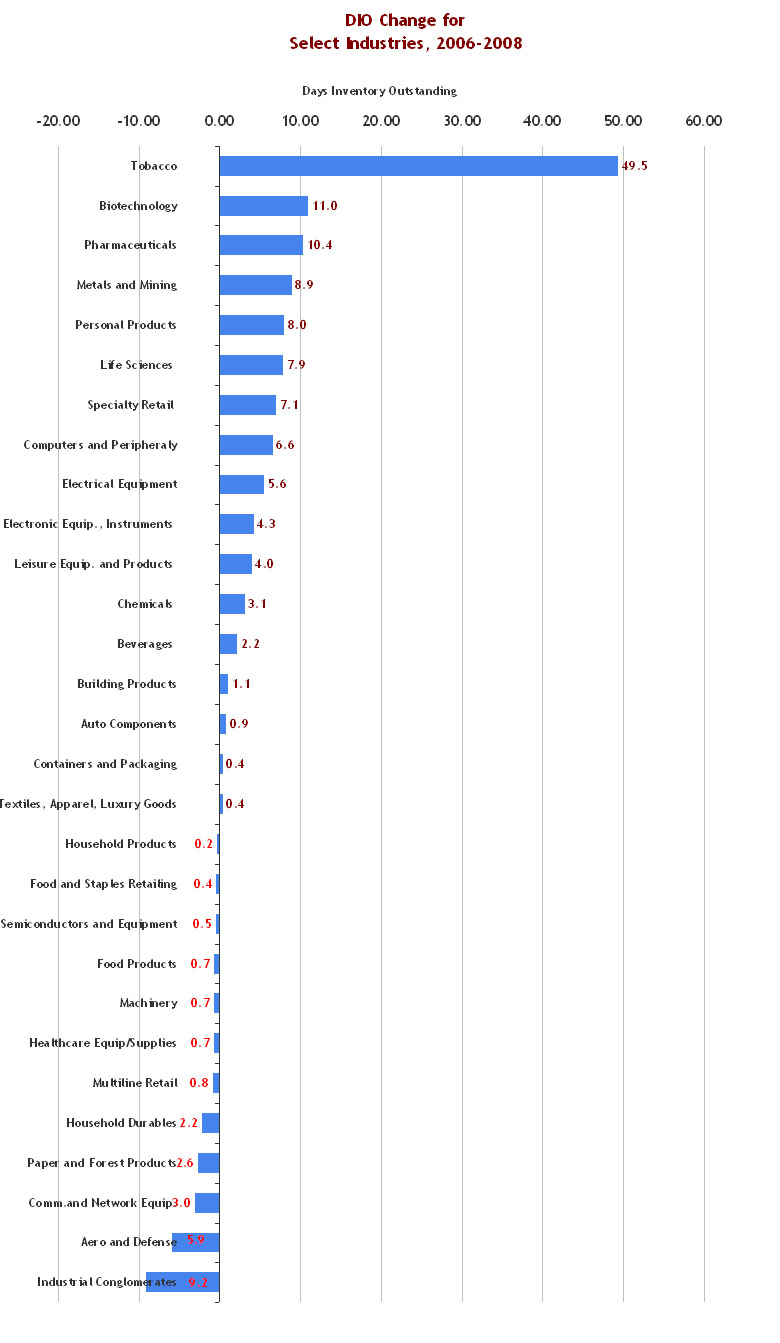 The tobacco industry number is an outlier, as in a sector with a relatively few number of companies, a major improvement by one company, Altria, really moved the median number lower between 2006 and 2008.
It stands out to us that companies in the medical/pharmaceutical/personal care industries seem to have put a great emphasis on inventory management, as several sectors in that area are near the top of the improvement list. The Biotech sector (e.g., Amgen, Gilead) was especially impressive, as the approximate decrease in DIO by 11 days represents about a 25% improvement over the two years.
Specialty retail, which includes a wide range of types of retailers that, as a group, was known as often having perhaps excessive inventory levels, made great strides as well, moving from a DIO of about 59 in 2006 to around 52 in 2008, for an improvement of 12%.
Agree or disagree? What is your perspective? Let us know your thoughts at the Feedback button below.