Top Supply Chain Stories by Month 2022
It was a modestly crazy year again in supply chain - with war in Europe and soaring inflation the two biggest themes to me, but in other respects there was a return to some level of normalcy, especially in ocean shipping.
Below are my choices for the top or most interesting chain stories by month in 2022. In this newsletter, I only have room for one or at most two stories per month. Look for a complete list of the top stories next week in our OnTarget newslettter, where you will find quite a few more.
Here we go:
GILMORE SAYS:
WHAT DO YOU SAY?'
"There were many other important stories so far this year - what would you add?"
January

Among the oddest stories thus far in 2022, there is widespread reporting that brazen thieves are opening intermodal containers as freight trains slow down or stop as they approach depots in downtown LA. That also leaves a trash mess around the rails from items the thieves don't want.
News that Walmart is expanding its item-level RFID mandate to home goods, announced in a letter to its vendors. Walmart said it has been implementing item-level RFID tags on apparel over the past year and now is expanding that to home goods.
February
Russia invades Ukraine late in the month, expecting rapid victory and welcoming crowds, only to find fierce resisten resistance and military set backs. The war has a big impact, sending oil and natural gas prices higher as well as causing rising food and cooking oil prices as well.
4000 automobiles are destroyed as a cargo ship catches fire not far off the coast of Portugal on its way from Germany to the US, including Porsches, Volkswagens, Lamborghinis, Bentleys and Audis. The value of those cars is estimated at $334.5 million by consulting firm Anderson Economic Group. The fire started in the hold and spread quickly, forcing the crew of 22 to abandon the ship via helicopter.
March
Amazon wins a second vote on unionization at a fulfillment center in Bessemmer, Alabama, with workers once again rejecting the Retail, Wholesale & Department Store Union - albeit by a smaller margin. This after a National Labor Relations Board official ordered a redo after Amazon won the first vote in 2021, citing alleged illegal behavior by Amazon leading up to the first vote.
However, Amazon FC workers on Staten Island won a bid to form a labor union after federal officials tallied votes at an FC there. If a union is ultimately formed, it will become the first and only Amazon FC to unionize anyere in the country.

April
Walmart announces that some first year truck drivers for its private fleet are now abe to earn as much $110,000 per year, up from $87,000 before. Walmart also says a first year drivers can enjoy as many as 21 paid vacation days in 12 months. Other elements of Walmart's program includes improved schedules that give drivers more time at home.
May
Gartner releases its top 25 supply chains list for 2022. This year Cisco Systems comes out on top for the third year in a row - sort of. I put it that way because again in 2021, Apple, Procter & Gamble, Amazon, McDonald's and Unilever were left off the formal top 25, as those five companies have been placed in a separate relatively category called "supply chain masters," a sort of supply chain hall of fame. The rest of the top 10 after Cisco were was (2) Schneider Electric; (3) Colgate; (4) Johnson & Johnson; (5) PepsiCo; (6) Pfizer (7) Intel; (8) Nestle; (9) Lenova; and (10 - surprisingly) Microsoft.
June

CSCMP and Kearney release the 2022 State of Logistics report. The headline news: what the report several years back started calling US Business Logistics Costs (USBLC) rose sharply on an absolute basis in 2021 to $1.85 trillion. That was an increase of 22.4% from an economically weak 2020. With a smaller increase in US nominal GDP (10%) than logistics cost rose last year (22.4%), that took the relative cost of logistics as a share of GDP to 8.0%, up significantly from 7.44% in 2020.
July
News that Walmart is implementing new logistics fees for some of its suppliers, asking them to "share" rising transportation costs with the retail giant. Suppliers using Walmart's Collect shipping program, where Walmart manages freight costs, will now be subject to a new pick-up charge based on a percent of the supplier's invoice. Also being implemented is a new fuel surcharge that will change daily calculated daily based on market conditions
August
The well-publicized queue of ocean container ships awaiting a berth at the ports of Los Angeles and Long Beach is over, with ships at sea down to just eight during on August 29, an all-time record low. That was down from 109 in January, which led to a wait of more than two weeks for ships to unload, causing supply chain chaos and help to push rates much higher.
September
The port of New York and New Jersey exceeds the combined TEU volume of the long-time container handling leaders at the ports of Los Angeles and Long Beach - a trend that continues in October and November and will do so again in December when the numbers come out, an executive at the New York port recently told CNBC. What is going on? Some shippers started moving containers to East Coast ports to avoid the delays seen until recently at LA/Long Beach or in reaction to a possible strike by West Coast stevedores.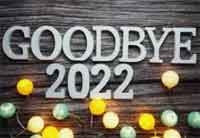 October
In its latest analysis, the American Trucking Association pegs the US truck driver shortage at 78,000, down a few thousand from the ATA number of 81,000 projected in last year's report. The ATA adds that based on current driver demographic trends, as well as projected growth in freight demand, the shortage could swell to more than 160,000 over the next decade. We'll note some believe the driver shortage is greatly exaggerated.
November
The US Congress passes and president Biden signs legislation that would imposed a contract on rail workers based on a deal reached in September with a dozen unions representing 115,000 workers. That avoided a potential strike called for beginning on December 9, with a likely hard hit to the US economy and create supply chain woes along with it. Many of the 12 unions representing rail workers approved the contract, which included wage gains of 24%, but several did not, citing lifestyle issues such as paid time off and mandatory overtime as key objections.
December
At a major event on Friday, the battery-powered Telsa Semi was launched as a commercially available product, with news that PepsiCo receiving the first vehicle. It's been a long haul for the electric truck. The company's CEO Elon Musk first announced the cargo truck plans in 2017, with stated expectation for a commercial launch in 2019. At the announcement, Musk also said that on a November 25 test drive, a fully-loaded Tesla Semi (81,000) pounds traveled 500 miles on a single charge.
So there you go. There were many other important stories so far this year - what would you add?
Any other top supply chain stories for 2022? Let us know your thoughts at the Feedback section below.