State of the 3PL Union 2023 Part 3
Two weeks ago, I did my high-level review and comment on the 27th annual 3PL study, led once again as he has done from the start by Dr. John Langley of Penn State University. (See State of the 3PL Union 2022.) and released at the CSCMP Conference in September.
Last week was my review of the major "special topics" section on "Back to Basics," the idea being that after a couple of years of strangeness relative to COVID and endless supply chain disruptions, we're at or approaching a return to some level of normalcy, so it's time to get back to operational excellence. (See State of the 3PL Union 2023 Part 2.)
This week, a look at some more of the special topics.


GILMORE SAYS:
WHAT DO YOU SAY?'
The survey found 42% have already recently adjusted inventory levels, with another 29% having created a plan and are starting to take action.
That starts with section on the supply chain "talent crisis," felt at the plant or warehouse floor, for mid-level managers, and at the supply chain executive level.
That as the jobs in all areas of supply chain are becoming more complex. And with that the need for strong collaboration skills.
"You're seeing those siloed mid- and senior-level management roles disappear because people are expected to know more about the organization and are redefining roles," the report quotes Melissa Hadhazy of recruiting firm Korn Ferry as saying, who added companies are looking for talent that takes a team approach, as the supply chain moves toward end-to-end solutions and digital integration.
What to do? The report notes that "Companies are improving their ability to attract and retain talent by focusing on culture. An environment focused on diversity, equity and inclusion, as well as employee-led and -driven campaigns can help attract and retain talent."
On the blue collar side, the report notes an extreme challenge in many markets is finding and keeping warehouse labor. While pay is of course important, the report says many companies are starting to make changes to limit mandatory hours of work and provide flexibility in scheduling.
One answer, of course, is distribution center automation. The report notes that the ROI for automation is shifting as wages rise and labor shortages linger.
"For many years it has been hard to build a convincing business case to justify the significant upfront investment cost to transform a facility and adopt automation," said Sylvie Thompson of report co-sponsor NTT Data, adding that "Labor shortages and their impact on operations, not just the cost of labor, are tipping the scales."
Next was a section on reverse logistics.
Already a major issue, the huge jump in ecommerce sales during the pandemic brought the cost and complexity of returns management into an acute focus, especially given that consumers are four times more likely to return online purchases over purchases made in a physical store.
And the growing efficiency of handling ecommerce returns is having an impact in other areas, with the report noting that "Increasingly B2B buyers (customers) have the same expectations for business returns as they do as consumers."
I would have guessed that most companies outsource returns management, but as a chart from the report shows, a majority of consumer-focus and B2B companies handle it in-house: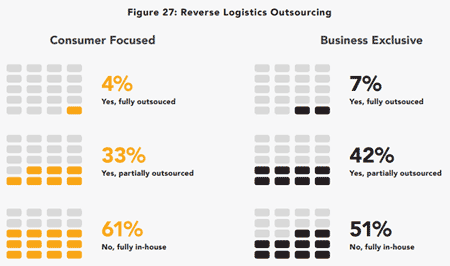 Source: 3PL Study 2023
Naturally, given the onslaught of returns, companies are working to reduce their frequency. The report found 30% of B2C survey respondents rated their strategies to reduce return volumes as either extremely or very effective, versus 23% of B2B companies that felt that way.
This was a very basic section.
On to a section on environmental, social and governance (ESG) - certainly all the rage in companies and supply chains.
The report found that 22% of shippers rated themselves as a trailblazer and a leader in ESG, compared to 17% of 3PLs. Additionally, 45% of shippers said their organization was about average in its ESG practices, compared to 41% of 3PLs.
The report notes that among S&P companies, 92% now publish ESG [or I suspect "sustainability"] reports, as do approximately 70% of Russell 1000 companies.
The report also points out that this is filtering down to shippers and 3PLs, with a growing number of firms setting ESG-based metrics for their outsource partners.
An important aspect for many companies in terms of ESG is water usage, with the report noting that leading consumer packaged goods companies have announced efforts to reduce water consumption.
I will end it with a quick look at a section on supply chain resilience
The report jumps to "inventory rebalancing" as a key step in adding resilience, but of course this can mean many things.
Regardless, the survey found 42% have already recently adjusted inventory levels, with another 29% having created a plan and starting to take action.
The survey also found that roughly 80% of shippers responding to this year's survey reported they are rebalancing production locations to move towards more regional or domestic production networks - though the real question is how much?
"In order to increase resiliency and agility, supply chain professionals need to rebalance their supply chain ecosystems while understanding the implications of onshore, nearshore and offshore strategies," this section concludes, adding that "the balance between sources of supply, including manufacturing locations and inventory holding levels, will be crucial."
I think I will end it here, skipping sections on control towers and cold chain, having covered another one here on technology, including the persistent "IT Gap," last week.
So that ends my coverage of this year's 3PL Study. My favorite part is the core survey data early on. The special topics varied in interest.
Any reaction to this data/comment from the 3PL report? Let us know your thoughts at the Feedback section below.