State of the Logistics Union 2022 Part 2
In late June as every year I summarized and reviewed CSCMP's State of Logistics Report 2022, as always a data-rich document on US logistics costs in 2021. (See State of the Logistics Union 2022.)
To repeat the headline news: What the report several years back started calling US Business Logistics Costs (USBLC) rose sharply on an absolute basis in 2021 to $1.85 trillion. That was an increase of 22.4% from an economically weak 2020. With a smaller increase in US nominal GDP (10%) than logistics cost rose last year (22.4%), that took the relative cost of logistics as a share of GDP to 8.0%, up significantly from 7.44% in 2020.

GILMORE SAYS:
WHAT DO YOU SAY?'
Finally, on control towers - well, what is one, actually?
As usual, the back end of this year's report featured several "special topics" sections: Sustainability; mergers and acquisitions in the logistics sector; and (back again) supply chain "control towers." I promised in June I would summarize those special topics soon, so here I am back with that a few weeks later.
Relatively to Sustainability, lead report author Kearney (a consulting firm), notes that "Large carriers have been making strong commitments to Sustainability targets and implementing programs such as fleet electrification, carbon reduction in packaging, the use of clean energy in facilities, and a shift towards sustainable aviation fuel."
Of course, regular companies, such as Unilever but many others, are really leading this charge, with that consumer packaged goods giant setting a target of net zero CO2 emissions by 2039, getting there by shifting to renewable energy and adopting sustainable practices.
If shippers value Sustainability, then you can bet 3PLs will follow their lead. The report notes that "the biggest carbon reduction opportunities can only be pursued via shippers and carriers working together," with "Scope 3" emissions coming from a company's extended supply chain often the largest source.
By 2021, more than 2000 companies had agreed to set so-called "science-based targets" for emissions, way up from 2020 (see graphic below):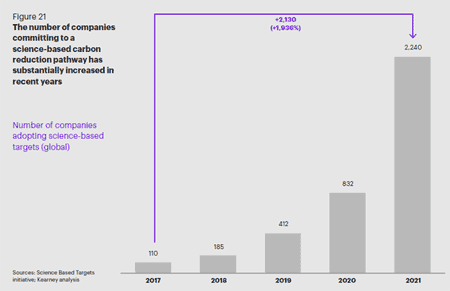 Source: CSCMP/Kearney

Shippers, the report says, will choose logistics partners "whose aspirations align with their own."
Turning to M&A in the logistics sector, 2021 was a busy year indeed, with more than 400 deals in the US. The report says there were several factors driving those activities. That includes the need for some 3PLs/carriers to better capitalize on growing ecommerce volumes (hence several LTL carrier being acquired), and the opportunity to consolidate a fragmented market of 3PL service providers.

Also driving the acquisitions is the belief by some logistics companies that what many shippers want is a single, end-to-end logistics service offering. One company that clearly believes that is giant ocean container carrier Maersk Line, which has recently been busy buying complementary firms to offer a one-stop shop - leaving, I will note, some freight forwarders nervous.
The report notes that 80% of logistics companies were sold to other operations companies in 2021, with 20% sold to private equity firms or other financial types.
Finally, on control towers - well, what is one, actually? The report says it is "a physical or virtual platform linking multiple supply chain domains for synchronized actions against potential disruptions."
Do you have one of those?
Given the recent state of affairs in supply chain, the report adds that "hardly any logistics practitioner would argue its imminent criticality."
Another way you might think about control towers is as digitization of supply chain monitoring.
The technology and certainly adoption of control towers is still very nascent, and many companies aren't sure what they really need - or how much to spend to get there.
Working incrementally to achieve a larger long-term goals is a key to control tower project success, the report notes. You can also start with more focused "hubs" that eventually will connect with each other in a more integrated control tower. For example, the report says, a retailer started by focusing on visibility to inbound raw materials, leading to a signicant reduction in lead times.
I'll just say this. This is clearly where we are headed generally, but right now a supply chain control tower can be anything you want it to be.
Ok, think I will keep it short and sweet and end it there.
CSCMP members can download a copy of the full report for no charge, and others can purchase one for a modest fee. I recommend it.

Any reaction to our summary of this year's State of Logistics special topics? How could the report be improved? Let us know your thought at the Feedback section below.