The State of Global Energy 2022
I looked forward every year to the BP Statistical Review of World Energy, released by the company each year in late June. The review is a sort of almanac of all matter of energy related data, now in its 71st year, and as always it is quite an interesting and educational read.

The report is full of informtion on energy production and consumption. Energy of course is at the heart of supply chain in many ways, and central to our lives. A world of relatively cheap, abundant energy would bring prosperity and more income equality to much of the world.


GILMORE SAYS:
WHAT DO YOU SAY?'
Renewable consumption rose nicely, and reached about a 7% share of consumption - steady progress but still a very small share of the energy pie.
High energy prices have the opposite effect, as we learned in the 1970s, again in 2008 and now hear again in late 2021 and so far in 2022.
Energy costs can have a major impact on a variety of supply chain decisions, including network design and how to optimally navigate the tradeoff curve between inventory and transportation costs.
The report is focused on data from 2021, but of course a lot has changed this year, including soaring (for while) oil prices, and now ecord high natural gas prices as Russia holds back supply to Germany and perhaps other parts of Europe.
In an introduction to the report, BP chief economist Spencer Dale writes "The challenges and uncertainties facing the global energy system are at their greatest for almost 50 years, since the time of the last great energy shocks of the 1970s."
Switching gears, consistent with BP's exteme emphasis on climate chang in recent years, Dale adds that "Considerable progress has been made in sovereign pledges to achieve net zero, but those growing ambitions have yet to translate into tangible progress on the ground."

More on that in a moment.

The headline news from the report is that primary energy consumption grew a robust 6% in 2021, after falling 4.5% last year due to the economic impact of the pandemic. But the growth in 2021 was much lower, just 1%, versus the pre-pandemc year of 2019.
The report also says carbon emissions from energy rose by a surprising 5.7%.
That is more than global GDP growth, and just under the 6% gain in overall fuel consumption, indicating fuel sources were not materially changed.
Illustrating that point. below you will find my favorite chart from the report each year, nicely summarizing global energy consumption from 1995 through 2021/ by energy source: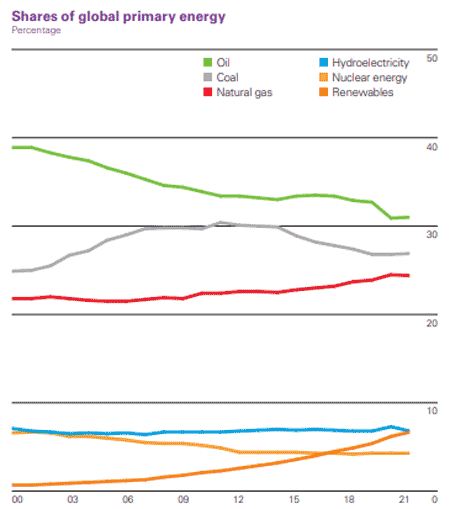 Source: BP
As can be seen, change is slow. Oil's share of energy consumption fell again, but it retains the top spot with about a 32% share. Coal's share reversed course and actually rose a bit in 2020 and 2021 after four years of decline. It still, however, represents more than 25% of global energy consumption. Coal usage increased in China and India, but fell most other places.
Renewable consumption rose nicely, and reached about a 7% share of consumption - steady progress but still a very small share of the energy pie. However, renewabled accounted for over half of the increase in global power generation over the past two years.
Other interesting data points from the report include the following:
• Oil consumption increased by 5.3 million barrels per day (b/d) in 2021 but remained 3.7 million b/d below 2019 levels.
• China and India accounted for over 70% of the growth in coal demand in 2021.
• Both Europe and North America showed an increase in coal consumption in 2021 after nearly 10 years of back-toback declines.
• Coal remained the dominant fuel specifically for power/electricity generation in 2021, with its share increasing to 36%, up from 35.1% in 2020.
• The share of renewables in global power generation continued to increase, up to 13%.
• China also remained the main driver of solar and wind capacity growth last year, accounting for about 36% and 40% of the global capacity additions.
• Natural gas' share in primary energy in 2021 was unchanged from the previous year at 24%
• Natural gas prices quadrupled in Europe, tripled in Asia, and doubled in the US in 2021.
Good stuff. The full BP report is available here" Statistical Review of World Energy 2022
Any reaction to the BP report data? Let us know your thought at the Feedback section below.