Ecommerce is Eating the World a Lot more Slowly
In December of 2020, I wrote one of these columns titled "eCommerce Eats the World."
That was a sort of rip-off of Marc Andreessen, co-founder of Netscape, one of the first web browsers, who in 2011 coined the famous phrase "Software is eating the world." His point was basically that every physical thing that could be replaced by a digital solution is and would be.
GILMORE SAYS:
WHAT DO YOU SAY?'
Maybe ecommerce has just reach for now a sort of saturation point. The question would be how long will that last?.
I wrote that column because after the incredible growth of ecommerce over the previous two decades had dramatically changed the face of retail, it had shifted into a whole other gear during the pandemic.
A combination of factors, such as forced store closures, leeriness about getting infected at a store, increased consumer spending on goods versus services and more, drove incredible growth in on-line shopping in 2020.
Until the pandemic, US ecommerce sales were growing at a robust 14-16% each quarter versus the prior year.
Then on-line sales in Q2 2020 grew 44.5%, according to data from US commerce department, followed by a rise of 36.7% in Q3 - mind boggling growth.
As I noted then, "several commentators speak of the pandemic as having ushered in 10 years of ecommerce growth and change into a single year, or something to that effect."
It looked like ecommerce would indeed eat the world, and bringing with it profound changes to business, the supply chain, and society. As just one example, the week before my column, there was news that 40 major retailers had filed for Chapter 11 protection and 11,157 stores were closed by that time in 2020, both numbers representing new annual records.
The predicted death of brick and mortar retail, with some exceptions, seemed a lot closer than before the pandemic.
In fact, a few months before at the CSCMP virtual conference, Arthur Vadez, head of supply chain for Target, in an interview envisioned a world where retailers became what he called "logistics hubs," collecting consumer direct shipments from all sources, then executing last mile delivery exactly as the consumer desires.

Then something funny happened in 2021: ecommerce growth slowed, and even declined.
Amazon reported that on-line store sales in Q4 2021 actually fell 1% versus 2020. Taking out the effects foreign currency conversions, on-line sales rose just 1%. Walmart also saw just 1% growth in its fiscal Q4 reported in February.

Or consider the quarterly data from the US Census Bureau on ecommerce sales. The February 2022 report showed that in the last three quarters of 2021, overall (largely brick & mortar) stores grew sales more than ecommerce sales - in some cases substantially so. In Q4, on-line sales rose 9.4%, trumped by a 15.2% rise in overall retail.
That has led to a decline in ecommerce's share of total retail, from an all-time high of 13.6% in Q1 last year (the way the Census Bureau calculates it; we do it somewhat differently) to 12.9% in Q4 (graphic below). Who would have thought we'd see that?
eCommerce Share of Total US Retail has Recently been Falling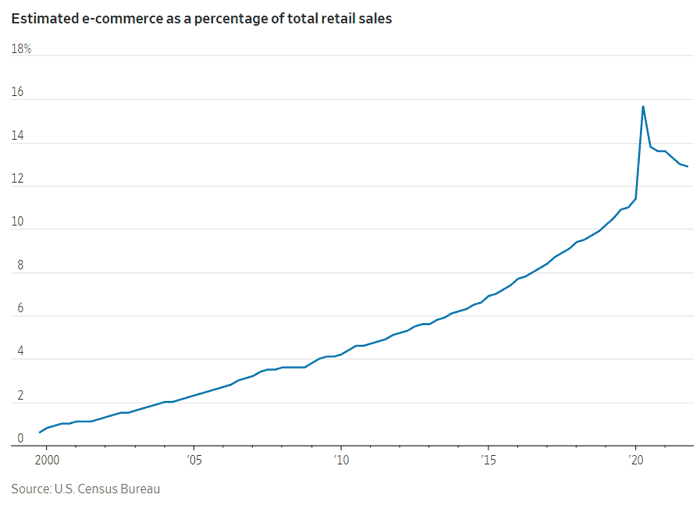 Source: Wall Street Journal
Now some of that decline in ecommerce is from consumers reverting to pre-pandemic shopping behaviors. Consider me among those who did not expect that to happen to the degree it appears to have done.

Adding to that, the Wall Street Journal just last week noted that on-line sales at Dick's Sporting Goods dropped 11% in its most recent quarter, while sales at bricks-and-mortar locations open for more than a year was up 14%. Best Buy reported higher US revenue in its fiscal year ending January 29 despite a 12% decrease in ecommerce sales. At Macy's, the share of digital channels as a percent of the total dropped in the quarter ended Jan. 29, to 39%, from 44% a year earlier.
On the ecommerce side, on-line furniture company Wayfair reported in its 2021 results that it had four million fewer active customers than the year before and had swung to a loss, citing "broader ecommerce softness."
What is going on? Some of it, it seems clear, is simply many consumers reverting to old patterns, as noted above.
And maybe ecommerce has just reach for now a sort of saturation point. The question would be how long will that last?
I still believe eventually ecommerce will eat the world. It just looks like the appetite for that transformation for now at least has declined measurably.

Any reaction this slowdown in ecommerge growth? Will it soon resurge, or have we reached a saturation point? Let us know your thoughts at the Feedback button (email) or section below.