The UN Climate Meeting and the Supply Chain
Dignitaries from around the world gathered for two weeks in Glasgow, Scotland (most it appears flying in on fuel-guzzling private jets) at the 2021 UN climate summit, hoping to hammer out a new agreement - if that's what is should be called - to reverse CO2 emissions and thus global warming.
Whether COP26, as it was called, was a success or not depends on where you stand on the whole issue and your definition of success.
GILMORE SAYS:
WHAT DO YOU SAY?'
Any pledges made countries today are subject to change in action depending and who is in power at any point in time – and changing economic conditions.
I did not realize this is actually the first such summit since the famous 2015 meeting that spawned the Paris Climate Accord, a voluntary agreement in which countries pledged to aggregately reduce their CO2 emissions enough in theory - based on UN climate models - to keep temperatures from rising more than 1.5 degrees C by 2021 versus preindustrial-era temperatures. This 1.5 degree rise is viewed as some kind of demarcation line between world salvation and oblivion.

But the pledges had no enforcing mechanism or any real measurement system other than self-reporting, and indeed global C02 emissions have actually risen since 2015, according the annual BP energy review and other sources, as China and India keep building coal-powered electric plans, among other factors. China in fact has said its emissions will keep rising through 2030.
Conversely, the US has seen its emissions drop since 2015 - even though President Trump pulled the US out of the climate accord in 2016.
So the whole process is bit dubious, in my opinion. Countries were supposed to report back on their CO2 progress in 5 years after Paris, but with COVID last year the conclave was pushed to a 2021 meeting.
What really happened at Glasgow? After reading many reports, it is hard to get a clear straight answer, but here is my best summary.
More than 100 countries agreed cut 30% of methane gas emissions by 2030 from 2020 levels. Methane is a far more potent than CO2 is its greenhouse gas effects.
There was also a "soft of" agreement to reduce use of coal to power electric plants. However, the original language in the agreement called for "phasing out" coal usage, but was changed to "phasing down" instead under insistence from the largest coal burners, China and India.
Some 200 countries agreed to strengthen 2015 commitments for CO2 reduction, needed to meet the 1.5 maximize temperature rise, since the earlier commitments as noted have not led to CO2 reductions on a global basis. But those revised plans aren't due until next year. And many were disappointed the accord did not include a rolling annual review of climate pledges and progress that some developing countries have urged. The agreement left in place a requirement to revisit each country's pledges every five years.
It wasn't clear exactly how, but provisions were put in place to enable a global carbon trading system, as is in place now in much of Europe and California (with I will note little effect). We'll see on this one.
So some thoughts:
Many climate supporters feel the agreement did not go nearly far enough. NPR reported that added together, the pledges will not reduce emissions fast enough to make the 1.5 degree goal. A New York Times headline said that "Negotiators reach a climate deal, but remain far from limiting warming."
Which leads to this point: most seem to treat the UN climate model as some sort of precision machine. One observer said the current pledges will mean the temperature will rise 1.8 degrees, not 1.5 degrees - as if anybody really knows.
One thing I can say with a high degree of certainty is that whatever the models predict in terms of temperature impact from a given amount of CO2 in the air, it will be wrong. High or low I don't know, but it will be wrong.
I am also just stuck with the fact that there are so many contradictions. Many polls in the US show people are generally in favor of CO2 reduction - yet consumers are predominantly buying pick-up trucks and SUVs - still almost exclusively powered by gasoline for now - to the point where the more fuel efficient sedans and heaven forbid compacts are becoming almost extinct.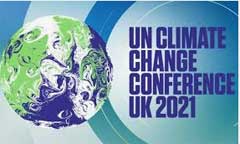 Another case in CO2 contradiction: supposedly green-oriented Germany has moved ahead - with a recent OK from President Biden - on the so-called Nord Stream 2 natural gas pipeline, which will bring the fuel from Russia to Germany.
The pipeline is actually built, but did receive an administrative delay this week, but is likely to be operational soon enough. Does anyone think Russia built and Germany approved Nord Stream 2 to operate for just a few years until solar power really breaks through?
No, both countries must expect natural gas to be heating German homes for a long while, UN accord or not. And does anyone really want a Russia, very highly dependent on fossils fuels for its economy and government revenues, to lose all that? What will the Russian bear do then? A scary thought.
And any pledges made countries today are subject to change in action depending and who is in power at any point in time - and changing economic conditions.
A Wall Street Journal editorial this week noted that "it isn't clear that even Western leaders can deliver on their anti-carbon pledges," let alone in China, India, Brazil, etc.

So I will end with this: many companies are moving aggressively ahead with emissions reduction programs. For example, we reported just this week on the ambitious and expensive plans of food giants PepsiCo and Mars to dramatically reduce emissions across extended supply chains.
That is where we might focus best.

What's your take on the UN climate summit? Let us know your thoughts at the Feedback button or section below.