I am fresh back from a couple of days at the Council of Supply Chain Management Professionals' (CSCMP) Edge 2021 annual conference, held in-person at the World Congress Center in downtown Atlanta, next to CNN and across the street from Centennial Park.
Many of you have watched my video review and comments on CSCMP Day 1 and Day 2 - thank you.
Of course, in-person events are still a bit dodgy. Gartner, for example, is keeping its Supply Chain Executive Symposium in November virtual for the second consecutive year.
GILMORE SAYS:
WHAT DO YOU SAY?'
Galica said HD has been helped by its approach to carriers, which she said is more strategic and partner oriented than transactional
But as with the Parcel Forum the week before, also in-person, there were some trade-offs and challenges for CSCMP, on two fronts: (1) could they get an audience there, given the still surging COVID situation and I will add many people still not in travel mode yet? and (2) relatedly, could CSCMP deliver a program that provided value, given the same sort of travel reluctance and COVID-related corporate travel policies for many potential presenters?
I will say CSCMP was largely able to deliver on the latter, with an overall solid content effort, even if it had to scramble a bit to do so. I say that because a good number of educational sessions in the printed show guide simply said "At time of printing, this session is still in development." The show mobile app did have all the latest info, which in some cases involved cancelled sessions, I assume primarily because of speakers not willing or allowed to travel. But overall, the content was close to on par with what was available at the conference in normal times.

On getting attendees to Atlanta, I am not as sure. I heard a variety of estimates of attendee counts both prior to and at the conference. One source said there 1200 registrants a week ago, then a late local surge of 300 more, plus 400 virtual attendees. Compare that to I think about 2300 attendees in 2019.
But then another reliable source told me there were a slew of last minute cancellations, virus/travel policy related.
I will just note this: I counted 450-500 or so attendees at the opening session.

But I congratulate CSCMP for pulling off a pretty good event despite all the challenges, and point out that for most of these kind of professional/trade associations these conferences bring in a huge percent of their annual budget - and with that comes a lot of pressure to hold an event, and virtual still doesn't quite cut it. What's more, going virtual for two years may make it very difficult to reverse the impact on in-person attendance down the road.
The giant question for CSCMP and others is whether the reduced attendance this year is a temporary phenomenon - or the new baseline?
With that as prelude, this week I will provide highlights from the day 1 and 2 keynote speakers on the main stage, with summaries of some of the educational sessions I attended in a part 2 next week.
The day 1 keynote was by was Jim Cafone, VP of strategy & business operations at Pfizer, with the story of how Pifizer got a vaccine to market in just 9 months, versus 4-10 year years normally for a vaccine.
Well, they had some help in that, which I didn't know. Pfizer actually partnered with German company BioNTech, which really invented the base vaccine. Pfizer's job was to test it, develop it, run the trials, scale up production and build a distribution network - still in total something that would seem almost impossible to accomplish in less than a year.

I can't possibly summarize all ground Cafone covered, but in terms of takeaways from what was an interesting story, there were a few.
First, this speed was only possible by doing some things in parallel that typically were done sequentially. Are there opportunities to take the parallel approach in certain supply chain initiatives In your operations?
Cafone also noted that while you can't do a sprint like Pfizer did on continuous basis, companies can undoubtedly get things done a lot faster than most think you can or is the norm.
A key to that, Cafone said, is collaboration, internal and external. It shouldn't take a crisis and the life and death matter of a vaccine to have higher levels of supply chain collaboration, I think we can agree on that.
On Tuesday, the keynote was actually a discussion of a panel of Atlanta-based supply chain execs: Sarah Galica, VP of transportation at Home Depot; Juan Perez, CIO and chief engineering officer at UPS; Regina Sanders, head of the supply chain consulting practice at EY; and Ron Walpole, who runs the air cargo business for Delta. CSCMP board chair Brian Gibson of Auburn was the moderator.
The discussion was a little high level - no secret sauce discussed here - but it was enjoyable. The discussion also covered lot of territory, and is hard to summarize, but I will do my best.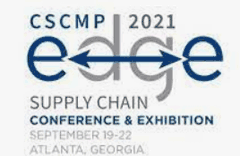 Galica said Home Depot can usually avoid capacity issues given its scale, but it too has been struggling with capacity in ocean freight and US trucking. "We need to be really scrappy," she noted.
She later said that, as has been reported in various media, Home Depot had chartered a couple of container ships to augment the overwhelmed container carriers capacity. In some cases the ship was dedicated to HD, in some cases it shared capacity with other shippers. But Galica did not seem to want to share many details here.

Sanders said many companies cut back hard in pandemic and are now wondering if they went too far. Many are looking to revamp tools like S&OP and inventory balancing across network to meet the requirements of this new environment.
Delta's Walpole said we can expect tight capacity in air cargo for at least 12-18 more months.
Galica said HD has been helped by its approach to carriers, which she said is more strategic and partner oriented than transactional, which is paying off in this market. She believes more of HD's ocean and truck freight is moving on contracted carriers and rates than most other companies as a result of its approach to carrier relations.
I didn't completely understand it, but she also said Home Depot is launching some kind of on-line marketplace for flatbed transportation, hoping to reduce its own deadhead miles as part of the effort. It is not clear to me at least if this will be open to others shippers.
Among other interesting comments, Perez said UPS is guided in part by 3 key principles: (1) put the customer first; (2) stick with a people-led mindset; and (3) focus on innovation. Good guidelines for all of us, methinks.
There was a lot more good stuff, but think I will end it here.
It was a good if somewhat unusual conference experience. I'll back next week with part 2.

Any reaction to this CSMP 2021 review? Let us know your thoughts at the Feedback button or section below.