Where do We Really Stand on US Logistics Infrastructure?
Every year or two I write one of these First Thoughts columns on the state of and prospects of US infrastructure.


That because much of supply chain is all about moving goods, and the state of the infrastructure has a impact on logistics performance.
The tricky question: just how much?
GILMORE SAYS:
WHAT DO YOU SAY?'
With what appears like a certain dramatic rise in e-vehicles soon, how will those cars and trucks pay their fair share for use of the roads and highways?
There is a general belief, fueled by many sources, that US infrastructure is in declining shape. One of those sources is clearly the American Society of Civil Engineers (ASCE), which twenty years ago began issuing a quadrennial report on the topic, a report that always get significant media play and is cited by many until the next version is released four years later.
The latest ASCE report was published a few weeks ago, and is the trigger for this week's column.
The scope of the ASCE report has expanded. There are now a whopping 17 categories that are evaluated, from roads to levees to schools. Each is given a letter grade on the A to F scale, from which an overall US score is calculated.
Across the 17 categories, the worst score was for public transport, which received a D-, just above failing. But there 10 other categories that received either a D or a D+.
The best score: a mere B- for US ports.
Yet somehow the overall score for US infrastructure is a C- , up from a D in 2017.

Besides the B- for ports, other logistics related areas and grades for 2021 are:

Bridges: C
Inland Waterways: D+
Rail: B
Roads: D

It is interesting to consider the difference in funding for each of these. Bridges are largely funded by state and local governments, with larger bridges sometimes augment by tolls. I believe inland waterways are largely funded by the federal government. Rail is almost completed funded by the rail carriers themselves. Ports are funded by a combination of the ports themselves from fees, some state and local government support, occasional federal money for specific projects, and for cargo handling systems the privately owned terminal operators themselves.

Funding for roads is interesting. Many may be surprised to know that state and local governments spend about three times on road construction and maintenance tha n is spent by the federal government (most of which comes in the form of grants to state and local governments).
From a logistics perspective, the primary focus is on those roads. That's because of what appears to be growing congestion in urban areas, though that was somewhat ameliorated in 2020 in a work from home virus economy. More roads are needed to reduce that congestion, while poor road maintenance causes wear and tear on cars and trucks and high repair costs.
The ASCE report says over 43% of roads are currently in poor or mediocre condition. And, before the 2020 pandemic, use of roads by cars and trucks continued to grow, with vehicle miles traveled reaching more than 3.2 trillion in 2019, an 18% increase from 2000. The report does not provide the complementary metric for the number of "lane miles" were added over the same period, but I am certain it was much less than 18%, most likely in a single digit percentage.
Hence the growing congestion. The reality is most spending on US roads - over 60% - goes toward maintaining current roads and highways, not additions to capacity.
What is the cost of these poor roads and a lack of growth in new ones?
"Overall, our deteriorating roads are forcing the nation's motorists to spend nearly $130 billion each year in extra vehicle repairs," the report says. It does not provide costs for truckers specifically.
But here is something interesting, an observation in the report that is consistent with my personal perspective: while local roads are often in bad shape, "the interstate system tends to be in good condition."
Looked at another way: the infrastructure for medium and long haul trucking may not be so bad.

For all the handwringing about US logistics infrastructure, here is something else that is interesting. Every other year, starting in 2007, the World Bank has released what it calls the global Logistics Performance Index, which rates some 150 countries across the globe on a variety of logistics criteria. It obtains those ratings from a massive survey of freight forwarders and other logistics pros.
The last report was in 2018. I am assuming the pandemic caused there to be no report in 2020.
In that 2018 report, the US ranked as having the seventh best logistics infrastructure in the world, not all that far behind number 1 Germany.
So how bad is US infrastructure in total? And what would the benefits be from making it better - and to what degree?
Those are really the key questions, are they not? Because these answers would drive how much investment should be made - and what the return on that investment would be.
The ASCE report says spending for US road on its current track is about $41 billion annually. It needs to be about $55 billion, ASCE says - which seems a modest enough gap to be closed. But I can't quite square that with the report saying that the US has been underfunding its roadway maintenance for years, such that there is a $786 billion backlog of road and bridge capital needs.
That, needless to say, is a much very different sum to somehow fund.
After an enormous $1.9 trillion stimulus plan just enacted into law, now the Biden administration is turning its attention to an infrastructure bill, which will be in the trillions of dollars, spread over some number of years.
But the perennial question: where will the dollars today for it come from? There is almost universal agreement it is long past time to raise the federal tax on gasoline and diesel fuel, which almost unbelievably has not changed since 1993, when it was raised to 18.4 cents per gallon for gasoline and 24.4 cents for diesel
That despite the toll of inflation over now almost 30 years, and dramatically improved gas/diesel mileage per gallon. Now of course, there is also the factor of electric vehicles that don't use any traditional fuel at all.

With what appears like a certain dramatic rise in e-vehicles soon, how will those cars and trucks pay their fair share for use of the roads and highways?
One idea is a "vehicle miles tax" (VMT), fees levied for number of miles driven. But a report a few years ago said collection of a VMT would require a bureaucracy akin to the internal revenue service to enforce and collect the tax. Can you imagine sending a check to the feds and states each month depending on the miles you drove for that period?
However, at a state level Utah and Oregon are going to pilot VMT programs for some types of ecars.
A seemingly better approach it seems would be to tax electricity used to charge e-cars and trucks. But that would involve a huge change in charging and e-vehicle technology, taking many years to adopt, and complicated to roll out.
So I will end it here with a simple chart I created many years ago. I am sure both regular citizens and supply chains would benefit from improved logistics infrastructure at first, with benefits outpacing costs.
What is the Return on Infrastructure Investment?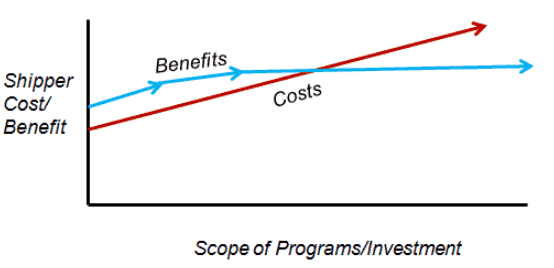 But at some point - perhaps rather soon - that equation likely changes, and the benefits start to flat line and fall behind the still rising costs.
What that graphic really looks like from the nation as a whole or individuals no ever seems to address. More on this soon.

What are your thought on the state of US infrastructure? What if anything should be done? Let us know your thoughts at the Feedback button (email) or section below.