Couch Report: Gartner Supply Chain Executive Symposium 2020 Part 3
A couple of weeks ago, I wrote an opening "couch report" on my experience with the Gartner Supply Chain Executive Symposium - which like all other conferences this year was delayed and then held as a virtual event the first week of November.
When attending in person, I called these conference reviews "trip reports." This year, viewing the presentations from the comfort of my office chair and living room sofa, you get a few"couch reports" instead.
Part 1 mostly focused on the important opening keynote presentation, which dealt with supply chain agility and resilience. (SeeCouch Report: Gartner Supply Chain Executive Symposium 2020.) Part 2 summarizing one keynote and two breakout sessions, (Gartner Supply Chain Executive Symposium 2020.)
In part 3, ending the series, I summarize three more breakouts.
GILMORE SAYS:
Driven by Cloud deployment and a new generation of TMS vendors, solutions with advanced features are now available, De Muynk says, at lower costs and with faster and easier implementations.
WHAT DO YOU SAY?
Before that though I offer some thoughts on the Gartner event itself.

The Supply Chain Executive Conference was started by AMR, which Gartner acquired in 2009, and was held every year in Scottsdale, AZ.

Gartner has a huge overall IT-focused conference business, and it has used that expertise and infrastructure to greatly expand the supply chain conference in scope, sophistication and size.
Conference attendance has been growing steadily - so much so that for 2020 the event was promoted, in the Gartner pecking order, to a "symposium," and moved to the Disney resort in Orlando for what was expected to be an even larger crowd.

Alas came the pandemic, which not only ruined all conferences planned after March 1 or so, but may impact the conference scene forever - with virtual overtaking the physical - and frankly the virtual has much less impact, in my opinion.

So will the Supply Chain Executive Conference/Symposium continues its ascent? It's hard to say.

I will also note that while AMR called the event an "executive conference," it wasn't so much that way. Gartner has really focused on attracting supply chain executives - with demonstrable results.

More than ever this year, many sessions had an executive orientation - with the opening keynote, for example, almost placing the chief supply chain officer in the role of COO. In a breakout session on inventory management by analyst Paul Lord, summarized below, the discussion was very focused on the role of the supply chain leader on inventory excellence - not tactical discussions on advances in optimization tools, as we might have seen from Garter in years past.

How this plays out past the pandemic, assuming we do get there, will be very interesting indeed.

On to more breakout sessions.

Over the last few years, Lord has been doing some interesting work on inventory management and supply chain costs. Some of that work was summarized in a conference breakout session this year on "inventory excellence."

Lord started out by noting some company execs and managers think most inventory issues can be magically solved through a combination of setting lower targets and especially improving accuracy.

He disagrees, saying many managers have "simplistic models" for how they believe inventory management works.
Lord said inventories are often used as a buffer to compensate for supply chain network deficiencies. That in turn, he says, can lead to unrealistic expectations for inventory levels given the network hand a supply chain executive has been dealt.

He also says the tools inventory planners have been given have not kept pace with rising complexities and dynamics in markets, product portfolios and more. Some years back, Lord presented the concept of "situational" inventory, which he says is not really addressed by traditional optimization and service/cost trade analytics.

This involves inventory that is really determined primarily by business judgement, where the tradeoff is often cost/risk versus profit opportunity. An easy example: just how much inventory should a company build to support a potentially hot new product introduction?
Interestingly, Lord used that intro to tee up some thoughts on the role of the supply chain executive in achieving inventory management excellence.

That, he said, involves developing a vision and strategies across four main areas. Two of those four - visibility and analytics - are so universally understood that Lord said he did not feel it necessary to do much elaboration.

The other two - knowledge and governance - he did believe required some explanation. What is often lacking, he said, is clear knowledge of how inventory creates and protects value, upon which effective strategies can be built. And SCM leaders also must learn how to communicate that insight to other executives and stakeholders.
Governance is about creating, if you will, a policy framework that guides and in some cases constrains inventory decisions. My observation is few companies really have this when it comes to inventory management.

I liked Lord's discussion on "confronting the forces of over-supply," nicely summarized in the graphic below.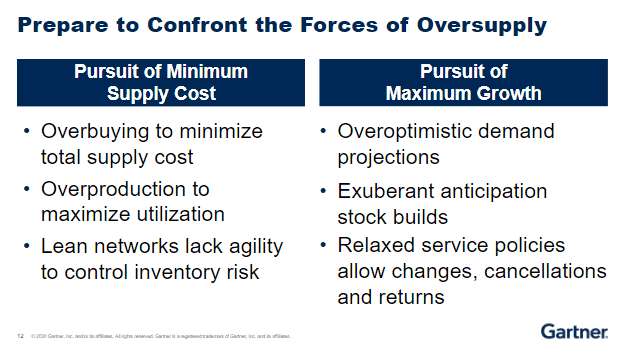 Of course, Lord said, reducing supply cost and growing revenues are good things - those goals just have to be balanced against smart use of inventory, in the face of the pressures as identified in the chart that push inventories higher.

Lord later emphasized the need to use inventory segmentation strategies to develop appropriate strategies. That might involve, for example, mapping SKUs across two-dimensions: sales velocity (maybe three levels/ABC) and demand variability. (I will note my friend Dr. David Simchi-Levi has been doing this for many years).

As a result of that exercise, Lord says, companies may decide that fast moving, high variability SKUs should be guided by a strategy that focuses on a balance between opportunity and inventory risk, while slow movers with low volatility should see a focus on planner productivity.

There was a lot more, but you get the idea. It's very good, though at times comes across a bit academic in tone - I hope to do an interview with Lord soon to flesh some of this thinking out.

I also attended presentations on trends of Warehouse Management Systems (WMS) and Transportation Management Systems (TMS), by Gartner analyst Dwight Klappich and Bart De Muynck respectively.
Klappich noted that The WMS market is very mature, being first introduced more than 40 years ago. But WMS providers continue to innovate. Klappich cited the move towards technical architectures based on "micro-services," increasing deployment of Cloud-based WMS, growing use of artificial intelligence and machine learning, and prescriptive analytics as among the new capabilities WMS vendors are bringing to market.
"We are seeing the rise of the smart warehouse," Klappich said.
He noted that until recently, "There wasn't a lot of management in Warehouse Management Systems," with the systems focused on execution - but he says that is changing.

WMS vendors are increasingly providing decision-support tools for managers and supervisors to better manage their facilities, Klappich said, including more granular visibility to real-time activity in the DC.

He said those decision-support tools include a recent focus on labor, which is an increasing concern for distribution center managers and "an increasingly important operating constraint." That includes not only traditional Labor Management Systems (LMS) but also a new generation of labor planning and allocation tools.
Klappich also noted that materials handling automation was previously often only for large companies with big investment budgets. But now, technologies such as mobile robots and Put Walls, which are much lower cost and can be deployed incrementally, open these technologies to mid-sized and even small companies, Klappich said.
Klappich said he sees three critical WMS trends: (1) workforce optimization focus; (2) growing use of AI and machine learning; and (3) WMS vendors offering Warehouse Execution Systems (WES).
On the TMS side, De Muynck says Cloud deployments are starting to dominate, rising at a much faster pace than the overall supply chain market.
Users of TMS are also driving changes, De Muynk said. This includes what he calls the "democratization of TMS." What does that mean?
Historically, the advanced features of top TMS solutions were only really affordable to large shippers with sizable freight spend. Those TMS's also required lots of resources to implement, taking many months if not longer.
Now, however, driven by Cloud deployment and a new generation of TMS vendors, solutions with advanced features are now available, De Muynk says, at lower costs and with faster and easier implementations.
This makes TMS attractive to medium and even small shippers, De Muynk says.
Other key TMS trends include: TMS vendor acquisitions of complementary companies, such as those providing claims management, transportation capacity planning, and parcel shipping solutions, as just a few examples; focus on "last mile" capabilities; the growing importance of freight pay and audit capabilities; and TMS vendor partnerships, such as with digital freight brokers like Uber Freight.
He says TMS adoption is growing rapidly both for first-time adopters as well as in the replacement market.
OK, that does it for this week and my Gartner conference summary series.
Any reaction to this Gartner conference summary? Were you there? What did you think? Let us know your thought at the Feedback section below.