Tired of Politics? Best Supply Chain Cartoon Captions
I am too the point that as soon as I hear another political ad on my car radio I move with lightening speed to turn the channel or the radio off completely. That means the radio is off most of the time.


Regardless of your political slant, I am sure many of you are with me on that sentiment.
GILMORE SAYS:
It's challenging to keep coming up with new ideas, but we'll keep doing it as long as we can.
WHAT DO YOU SAY?
Among all the serious materials we have here at SCDigest, I must say the idea many years ago to have a regular supply chain cartoon caption contest to lighten things up a bit was among our better initiatives.
Except it wasn't really my idea. The illustrator who draws our cartoons actually reached out to me, seeing if I would be interested in such an idea. He was doing a caption contest for a web site that focused on industrial automation equipment (PLCs and such), and decided to look around for similar opportunities.


He was actually both concepting and illustrating each cartoon for this other publication, but I didn't think that work for us - you have to have the domain knowledge. So I said "We'll concept, you draw" and that's how we got started.

It has been a big hit since its inception. We regularly receive emails from readers saying the cartoon captions bring some laughs that help a bit with the near constant stress that can be part of supply chain.
So this week, to offer an alternative to all the largely depressing politics, once again here are some of the best cartoon/caption combinations we have received over the past couple of years. We've done this before, and received some very positive feedback on the effort, so let's give it another go.
I don't think there has been a contest where we didn't have at least one very good submission, usually more, but here are some of the recent best.
Any company affiliations of the submitters are what was sent at the time and may have changed since then.
Let's start with one of the winners from the May 27, 2020 contest, with this great caption from Cameron Jones San Bernardino, on robots moving into supply chain jobs: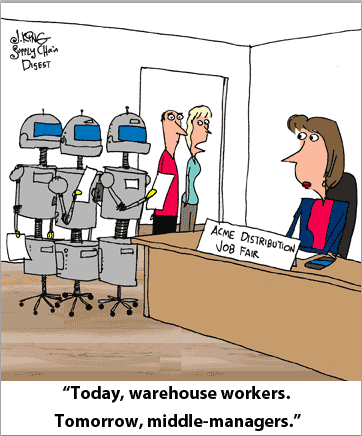 Next, the March 25, 2020 contest on the changes wrought by the coronavirus led to this great cartoon caption from Fred Simpson of Columbus, IN: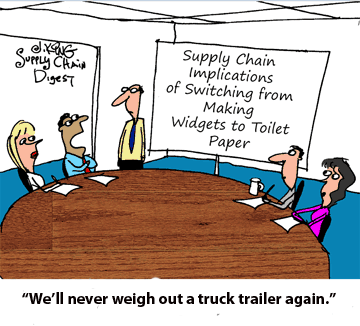 For our Oct. 31, 2019 contest, Mike Wigglesworth of Caterpillar submitted a great caption for this ecommerce-related contest: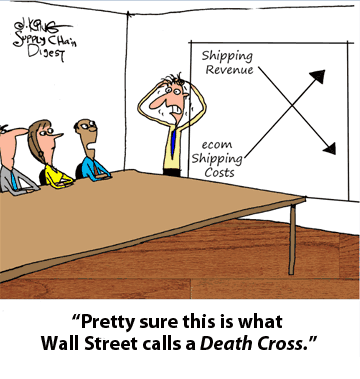 Equally good was another caption for this AI-related cartoon from Brian Spooner of Columbus, OH for the Feb. 14, 2019 contest: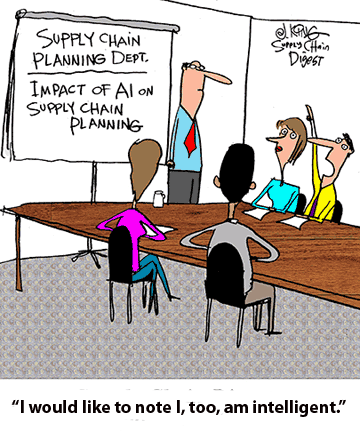 So there you have it. Hope you enjoyed these, and had a least a few chuckles. We've had just a handful of cartoons that were close to repeatsover these many years of doing this, starting in 2009, but that's it. It's challenging to keep coming up with new ideas, but we'll keep doing it as long as we can.
The current caption contest can be found here.
Do you enjoy the caption cartoon contest winners? Any ideas for a cartoon? Let us know your thoughts at the Feedback section below.