Couch Report: CSCMP Edge 2020 Part , Keynote Sessions
Last week, I authored what I called a "Couch Report" on the CSCMP Edge 2020 annual conference. That was in contrast to the "Trip Reports" I had written for almost 20 years, given that for obvious reasons the conference went fully virtual this year - and I attended from the comfort of my easy chair.
GILMORE SAYS:
Valdez said transportation traditionally was all about taking cost out. Now, Target is "investing in transportation."
WHAT DO YOU SAY?
My review last week was mostly around the virtual conference experience - and the future of trade shows and conferences (get use to virtual.) See CSCMP Edge 2020 and the Future of Conferences.
This week I am back with a report on conference kynote sessions.

First I will note this: with the virtual format, there was only one keynote presentation per day, when at a normal conference there were often two.
Also, gone from the virtual show in terms of the main stage were what you might call internal CSCMP matters. That included the presentation of the Distinguished Service Award and comments from the recipient, the Supply Chain Hall of Fame 2020 inductees, awards for companies for their work supporting the American Logistics Aid Network (ALAN), the emerging leaders awards, and comments from current and future CSCMP Board chairs and others, etc.
Some of that could be found as video recordings if you navigated your way into the Resources room - with some oddities. I clicked on the Distinguish Service Award video and immediately someone was there talking, without any intro or identification. I wasn't sure if it was the winner or someone introducing the winner or the wrong video altogether.
Turned out it was the former, as the 2020 DSA went to Dr. Matthew Waller, dean of the Sam M. Walton College of Business and professor of supply chain management.
With no introduction, I am not sure what all Waller has done to receive the award, but his bio on the University web site indicates a long history of publishing books and articles on the supply chain.
The DSA winners usually offer some thoughts on major trends or issues in supply chain. The Waller video was mostly a biography. I will note he worked on important projects for a number of leading companies such as Walmart and Procter & Gamble, among others, in addition to his academic credentials. But I would have preferred more vision than bio, but congrats to Waller all the same. In a normal year he would have brought his family to see him receive the award in front of nearly 3000 conference attendees, but alas in COVID times he had to upload a video.
By receiving the DSA, Waller is automatically inducted into CSCMP's Supply Chain Hall of Fame, started in 2016. For some reason, there was only one other inductee this year, and that was Taiichi Ohno, primary creator of the Toyota Production System, known also as Lean.
He join the ranks of past recipients such Henry Ford, cited for his work in developing the industrial assembly line, and Malcom McLean, developer of the modern ocean shipping container.in the early 1950s.

I am not sure why there was just one non-DSA inductee this year, but I will note there are several I want to nominate - but admit I never find the time to do it, to my dismay.
On Monday, the only keynote video was Eric Termuende, who makes his living from speaking, corporate consulting, book writing (e.g., "Rethink Work") and similar pursuits.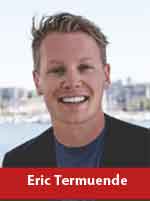 He came to CSCMP attention during Edge 2019, when he made a good impression as one of the most insightful panelists on a main stage discussion on how to deal with millennials.
His session was titled "The Future of Now," but I will be honest, he was a better panel member than keynoter. But here are some takeaways.
As is popular these days, Termuende promoted the idea of building a more "intentional" future.
What does that mean? I will say it has to do with being more specific than most individuals, supply chain organizations, and companies are in terms of what the end state is meant to be, and a relentless focus then on getting there.
You could say this is tied a bit to the notion of being a "meaningful specific," not a "walking generality," as the late motivational speaker Zig Ziglar used to say.
Termuende offered three rather basic steps to reach an intentional future: (1) envision the goal; (2) measure and evaluate along the way (why didn't I think of that?); and (3) experiment and learn.
I think virtually every motivational speaker there is in recent years recommends "failing and failing fast," in one form or another. It's getting old.
Somehow that led to an overly long story of Termuende participating in some "Great Race" type contest sponsored by Red Bull that supposedly illustrated this model for success, but didn't really.
I liked a bit better the recommendation that companies or functions should regular consider what they should start, stop or continue doing. The reality is many keep doing things they shouldn't and the reverse, from inertia, political factors, fear of losing jobs, etc. A regular, honest review might indeed be beneficial.
In the end, the main recommendation from Termuende was that companies/functions should not so much look major transformational changes but rather pursue an unending series of small, 1% improvements that over time will deliver major results, like compound interest.
That's fine - except many supply chains already do this. We called it Kaizen, or continuous improvement, at the core of Lean thinking.
Much better was the day 2 keynote titled "Re-Building a Supply Chain through Authenticity, Engagement and Problem Solving," conducted as an interview of Arthur Valdez, EVP and chief supply chain and logistics officer at Target by CSCMP CEO Rick Blasgen.
Valdez's own story is an impressive one, born to parents of Mexican and Cuban descent, and raised in very modest means in southern Colorado, rising over time to his prestigious current position.
I will say generally Valdez came across as very smart and focused - but salso omeone who sets some very high expectations for performance.
He began with just some general comments on the current pandemic environment. That of course includes big swings in supply and demand, to which Valdez's noted that "you need to go back to the furthest signal you have upstream in the supply chain… whether it be an import signal, or a vendor signal, and you see from your request how they are responding to what your needs are - that will help the purpose-driven processes that your building downstream to know how to react to what's going to be coming at them."
Valdez said another, perhaps surprising key to operating in this in environment involves standards.
"If you can tighten the standards up, that's even better," Valdez said "What we don't want to do [in the pandemic] is to become so relaxed with the standard that the execution that your teams are used to as an expectation, as a normal way of operating, is lost .. then you're taking your teams out of their normal way of operating."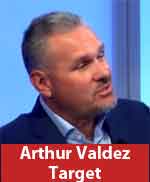 Valdez noted the seismic change in the consumer goods to retail supply chain, where not that many years ago brand companies really dominated and drove consumer behavior.
Now of course things have changed, with a consumer focus on speed, and buying in many different ways.
The challengeis that current supply chains were built for the previous era. So Target and others must now focused on speed, and face new pressure to have the right product in the right place at the right time.
Valdez said a key challenge in that transformation was moving to a single inventory pool that is shared across channels.
"The transition that Target's made to manage with one inventory has been key to the unlocking of Target's competitive advantage," Valdez added, adding that changing the behavior of buyers in this new model was a real challenge.
Also interesting: Valdez said transportation traditionally was all about taking cost out. Now, Target is "investing in transportation," Valdez said, because it might be more important to focus on speed than on maximizing trailer utilization.
Most interesting of all was Valdez's vision of where the supply chain is headed. Imagine, he said, a world in which consumers are ordering direct from manufacturers or wholesalers, but augment by a local "logistics consolidator," which receives the products from all those different sources. Consumers then determine if they want to pick the goods up, have them delivered at a specific day and time, etc.
"It may not be a store any more, it may be a logistics process," Valdez added.
Wow.
There was a lot more, and I am sorry I don't have room for Valdez's insightful comments on management, especially in a Gen X world. I will try to find some way to summarize soon.
Next week, a look at some of the breakout sessions to wrap up our CSCMP Edge 2020 coverage.

Did you attend the virtual CSCMP conference? How would rate the experience? Any reaction to these keynote summaries? Let us know your thoughts at the Feedback button or section below.