Couch Report: CSCMP Edge 2020 and the Future of Conferences
I have been to the CSCMP annual conference every year from 2000 on. In fact, I started SCDigest in September 2003, and attended that year's conference, under the then Council of Logistics Management (CLM) organizational banner, just a few weeks after Sue Petersen and I hit the send button on the first issue of SCDigest.
GILMORE SAYS:
Make no mistake, this is where conferences are headed.
WHAT DO YOU SAY?
I did a summary of that conference and everyone thereafter. In subsequent years I began doing daily video conference summaries - very popular - and later lumped my overall reviews for this and many other conferences in this column as "Trip Reports."
My how things have changed with COVID-19. Many supply chain-related conferences since the outbreak have been cancelled (e.g., WERC, MHI annual conference), rescheduled (Gartner Supply Chain Conference, NRF), or went virtual, ala CSCMP Edge 2020, which kept its original dates with an on-line event this week. I'll note the canceled WERC conference may have been the final financial straw that pushed the organization to be acquired by MHI this past summer.
So since my "trip" each of the three days of the CSCMP conference consisted of moving from my kitchen to the office or to the more comfortable living room sofa, I am calling this a Couch Report instead.

The entire conference was held using virtual conference platform, and did its best to mimic the structure of a normal in-person CSCMP conference. Because this is likely to be at least in part the wave of the future, I think reviewing the virtual experience is worth some paragraphs.
Along those lines, I will note MHI's ProMat trade show scheduled for April 2021 will be a hybrid show - part physical, part on-line.
What other choice does MHI have? No one knows whether in-person conferences will be viable by next April or not - so MHI has to hedge its bets by having a virtual back-up if the answer is no, but as a result of that is now committed to some virtual show now even if the answer turns out to be yes.
So how does it/did it work for CSCMP? I will start by observing that if the counter was believable, and I think it was, there were just shy of 1900 individual attendees at least entering the show. That's more than I would have guessed, and frankly roughly 75% of recent normal CSCMP conference attendees. The number was somewhat juiced by several organizations apparently providing registrations to two dozen or more employees, but that to an extent is true even for physical shows. Except with a virtual show, registration fees are lower - and travel costs are zero, so you can afford to allow a lot more staff to attend.
When you entered the Conference with a log in, you were taken to the "lobby," as shown in the screen capture below: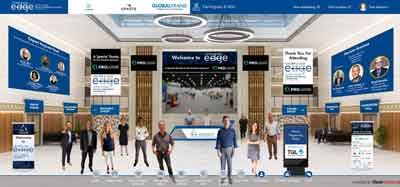 There front left is CSCMP CEO and my friend Rick Blasgen, and to the right is this year's conference chair, Steve Raetz of CH Robinson, with what I assume were other CSCMP staff members virtually welcoming attendee as well.

As you can hopefully see, there were various place to go from this virtual entry point. So for example, to the left you could click to enter the "main stage," which took you to video links for any of the three main keynote presentations and brief opening and closing remarks each day from Blasgen, with a screenshot of that shown below: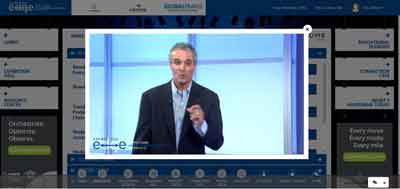 Also on the left is the "entrance" to the educational/breakout sessions. These were basically video webinars, with some 28 tracks and more than 100 offerings over the three days, with the webinars not starting until designated times (say 10:30-11:30 CT on Monday), with often a large number of presentations across tracks running simultaneously, just like a real show. Except with virtual, you can go back and view a session you missed.
Video webinars (video windows for speakers with supporting slides) are so mainstream that most should be familiar with the experience, which was generally fine.
A couple of notes. These educational sessions and I believe pretty much all the content were pre-recorded and broadcast in effect on-demand. You lose a little with that approach, but superman and the Flash could not manage all this live. Just getting all these 100 plus sessions and other content pre-recorded and posted for broadcast must have been an organizational and execution nightmare, and hats off to CSCMP for getting this aspect of the event almost all just right.
I attended a few sessions where there was significant video buffering from one or more of the presenters. At first, I thought the irritating delays were on my end, only later to realize that in most cases - based for example on comments from the session moderator - the buffering actually happened for a presenter during the original recording. Not much you can do about that.
To the right you can see the entrance to the virtual trade show. What is a virtual tradeshow? It worked like this: upon entering the "hall," you saw icons/logos of various companies with virtual booths. Click on one, and you get something like this, from logistics consulting firm St. Onge: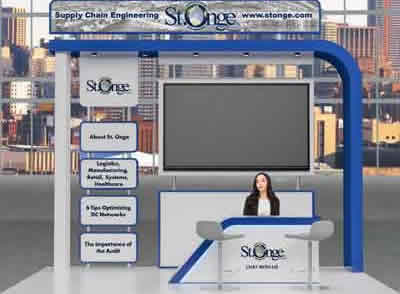 Mostly the idea is a visitor can watch a video at the booth about the vendor, and easily download materials such as brochures and white papers. There were also opportunities in specific time slots to engage in chat sessions with virtual booth staff. I am not sure how much that was used.
Of course, networking is a key aspect of normal CSCMP conferences. A little tougher to create on-line. There was a nice feature that allowed you to find and message any show attendee. I also attended (briefly) a couple of "Connection Cafe" sessions on specific topics (e.g., one on Supply Chain Digitization), which were basically moderated chat sessions that in the end were like a Reddit stream and very hard to follow.
There was more, but here's my verdict. Congrats to the CSCMP staff for putting together about as good an event as can be managed today given the evolving state of the technology and more importantly the experience know-how about making these virtual events really work for the attendee.
Smartly, there were decent amounts of "break times," as it would be almost impossible to sit through a full day staring at the computer the way you can manage to do at a physical conference. Even with the breaks, I found myself drifting over to email during some of the less interesting sessions.
But make no mistake, this is where conferences are headed, as once you offer a virtual option in an age of COVID and beyond, to eliminate that offering even if you again have a physical event will prove almost impossible.
I'll be back next week with another Couch Report on top keynote and breakout sessions from CSCMP Edge 2020.

Did you attend the virtual CSCMP conference? How would rate the experience? Let us know your thoughts at the Feedback button or section below.