Supply Chain Predictions for 2020 Part 2

I am back again this week with another in a series of these columns on predictions for supply chain for 2020.
Last week, I started with highlights from the "predicts" for supply chain technology from several of the smart analysts at Gartner (see Supply Chain Predictions for 2020 Part 1.)

GILMORE SAYS:
If a company bulks up on distribution center capacity to handle the spikes, it can put a drain on profits the rest of the year.


WHAT DO YOU SAY?
This week, some additional prognostications from the supply chain analysts at IDC, led by Simon Ellis, whom I will note, once had the title of "supply chain futurist" at Unilever.
IDC develops a list of top 10 predictions for overall supply chain, then a separate 10 for manufacturing, with some overlap between the two.
I will also note the general styles are very different between the two analyst firms, Gartner and IDC - you can easily pick that up by comparing my two columns.

In an introduction to its predictions, IDC notes that supply chains are moving from cost centers to "opportunity centers." That, in turn, means that beyond traditional functional excellence, companies must "build the ability to collect, consume, and disseminate data-driven insights in real time both within the supply chain and to adjacent functions like sales and marketing."
IDC puts all that under the umbrella of the "thinking supply chain."
Of the 10 supply chain predictions, here are my three favorites:
First, IDC predicts that by 2022, firms will dedicate 35% of their logistics business process outsourcing services budget to process automation, focusing on order, inventory, and shipment tracking.
This prediction gets a little deep, noting that "Automation and analytics have become table stake components of outsourced business process services as today's providers embed both technologies into most of their engagements."
That may be true in terms of overall business process outsourcing. I am not sure it is so true in most shipper-3PL relationships today, though perhaps I am behind the times.
But IDC cites some of its own recent research that found that 79% of buyers outsourcing their logistics business process services are using robotic process automation (RPA), which basically means computerizing business workflows based on, at least today in my opinion, some very basic business logic.
I am surprised frankly to hear it is so widely used in logistics outsourcing.
"Buyers look to automate manual shipping tasks, including shipment scheduling and tracking and inventory storage/tracking, in addition to more back-office financial functions like invoicing and freight billing," IDC writes, adding "As these processes become more easily automated, and as the adoption of AI grows and continues to be integrated into service delivery, the focus will turn to more complex processes and infusing more cognitive elements into data-intensive processes."
Again, maybe that's where the outsourced logistics train is headed, but I think that is not where the market is in 2020.
Nevertheless, IDC recommends that shippers evaluate 3PLs' end-to-end process automation capabilities including core BPaaS platforms, cloud technologies, RPA, and machine learning.
And, I will add, asking what it costs to get a box out the door.
Next, IDC predicts that by 2023, supply chain "micro-application extensions" will account for one-third of all new technology investments in manufacturing and retail.
That, of course, begs the question of what is a supply chain micro-application extension, as it is a term I actually am not familiar with.
To clarify that, IDC first references the status quo, under which supply chain application "suites" are the overwhelming choice for companies, with almost 50% either buying a broad suite or applications that are part of a suite that they will subsequently invest in over time.
Micro-applications, by contrast, are small or very targeted software solutions developed by the "ecosystems" that surround these suites. They may be specific to the needs of a specific industry sector, or provide other what we might consider "niche" capabilities.
In most cases, they are capabilities that have not, and likely will not make it, been made it into the base suite functionality.
"Many vendors in the supply chain space are now extolling the benefits of their developer communities or hubs as a way to deliver bolt-on capabilities that are nuanced in some way," IDC writes.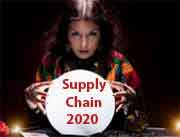 It adds that "This notion of a developer community, something Salesforce has done well, as an innovative way to offer these micro-applications that can augment and diversify the effectiveness of broad reach supply chain suites. At IDC, we believe that these micro-applications will account for a significant percentage of supply chain IT investment dollars by 2023."
Well, I don't know. There is clearly some activity in this area, but will it really grow to one-third of new spending on supply chain software by 2023? That would very much surprise me.
Finally, IDC predicts that by 2022, the number of companies offering flexible warehousing options will have increased by 50%, which can help address seasonal demand challenges and lower fixed overhead costs by over 20%.
IDC says that one of the biggest challenges that shippers face is managing demand volatility - and more specifically seasonal demand patterns that lead to temporary spikes in production and inventory levels, impacting supply chain efficiencies.
But if a company bulks up on distribution center capacity to handle the spikes, it can put a drain on profits the rest of the year.
Therefore, "The concept of an agile warehouse would aid in addressing this very need around dynamic inventory handling," IDC says.

It cites a company called FLEXE that several years ago launched a marketplace in which companies that have permanent or temporary excess warehouse spacer can lease it out for some period of time to shippers needing space.
"The existing space would be ready for use with little or no set-up costs, and the "no strings attached" model enables rapid ramp-up and ramp- down efforts," IDC writes, adding that "The model by itself is risk free and opens the possibility of other use cases such as direct shipments and micro distribution centers."
IDC believes a variety of trends will greatly expand this "warehousing as a service" model over the next few years.
At a general level I agree with IDC here, though my sense is that the FLEXE model has not taken off like a rocket, so we will have to see on this one.
Closing it out, IDC argues that supply chains are moving such that "real-time data from IoT, mobile devices, and other devices at the edge - combined with historical data, enterprise systems, and global information - will continually sense an environment and put it into new contexts."
Then, "Combining data with AI and machine learning, organizations are spreading intelligence from the core to the edge to turn data into action and action into value."
That I will agree sound pretty good - but we are very early in the journey.
Any reaction to IDC's predictions on supply chain technology? Let us know your thoughts at the Feedback section below.