Trip Report: National Retail Federation "Big Show" 2019

"It was the best of times, it was the worst of times."


Those of course are the opening lines from Charles Dickens classic
"A Tale of Two Cities," and while perhaps the quote is overused, it is nonetheless what came to my mind after a couple of days in New York City at the Javits Convention Center for the National Retail Federation's annual " Big Show" conference and exhibit earlier this week.

GILMORE SAYS:
It does lead mean to wonder about the future of retailer and vendor collaboration, now more than 20 years after the launch of Collaborative Planning, Forecasting, and Replenishment (CPFR).


WHAT DO YOU SAY?
The "worst of times" part should be obvious: recent years have been very tough on many brick and mortar retailers, pummeled in many cases by ecommerce generally and Amazon specifically, as well changing consumer behavior (e.g., date night at the mall rapidly losing flavor.)
Some 9300 retail locations were shuttered in 2019, a new record and up some 63% from the total of 5700 in 2018. In 2017 the number was 8000. That trend a few years ago led to broad use of the term "retail apocalypse."
To be clear, that closure figure is a gross number, not a net number, as probably several thousand new stores were also added in the past year, but we can all agree there is some real pain in traditional retail.
But...brick and mortar retail sales are actually strong. The numbers aren't all in, but Bank of America this week estimated that 2019 holiday sales were up a strong 4.7%.
That was off a somewhat weak 2018 number, and includes ecommerce sales, and the NRF's estimates are a bit lower than that. But in aggregate, sales at brick and mortar retail are solid, even if there is pain in some quarters and specific merchants.
And some brick and mortar retailer are leverage stores to re-invent themselves. Most notable is Target, which faced some tough times a few years ago, but is now a Wall Street darling after invigorating its on-line sales largely by using its store network as the main points of fulfillment, and also significantly adjusting its in-store food and CPG assortments, among other strategies.
As we recently reported, Walmart has also recently adjusted its strategy to make its thousands of Super Stores the hubs of its value proposition to customers, whereas before stores were viewed as one channel along with ecommerce and other offerings. (See Walmart Alters Course, to Make Supercenters Core of its Overall Strategy.)
Walmart sees its advantage via Amazon coming from those stores, enabling more options and speed for efulfillment, but also the addition of more services (e.g., healthcare) to drive customers into the Super Stores - where they likely will spend money.
And as I have written a few times before, from a supply chain and logistics perspective, what could be more exciting than rich panoply of new technologies and services available to meet this retail brave new world: robots, drones, mobile apps, blockchain, vision systems, last mile delivery service innovation, and more. Similar intriguing new technology is here to take in-store operations to very new places.
That contention I think is well supported by the some 40,000 attendees at this year's show, an all-time record. I am always a bit skeptical of numbers put out by organizations on their events, but whatever the real number is (and it may just be 40,000), it was clearly up strongly from 2019. The aisles were simply packed, as NRF is having an increasingly hard time finding enough booth space for all the prospective exhibitors. The not so desirable bottom level was the only option for many. (As a note, the Javits Center is in the process of constructing a new, larger hall, but it will not be ready for the 2021 show).
So these are good times for many retailers as well.
A representative at Intel's NFR show booth made an interesting comment to me: there are two paths to success in the new retail, she said Intel believes: hyper efficiency or rich customer experience.

The latter can be embodied in the coming move at many retailers towards "grab and go" type environments, pioneered or at least popularized by Amazon's Go store format. There were several vendors at the show offering technology to support grab and go, with several approaches, including use of video systems.
And as an aside, at a discussion for press and media on the state of the economy and projections for 2020, one economist said during the relatively few minutes I was there to snag a free sandwich that there is a coming big upside for retailer profits. The reality is, he said, retail prices have been falling. This has hidden the cost impact from the number of efficiency gains retailers have made in store operations, back office and supply chain.

When prices start heading back up - as he believes they will - the earnings (and thus stock price) of many retailers will surge to the upside, he believes. Keep that in mind as you consider your 401k portfolio.

On the experience side, there are all kinds of technologies, which I will characterize as either being "wow" type factors (think cool product holograms, as one example) or much more rich and dynamic personalization (e.g., a display that makes cosmetic recommendations based on your skin tone). Some of this of course will be driven by artificial intelligence (e.g., the consumer just did this, how should the system respond?).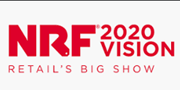 There of course are a variety of other consumer goods to retail cross currents. Take Nike's news in the past year that it was going to cut back dramatically on the number of retail outlets it sells through (to less than three dozen worldwide), while it significantly ramps up its direct to consumer business - the type of move not considered by most consumer products companies until recently given concern about retailer reaction. That barrier is now close to gone.
On the other side, retailer private label activity continues apace, with chains such as Kroger and Costco, to cite a couple of examples, investing heavily in their store brands.
While this has not much really to do with NRF, it does lead mean to wonder about the future of retailer and vendor collaboration, now more than 20 years after the launch of Collaborative Planning, Forecasting, and Replenishment (CPFR) in the late 1990s.
Do these new and ever more dynamic times demand even higher (and frankly more impactful) collaboration - or it is every retail and manufacturer/brand company for themselves?
The answer to that certainly wasn't at NRF 2020, but I will put some thoughts together on that soon.
As always I saw a decent number of cool new or nearly new solutions and technologies at the show. But I am as usual out of space, and will share those observations in this column soon.
Any reaction to Gilmore's recap of NRF 2020? Did you attend the show? What themes or trends did you see? Do retailers and vendors now need more and better collaboration - or less? Let us know your thoughts at the Feedback section below.