Review of the Year in Supply Chain 2019

As it seems is perennially the case, 2019 was a very interesting year in supply chain yet again. Here are what I see as the key themes and trends.
The economy is always a key driver of supply chain decisions, and 2019 was a tough year to gauge.
There were certainly signs and warnings throughout the year of a weakening economy. That was certainly true in manufacturing, which was impacted by the tariff wars (see below) and perhaps some cyclical factors to have an overall a weak year, with some referring at times to a "manufacturing recession."

GILMORE SAYS:
2019 was the year so-called autonomous mobile robots (AMRs) appear to have gained real critical mass in distribution, driven as much by labor availability as potential cost reductions.


WHAT DO YOU SAY?
Freight volumes also were generally weak, though at times mixed, and freight is often seen as a great predictor of coming economic fortunes.
Yet, the economy by most measures continued on decent though not great growth, spurred by strong job numbers and record low unemployment levels, seeing economic growth in December for a record 128th consecutive month.
Geopolitically, there were hot spots and crises across the globe for much of 2019. In Q4, all this was happening: the on-going freedom protests in Hong Kong, which still seems likely to come to a bad end; the new fighting in Syria and Iraq as the Turks move in as the US moves out; Iran apparently sending drone aircraft against Saudi oil tankers; violence in the Catalonia area with protestors again seeking independence from Spain; violent protests in Chile from protestors against income inequality, triggered by a subway fare hike; the never ending Brexit process; China-US trade wars; continued significant tensions with China over control of the South China sea; other protests in India, Lebanon and more.
Now we have the attack on the US embassy in Iraq and the US taking out the top Iranian general as a result, with Iran (sort of) retaliating with a missile strike.
So far, none of these hot spots has really had a major impact on supply chains besides the trade wars, though the current Iran situation and the South China Sea issue could change the status quo quickly. We in a sense are a world largely at peace (no major armed conflicts), yet not at peace.
The trade wars, most specifically the tariff battles between the US and China, grabbed the most headlines in 2019. The Trump administration kept ratcheting up the rhetoric and tariffs, with China generally responding in kind.
And the trade wars had some real impacts. Imports from China, though still very high in absolute terms, did in fact start to pull back and led to reduced Chinese economic growth. But most of China volume did not go to US manufacturers, but rather countries such as Vietnam, which was said to be "sold out" in terms of manufacturing capacity.
As always, the impact of the tariff hikes were complex and impossible to fully project, but many US manufacturers were hurt by the tariffs that were supposedly designed to help them. Manufacturers of products made of steel were hurt by tariffs initially raising steel costs - though towards year end that was mitigated by falling prices as US steel makers probably foolishly added lots of new capacity.
However, the predicted big hit to the overall US economy from the tariffs in some quarters simply didn't materialize, to the surprise of many.
That said, the whole situation did cause many companies to rethink supply chain strategies, with many deciding to reduce reliance on China sourcing - though finding pulling out even in part was generally not easy. Some said they are moving production back to the US, but the anecdotal stories have not showed up in the numbers.
An agreement of some sort has supposedly been reached, scheduled for signing in mid-January in an election year.

As noted above, freight markets were as said generally weak, with spot rates down 20% for most of the year, and the environment took its toll on carriers, with hundreds going bankrupt, led by the recent closure of Celdaon, which had more than 3000 drivers.
Perhaps the 2019 theme that came the most out of the blue was the growing concern over rules passed in 2018 by the International Maritime Organization (IMO) on sulfur emissions from cargo ships of all sorts.
Going into effect at the start of this year, the new rules require ships either switch to new low sulfur diesel fuel - much more expensive than the current bunker fuel - or install scrubbers that costs millions for each ship.
Many called for the new rules to be delayed, with concern the costs could literally put some of the generally financially weak ocean carriers out of business, if they were not able to pass all the new costs on to shippers. Others predicted a new wave of mergers in the sector. There were even concerns the new demand for diesel could raise prices for truckers and others by 20% or more.

The IMO would not relent, January 1 has come and gone and the rules are now effective. Whether it will result in turmoil or be just a small blip in the ocean (pun intended) remains to be seen.
I would add Amazon's growing logistics might - confirming what many had been saying was clearly the company's strategy even as it denied its intentions - as a key theme. Early in the year, the Wall Street Journal reported that Amazon was reaching out to parcel shippers to solicit business by offering much lower accessorial fees for things like home delivery and shipments during the peak season. The action of course was counter to Amazon's on-going denials that it intends to build a full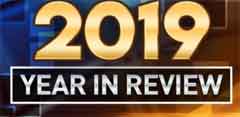 parcel delivery network.

In April, Amazon's CFO told analysts that the company will soon offer free one day shipping for Amazon Prime members, down from free two-day shipping previously. To achieve this, it seems clear Amazon will have to expand its own logistics capabilities.

In Q4, photos emerge of Amazon-branded truck tractors at a parking lot for equipment at OEM Kenworth. While Amazon has had branded trailers since 2015, those to date are hauled by commercial carriers, with the photos confirming Amazon's plan to expand own logistics capabilities. It also means Amazon will now have to hire and manage perhaps thousands of drivers.
Late in the year, Morgan Stanley estimates Amazon is already delivering more than half of its own parcels, and that by 2022 its parcel volumes in the US will exceed those of UPS and FedEx. That after FedEx basically walked away from all its Amazon business in 2019, after various contracts expired, citing low profitability from the arrangements.
Where is all this going? Only Amazon knows for sure, and maybe they don't even have an end game fully defined, but the impact on the US logistics sector will be massive.
2019 was the year so-called autonomous mobile robots (AMRs) appear to have gained real critical mass in distribution, driven as much by labor availability as potential cost reductions. Available from vendors such as Fetch Robotics, Locus Robotics, Gray Orange, and more, the value of AMRs was validated by Amazon's April announcement it was acquiring AMR vendor Canvas Technology, probably as with its 2012 purchase of Kiva Systems to lock up capacity. That implies a massive rollout of the machines across Amazon's network.
From a supply chain software perspective, the focus was clearly on applications to use artificial intelligence and machine learning, with, as our expert columnist Mike Watson predicted, almost any new analytic tool lumped under the AI umbrella.
In parallel, the imperative to "digitize" operations advanced, even as there is still not much clarity as to what that really means.
That about covers it - what did I miss? Next week: the most important news and evens by month.

Any reaction to Gilmore's review of 2019 in supply chain? Any other key themes? Let us know your thoughts at the Feedback section below.