Can - and Should - US Manufacturing be Saved in 2020?

For a number of years, I wrote an occasional series of First Thoughts columns titled "Can - and Should - Western Manufacturing be Saved?"

At the time, the answers to both questions were far from clear. Why that is true for the "can" question should be obvious: US factories were closing down, with production being offshored largely to China, at an astounding pace, taking millions of jobs with them. It was - and is - a very tough situation to turn around.
The "should" question was more tricky. Some argued that losing low-value added production offshore was actually the smart economic choice, and that what was needed was a focus on creating other types of jobs outside of manufacturing to pick up the slack, especially since it was part of a lost cause any way. And while China was taking away US factories and jobs, since they were using that money to buy all the US debt it was overall working out in the end.

GILMORE SAYS:
Perhaps the most worrisome aspect of all this is that Kota and Mahoney say billions of US tax dollars are going in the end to fund not US manufacturing strength but instead offshore production.


WHAT DO YOU SAY?
More on that in a minute.
There was something of a change in about 2012. At that time, the concept of "reshoring" - bringing production back to the US, or deciding to keep potentially outsourced production here - was suddenly the hot topic of the moment.
How this got started I am not quite sure. But suddenly there were numerous articles noting a potential reshoring trend. An organization called The Reshoring Initiative was born. The respected Boston Consulting Group kept publishing research showing rising costs in China, leading the US to become more and more competitive as a result. SCDigest partnered with Dr. David Simchi-Levi of MIT on a major survey on the supposed emerging trend, which found 14% of US companies definitely planned to move some of their manufacturing back home, in research covered in the New York Times and Wall Street Journal.

The sad reality, however, is the reshoring "trend" was much more hope that reality. The anecdotes about GE Appliance, NCR and a few other firms keeping production domestic were belied by the overall data.
Here in almost 2020, US manufacturing output, as measure by the monthly index from the Federal Reserve, is still well below its peak level in 2007. It is only about 4% above the baseline year of 2012, meaning growth of far less than 1% annually now 8 years later.
While there is some anecdotal evidence the Trump tariffs are now causing some companies to bring production back to US soil, it hasn't shown up in the data. Chinese imports are still at record levels, and most of what has been some recent declines in those numbers show those imports are moving to other low cost Asian countries such as Vietnam, not US bound.
If US manufacturing will be saved remains a very open question. But again, should it?

My view on that was significantly impacted by a recent guest column in the Wall Street Journal by Dr. Sridhar Kota and Tom Mahoney, based on an article they wrote in the Fall 2019 issue of the journal American Affairs. Kota is a professor at the University of Michigan and executive director of MForesight, an independent, federally funded public-private research consortium on advanced manufacturing. Mahoney is associate director of MForesight.
Kota and Mahoney say a fundamental mistake many observers make is thinking that the US can maintain economic strength by designing technology hardware and other products domestically, and then offshoring the lower value-add work of actually manufacturing the goods.
"Instead of manufacturing domestically, the thinking goes, US firms should focus on higher-value work: 'innovate here, manufacture there,'" Kota and Mahoney wrote.
But that is dangerous thinking, they say, adding that just how dangerous is starting to be understood by politicians, academics, labor leaders and more.
"There is a growing recognition that we can no longer afford the outsourcing paradigm," Kota and Mahoney say.
Why? Because, they say, once manufacturing departs from a country's shores, engineering and production know-how leave as well, and innovation ultimately follows. "It's become increasingly clear that 'manufacture there' now also means 'innovate there,'" - and that is not good for the economic future of the US.
For example, a 2015 study by the consulting firms Strategy & and PwC found that US companies across sectors have been moving R&D to China to be closer to production, suppliers and engineering talent - not just to achieve lower costs and gain access to China's market. In fact, sadly an amazing 50% of overseas-backed R&D centers in China have been established by US companies - a true brain drain.
Here is the reality: innovation in manufacturing and design gravitates to where the factories are.
Kota and Mahoney say it is clear that the applied research and engineering necessary for product development and to improve production processes are - not surprisingly - best done near the factories themselves, not thousands of miles away.
And so inevitably, as more engineering and design work has shifted to China, many US companies have a diminished capability to perform those tasks domestically.
And I found this point in the article very compelling: While offshoring can arguably be said to have all told benefited large multi-national companies, the overall impact on US manufacturing has been decidedly negative.
"It is increasingly clear that offshoring has devastated the small and medium-size manufacturers that make up the nation's supply chains and geographically diverse industrial clusters," Kota and Mahoney say.
The data tells the tale: the number of such small and medium manufacturers in the US is down nearly 100,000 since the 1990s and by 40,000 just in the last decade.
Perhaps the most worrisome aspect of all this is that Kota and Mahoney say billions of US tax dollars are going in the end to fund not US manufacturing strength but instead offshore production.
"Many foreign companies participate in federally funded university research centers and then use what they learn in their factories abroad," they note, saying LG, Sharp and Auo were partners in the flexible display research center at Arizona State University funded by the US Army. But the fruits of that US-funded research are not being made in America.
How can that be?

What to Do?

Kota and Mahoney argue that government programs must be developed that focus on ensuring that hardware innovations are manufactured in this country.
This point is key: the goal is not to recover lost industries but to rebuild lost capabilities.
"The US needs to leverage its dominance in science and technology to create future industries, to provide us with first-mover advantages and reclaim American leadership in manufacturing," Kota and Mahoney write.
And here I will offer an example from a few years ago that rather startled me at the time. In about 2012, the majority of the steel going into a new San Francisco-Oakland Bay Bridge was supplied by a Chinese company that had little existing bridge steel making e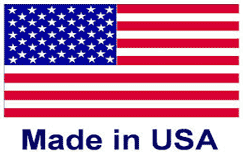 xperience.

Why? A New York Times article quoted one expert as saying "I don't think the US fabrication industry could put a project like this together. Most US companies don't have these types of warehouses, equipment or the cash flow [that the Chinese companies do]." The US had no domestic steel companies able to step up to the challenge of building a major domestic bridge.
That, my friends, is indeed lost capability.
To see a variety of supporting policies moved forward, Kota and Mahoney call for a new Cabinet-level federal agency responsible for the health of US manufacturing, which they say might be called something like the National Manufacturing Foundation.
Now, I will say as supportive as I am of the overall analysis, my first inclination is that the answer is not another government bureaucracy.
I like better their calls for rules that would ensure any licensee of federally funded research results should be required to manufacture at least 75% of the value added in this country, with no exceptions and no waivers.
Kota and Mahoney conclude that "Such steps are essential to generating a strong return on the US taxpayer's enormous investments in science and technology. For too long Americans have suffered from the self-inflicted wound of hollowing out our industrial capacity."
"Hollowing out." Kota and Mahoney are certainly not the first to use that phrase with regard to US manufacturing. But as someone who has lived in Ohio most of my life, that is precisely to what has happened to Youngstown, Elyria, Toledo, Barberton, Mansfield, and so many other cities there. Most of you have examples in your states too.
There was actually a lot more in the article, and I may cover those other points in a future column.
But this perspective has indeed altered my views. Yes, US manufacturing should be saved - and indeed must be saved for the economic future of the country.
If it will be saved is the critical and far less certain question.

Any reaction to Gilmore's and the article's perspectives on ofshoring? Does know-how and design always in the end always follow production? What policices should be adopted? Let us know your thoughts at the Feedback section below.