"Order" Out of Fulfillment Chaos

I dreamt in my youth about writing the great American novel.

Instead, I had to settle for "The Little Book of Distributed Order Management."

While refusing to admit my loftier goal is almost certain to go unfilled, earlier this year I did pen my first book on the software category of Distributed Order Management, or DOM, with co-author Satish Kumar of software provider Softeon.

GILMORE SAYS:
I suggest that for many companies, it may be time to re-staple themselves to a (multi-channel) order and once again see how the order and customer are being handled.



WHAT DO YOU SAY?
Why a DOM book now? Because DOM is a very interesting and for many companies a valuable category of software that is having a growing influence in supply chain execution - yet it remains not well known and little understood.

I was first introduced to DOM in the late 1990s while working as a analyst for Meta Group, later acquired by Gartner, though I don't think the term DOM was connected to this new capability yet.
An Indian company called Yantra and i2 in its glory days at that point had developed solutions that addressed a basic issue: how would a new category of web "etailers" connect with suppliers relative to inventory availability, order promising, and order distribution?

I didn't well understand it then. I do now.


If like most you do not know much about DOM, it can be defined at a high level as a software that provides integrated fulfillment planning and execution across multi-echelon, multi-node, multi-partner, and multi-channel supply chain networks.
That is true, but probably doesn't clear much up. So more completely, a DOM system serves as a powerful hub that enables Omnichannel commerce; integrates the extended supply chain; optimizes inbound and outbound order routing; provides real-time network inventory visibility, allocation and management; automates complex channel and customer requirements; and maximizes profitability while meeting customer service commitments.

I realize that's quite a mouthful.
While the software was first developed for ecommerce fulfillment applications, it is now expanding its reach well beyond retailing and into other industries. DOM is, in fact, something of a Swiss Army knife of capabilities and becoming the central force of the supply chain execution ecosystem.

Distributed order management is related to, but generally different, from traditional Order Management Systems (OMS), which at least historically primarily focused on order processing and addressing all the items needed to successfully complete that task, including pricing, promotions, credit checks, and credit card processing, to name just a few. They were not able to handle the order management needs of the new ecommerce companies. And so Distributed Order Management software was born.
In contrast, DOM systems are order-fulfillment centric. DOM looks at how to source an order in a way that meets customer service commitments at the lowest total cost or in a way that fulfills some other objective of the company, while considering next work capacities and constraints, as shown in the graphic below.
However, there is no question the lines between OMS and DOM are blurring.
At the heart of most DOM systems is generally a configurable rules engine that enables companies to define sourcing and fulfillment policies and logic. As a further point of differentiation, a DOM system often sits over top of multiple traditional OMS systems.
With the bursting of the dot com bubble in 2001, interest in DOM waned for a few years. Since about 2010, however, as Omnichannel commerce has exploded, DOM has become essential for managing e-fulfillment and, and it is now expanding into other non-retail applications.
As DOM has evolved over the past 20 years, its fundamental capabilities and benefits have largely remained the same. At a high level, DOM solutions deliver:

• Real-time visibility to inventory and constraints across an extended network

• "Orchestration" of order fulfillment. This orchestration involves applying an automated set of dynamic rules to each order so that it is executed precisely according to the company's desired business logic.

• A rules engine foundation that executes configured business strategies based on order fulfillment policies

• Connectivity to other internal and external systems

• Automation of order handling processes

• Flexibility to fulfill orders based on that real-time visibility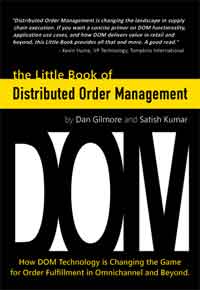 While the rise of Omnichannel commerce has pushed DOM into prominence, there are actually a number of different use cases for DOM capabilities in other areas outside of retail. In a few weeks, I am going to overview the use cases in retail and beyond.
To close this column, I will note that in 1992, Benson Shapiro, Kasturi Rangan, and John Svioloka published an influential article in the Harvard Business Review titled "Stapling Yourself to an Order." The article emphasizes how important order management is to customer satisfaction, saying, "The truth is that every customer's experience is determined by a company's 'order management cycle' -the ten steps, from planning to post sales service, that define a company's business system."

It later makes the point that, "Every time the order is being handled, the customer is being handled at the same time."
Clearly, order management processes and technology have come a long way over the almost 30 years since that article was written. The business environment has changed dramatically too, transformed by globalization, ecommerce, mobile technologies, new and varied channels of distribution, and much more.

So I suggest that for many companies, it may be time to re-staple themselves to a (multi-channel) order and once again see how the order and customer are being handled from initial engagement to after-sales support and all the critical steps in between.
I am out of room, and this is a good breaking point. Will be back with part 2, focusing on DOM use cases in retail and beyond soon. You can download an electronic copy of the book or request a hard copy mailed to you here: The Little Book of Distributed Order Management.

What do you know or think of DOM technology? Let us know your thoughts at the Feedback section below.