Trip Report - CSCMP Edge 2019 in Anaheim Part 3

Two weeks ago, as always I attended the annual CSCMP Edge conference in Anaheim, and in this column the past two week covered various aspects of the event. You can find those "trip reports" here: Trip Report - CSCMP Edge 2019 in Anaheim and Trip Report - CSCMP Edge 2019 in Anaheim Part 2.

The big news of the conference came from the comments of incoming board chair Michelle Meyer of Gartner, who, after noting trends of long term decline in CSCMP memberships and conference attendance, suggested new "business models" are needed for both the event and the organization.

What that means in the end of course in unknown at this point, but we certainly may see significant changes, which I think will likely be for the good. I will also note other professional organizations are facing similar challenges in a digital, millennial era.
As usual, we also performed an analysis again this year of what companies contributed to this year's conference, in terms of participating in terms of giving full presentations and/or sitting on panel discussions.

GILMORE SAYS:
It's always "service for a price," Leathers reminded the audience, meaning the service levels associated with bargain basement rates are going to be low.



WHAT DO YOU SAY?
Obviously, CSCMP and any conference can only add value and survive if companies and individuals step up to that challenge, so we all owe our gratitude for those willing to do so.
That said, at CSCMP and I will say other conferences as well, there is a clear trend towards more panels and fewer case study type presentations. I am not sure if that is because conference planners believe panel discussions are preferred by attendees, or it is simply due to the fact that companies are more likely to give the OK for a manager to be part of a panel discussion on industry issues than a more detailed case study type presentation. Probably some of both.
I personally think the drift to panels has gone too far, because - while often interesting - they tend to not deliver as many useful takeaways as presentation/case studies do. But others may see it differently - would be interested in your perspective.

You can find our tally of what companies contributed here in 2019 and over the past three years as our Supply Chain Graphic of the Week. Shaw Industries led the way with three contributions this year, and over the last three years, both Johnson & Johnson and Coca-Cola are on top with seven contributions. Think you will find the list interesting.
That said, I am going to offer this week a summary of two solid panel style breakout sessions at this year's conference.
As I noted in my first trip report, breakout sessions were thankfully trimmed back to 60 minutes this year, versus a too long 75 minutes for the past five years or so. As usual, there were three breakout slots each on Monday and Tuesday of the event, plus a choice of three 90-minute "megasessions" on the final day of the conference.
There were 19 breakout session tracks this year, ranging from Talent Management to Warehousing. That was down a bit from 21 last year and the higher twenties not many years ago, but felt even more skinnied down than that. That is because not every track had a session in each time slot. So the number of choices you faced was very manageable this year versus years past.
I counted about 80 total breakout sessions across all tracks, versus about 100 in 2018.

The best session I saw was actually one of the megasessions, a panel discussion on the impact of the new rules from the International Maritime Organization (IMO) on a variety of logistics factors. The somewhat obscure rules require container and bulk cargo ships to either switch to low sulfur diesel fuel or install special "scrubbers" that can cost as much as $5 million dollars each, with a Jan. 1, 2020 deadline for compliance.

The ramifications from all this could be many and significant. The increase in demand from cargo ships is likely to send the price of diesel up for everyone, including truckers. By how much? Panel moderator Paul Bingham of HIS Markit said his organization is predicting a rise of 20%, meaning IMO rules for ocean shipping are going to substantially raise costs for trucking freight as well.

Then there are the estimated $13-15 billion in new annual costs for fuel and scrubbers - who is going to pay them? Carriers will of course try to push them on to shippers, raising their costs significantly. But history would suggest they will not be completely successful. With additional huge costs applied to an already struggling sector, you can expect more bankruptcies and consolidation such as we are already seeing in the container carrier market.

And to reduce costs from the new fuel, carriers may resort to even slower slow steaming - "super slow steaming," as some are calling it. And all this is then likely to change sourcing decisions in order to reduce total ocean miles and therefore cost and time. For example, sourcing from Latin America versus Asia, and shipping to the US West coast and rail moves back to the East coast versus using the Suez or Panama canals.

Finally, carrier surcharge formulas for passing on the new fuel costs are complex and vary substantially, and how they will try to pass on scrubber costs remains to be seen. Shippers are going to have to make carriers "show them the math" in detail, the panel recommended.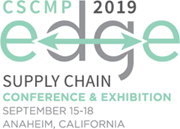 I also enjoyed a Monday panel of carrier executives discussing a variety of issues impacting shippers and carriers. That panel included Werner CEO Derek Leathers, who really ought to get some kind of award for his participation in a number of events each year - and his straight talking and sometimes controversial observations.

And it didn't take long for some of that, with Leathers noting that for a similar panel discussion at the 2018 conference, the room was twice as big and had 2.5 times the attendees. His point: shippers tend to only care about industry issues when rates are high and capacity is tight. There is a lot less interest in such issues now, when spot rates have fallen more than 20%. But the issues around driver shortage and rising costs haven't gone away, Leathers said, just abated for a bit.

Leathers expects more carrier bankruptcies. Most carriers have given mid-double digit pay increases to drivers over the past 18 months, and apparently insurance costs for some reason have also soared. Combine those rising costs with the steep fall in spot rates (contract rates for now have held up much better), and a growing number of carriers simply can't generate the cash flow to keep operating.

Interestingly, Leathers said Werner's strategy is to focus on shippers they believe will be "winners" in their industries over time. Those companies will see profits and freight volumes grow, and tend to be more focused on service than rates, whereas stagnant companies tend to be all about rates.
It's always "service for a price," Leathers reminded the audience, meaning the service levels associated with bargain basement rates are going to be low.

All of which is why Werner continues to shift assets to its dedicated business unit, where "99% service is simply expected, and 98% will get you fired," Leathers said. He also said he believes the impact of the final compliance rules for electronic logging devices (ELDs) will be an effective 1-2% decrease in truckload capacity.
Ok, I am out of room. I am going to milk the CSCMP 2019 conference one last time, with summaries of the other five breakout sessions I attended.

Did you go to CSCMP 2019? If not, why not? If yes, what are your thoughts on the conference? How can the conference and CSCMP improve? Do like or not like the shift to more panel discussions? Let us know your thoughts at the Feedback section below.